If it's going to be cold, it's probably right now.
On average, mid- to late January sees our coldest temperatures of the year in the Midwest. Right on schedule, it's been pretty cold across the region this last week and below normal temperatures look to continue into the coming week.
But it could be worse. Let's look back at the some of the coldest arctic outbreaks to ever hit the Midwest, based on data from the National Weather Service and National Centers for Environmental Information. 
Since each location has seen its coldest temperature at different times, there's no good way to specifically rank cold waves. However, by looking at the lowest temperature ever recorded in each state, you get a pretty good idea of which arctic blasts were the worst. These five, listed in order of occurrence, stand out above the rest.
February 1899
While it's not the coldest for all, this cold air outbreak probably has the strongest case for being classified as the worst.
On Feb. 10, Milligan, Ohio, hit minus 39, the coldest temperature ever recorded in Ohio. As even colder air surged in, Bridgeport, Nebraska, hit minus 47 on Feb. 12, the coldest temperature Nebraska has ever seen.
The arctic air pushed south and set record cold temperatures in Texas, Louisiana, and Florida that still stand to this day as well. In total, it's responsible for more low temperature records than any other cold spell in U.S. history. It was so cold that the Mississippi River was completely frozen over north of Cairo, Illinois, and ice flowed all the way into the Gulf of Mexico. Snow fell all along the Gulf and East Coast, including Florida, where snow was reported as far south as Fort Myers, Florida.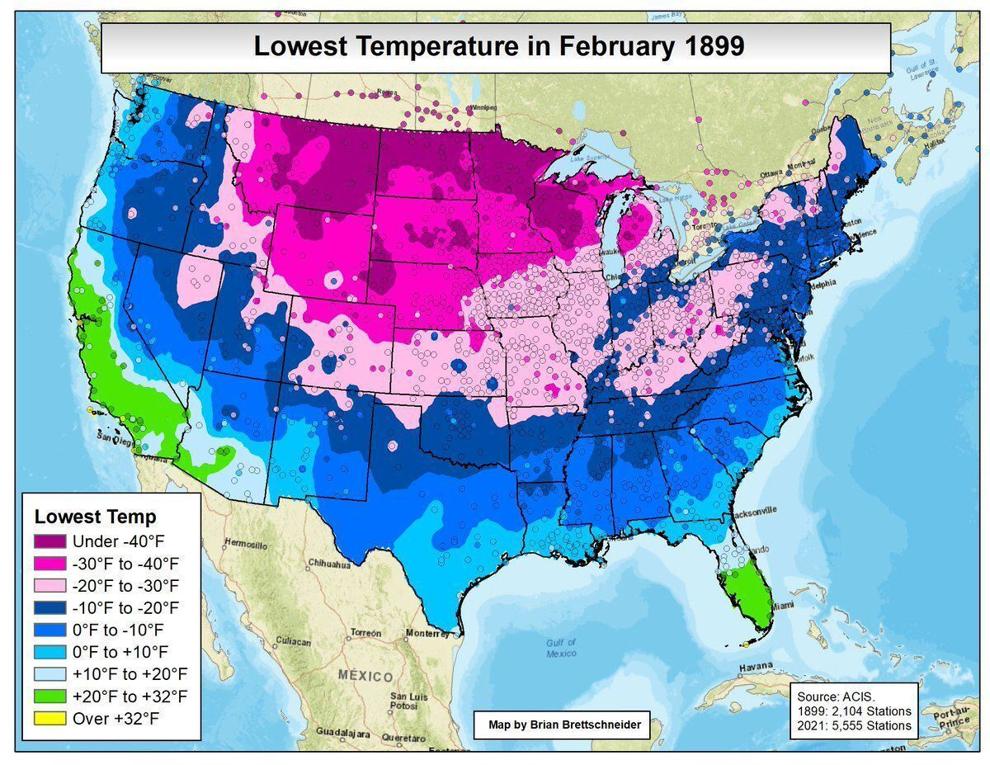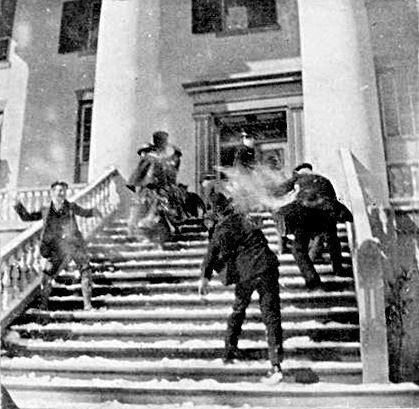 December 1989
This is the only December arctic outbreak to make the list. It's certainly worthy though, due to its length and extent. Frigid air was already in place in mid-December, but the coldest was yet to come.
Ninety years after setting its state record, Nebraska would again see thermometers hit minus 47, this time in Oshkosh on Dec. 22. Scottsbluff, Nebraska, wasn't far behind with a low of minus 42 that morning.
Other cities in the Midwest saw their all-time coldest temperatures including Kansas City, Missouri and Topeka, Kansas. Many more cities saw their coldest December temperatures, particularly across Central Illinois, where most cities reached 20 below zero or colder Dec. 22 and 23. This cold blast drew the most headlines for what it did across the South though. Freezing temperatures reached all the way to Miami on Dec. 24 and 25, and the Southeast Coast saw its largest snowstorm in history.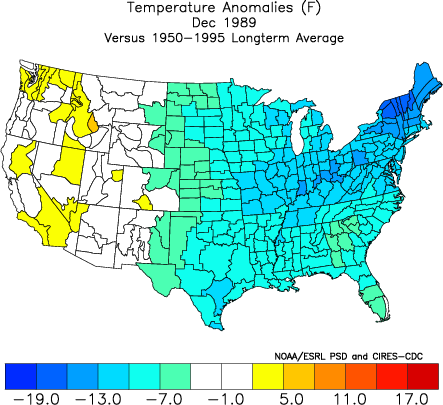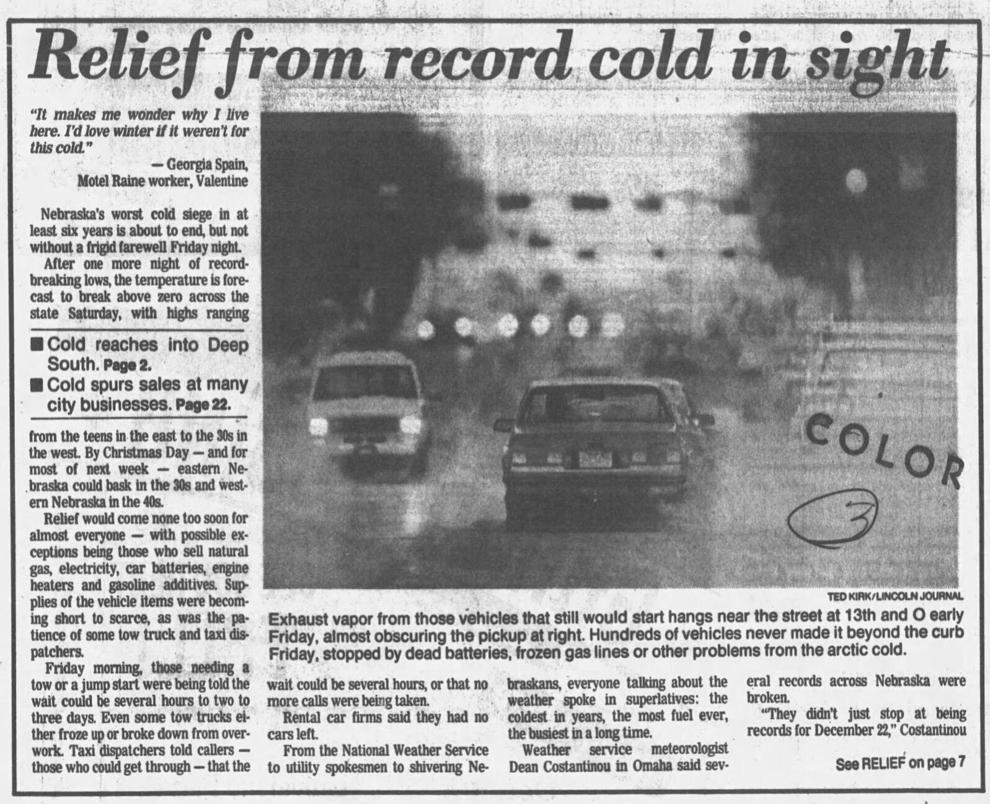 January 1994
Perhaps the worst cold wave for the eastern part of the Midwest came in 1994. The temperature fell to minus 36 in New Whiteland, Indiana, on Jan. 19, setting the record for the lowest temperature ever recorded in the state.
Large parts of Indiana and Ohio saw temperatures of minus 20 or colder that morning. Indianapolis (minus 27), Columbus, Ohio (minus 22), and Cleveland (minus 20) saw their coldest temperatures ever.
The rest of the Midwest was not spared. Minneapolis-St. Paul stayed at or below zero for 142 hours, and all public schools were closed across Minnesota on Jan. 18.
In Chicago, the temperature dipped to minus 21. Thousands lost power and water in the city after multiple water lines burst. The cold and snow impacted the Mid-Atlantic and Northeast as well. Over 100 deaths were caused across the U.S. by this arctic blast.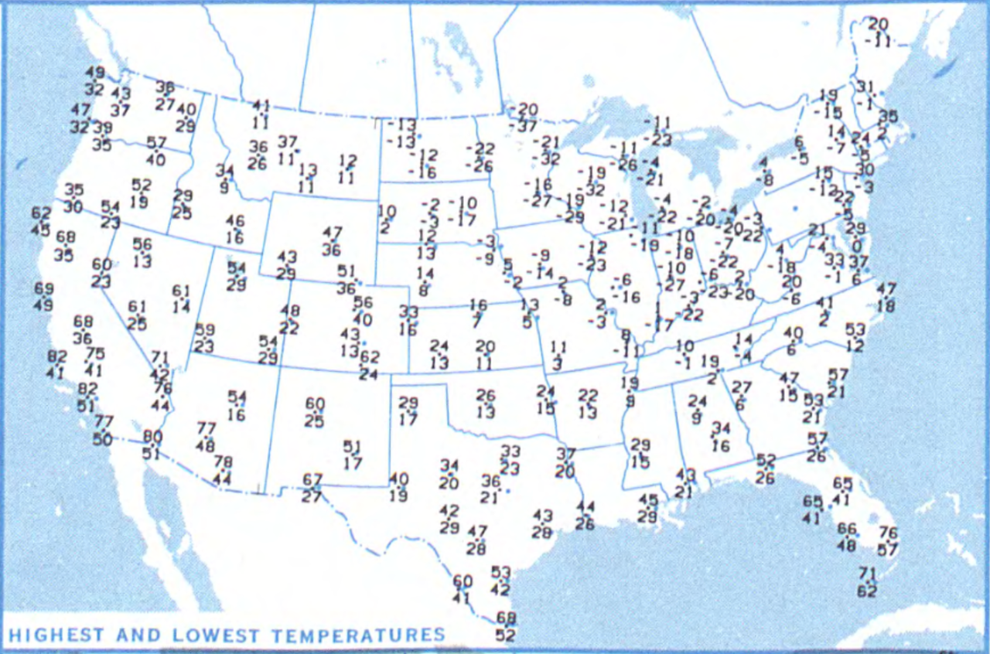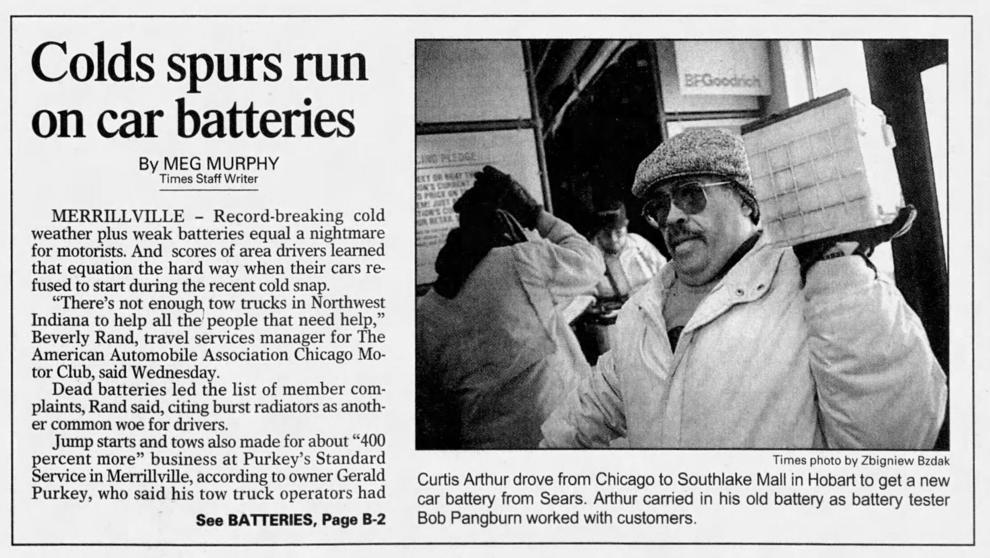 February 1996
This cold air outbreak was particularly bad in Minnesota, Wisconsin, and northern Iowa, with many locations seeing temperatures fall into the 30s below zero for lows and staying in the teens below zero for highs.
On Feb. 2, temperatures tumbled all the way to minus 60 in Tower, Minnesota, and minus 55 in Couderay, Wisconsin. Both of these set new records for the coldest temperature ever recorded in their respective states.
On Feb. 3, thermometers hit minus 47 in Elkader, Iowa, tying the state's record low temperature. Incredibly, on Feb. 4, the temperature hit minus 55 again in Couderay, Wisconsin, tying the state's all-time low just two days after it was set.
From Feb. 1-4, the average four day temperature was minus 18 in Wisconsin and minus 24 in Minnesota. In Rochester, Minnesota, temperatures stayed at or below zero from 6 a.m. Jan. 29 until midnight Feb. 5.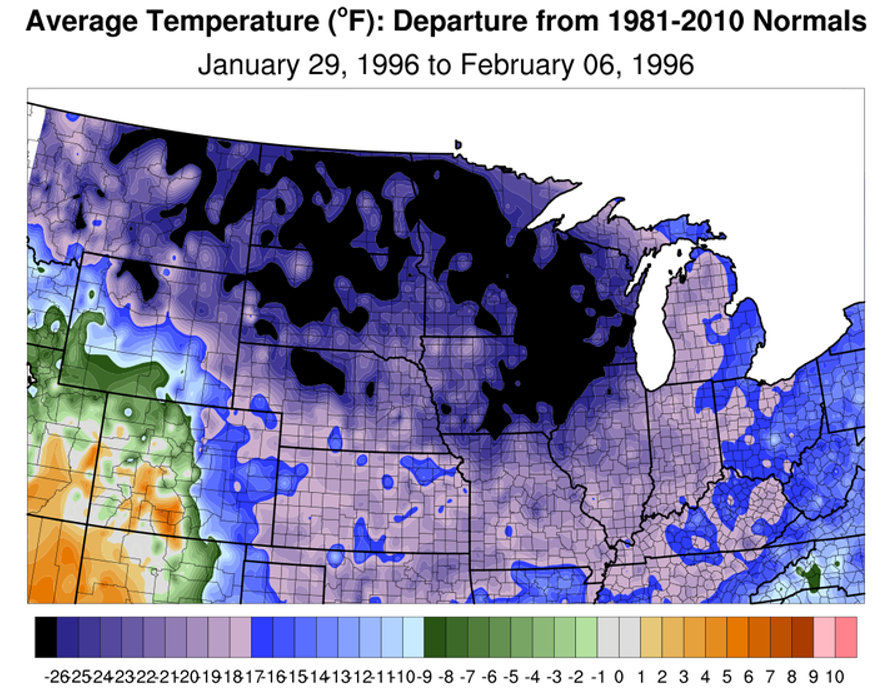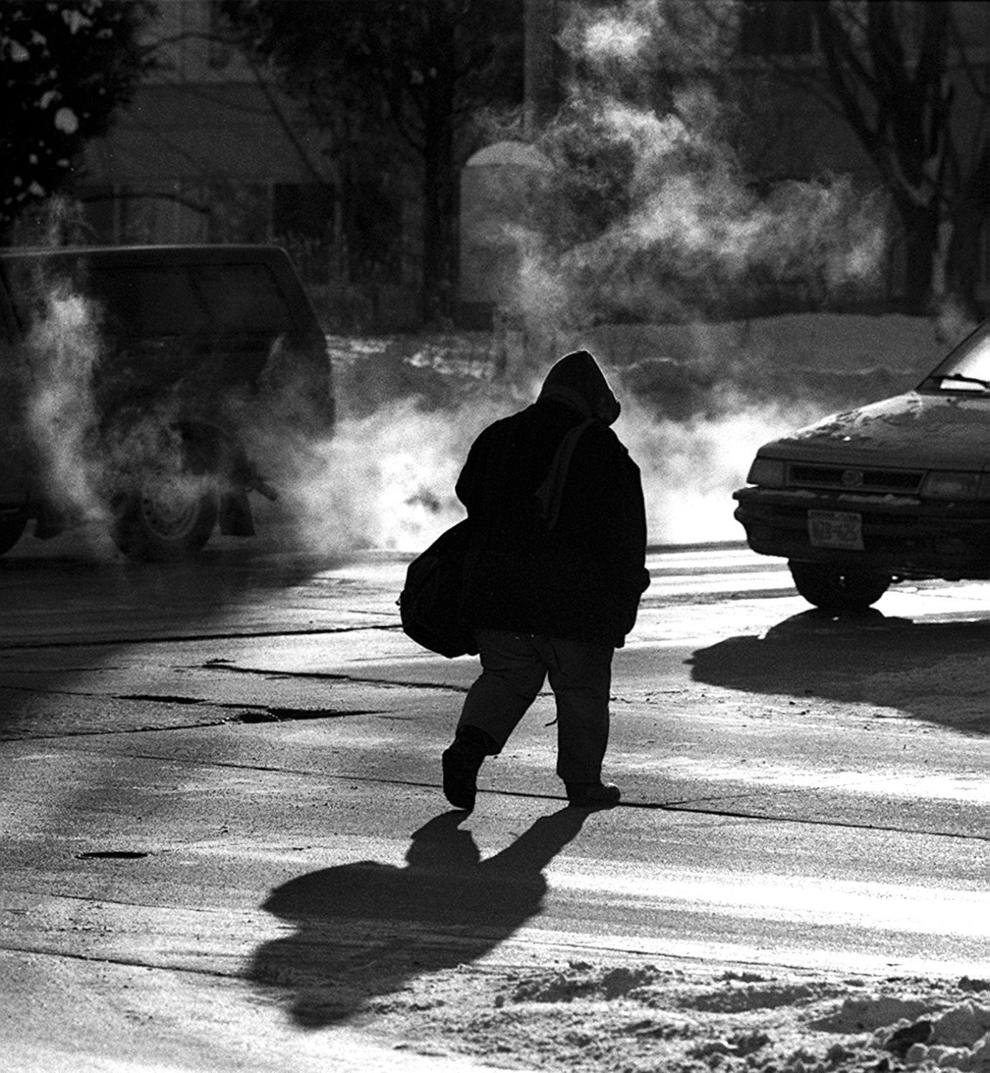 January 2019
The most recent arctic blast on this list, it's the only one so far this century to match the intensity of those in the 1990s.
After a significant snow for many, frigid air poured in across the region setting up two very cold days. On Jan. 30, the combination of very cold temperatures and gusty winds caused astounding wind chills that morning. From Central Illinois to Eastern North Dakota, many saw "feels like" temperatures reach 50 to 60 degrees below zero.
Chicago hit a low of minus 23 with a wind chill of minus 52, the coldest since 1985. The morning of Jan. 31 saw lighter winds, but even colder temperatures for some.
The coldest temperature was minus 56 in Cotton, Minnesota. Mount Carroll, Illinois, hit minus 38, the coldest temperature ever recorded in Illinois. At least 340 daily record lows were broken or tied over the two days.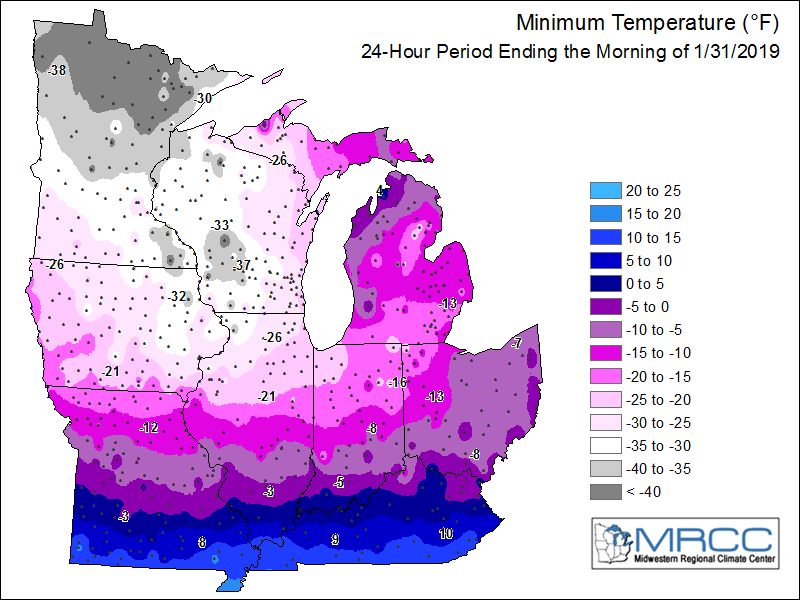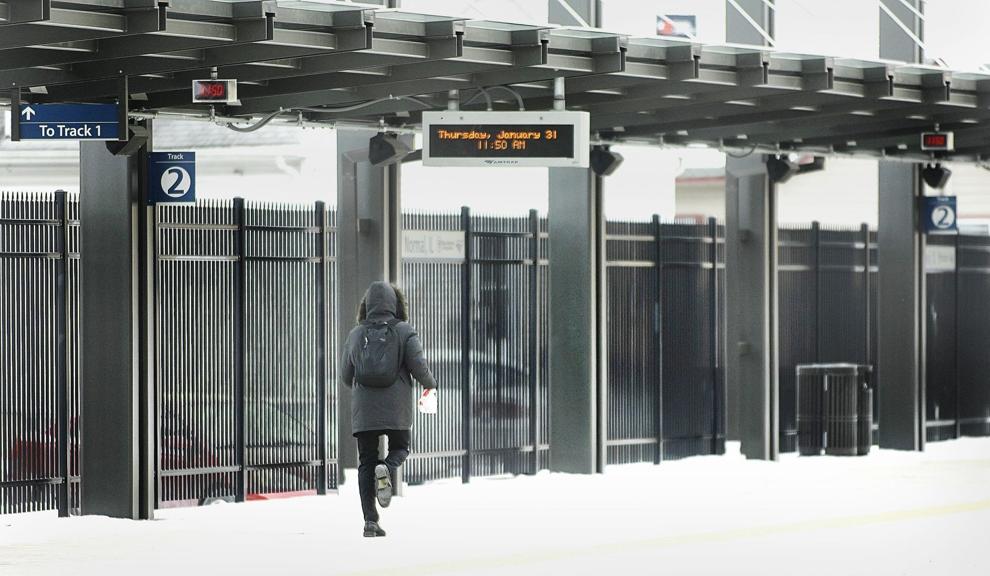 The states with the most expensive natural gas prices
States With the Most Expensive Natural Gas Prices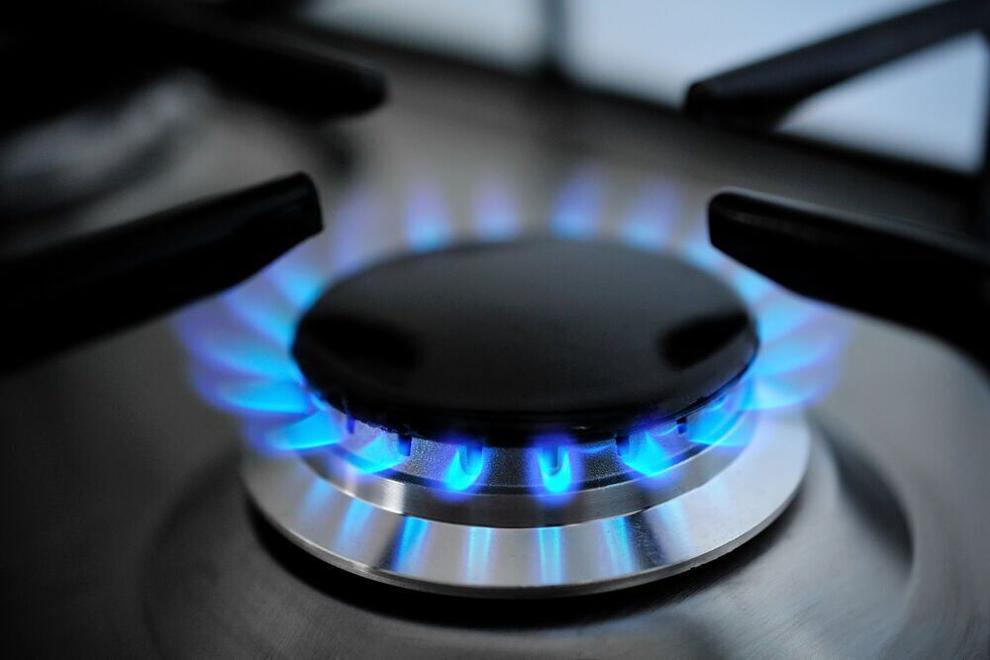 Residential gas prices spiked in 2021 to levels not seen since 2008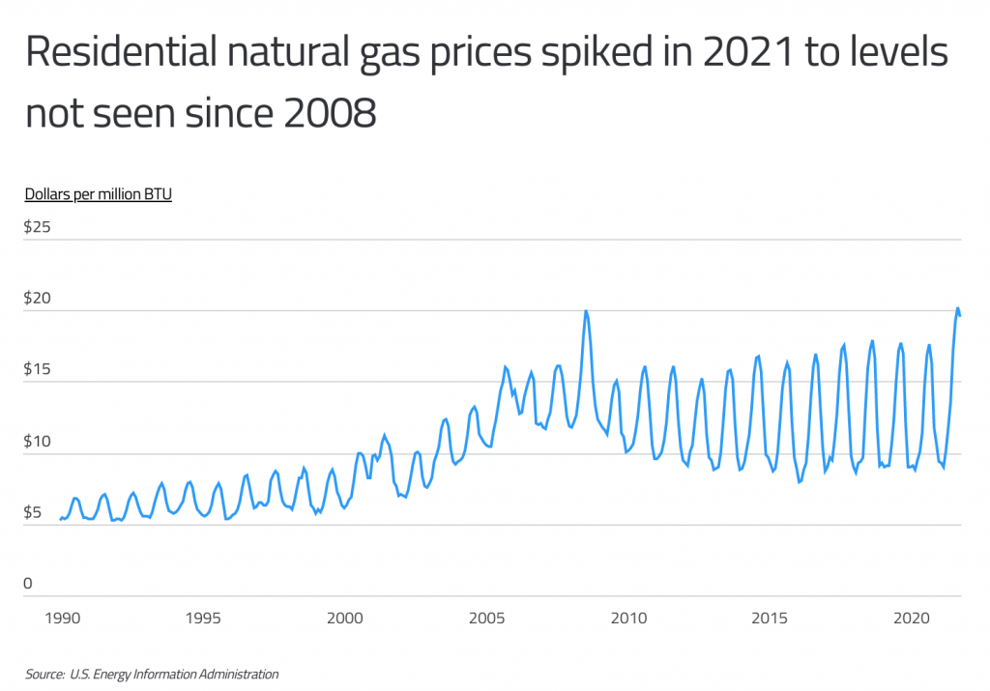 Strong inverse relationship between gas prices and consumption
15. Maryland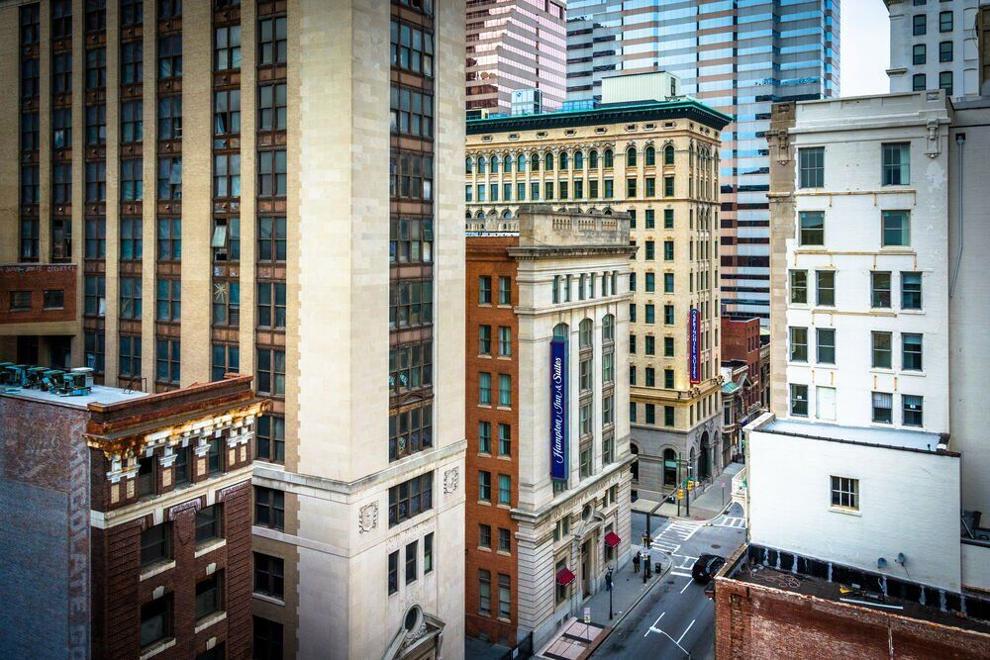 14. Arizona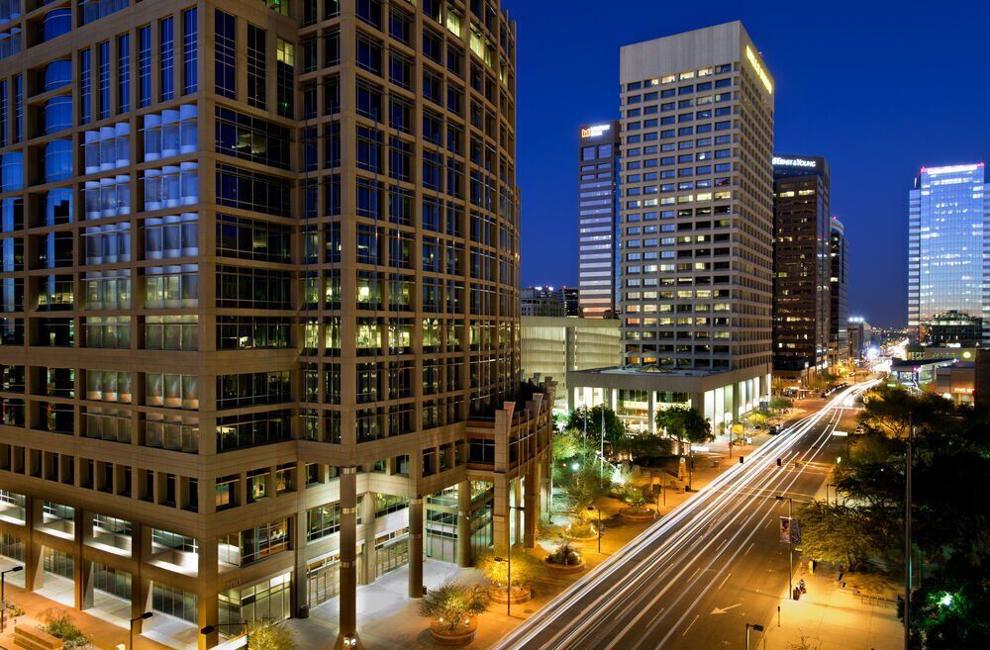 13. Vermont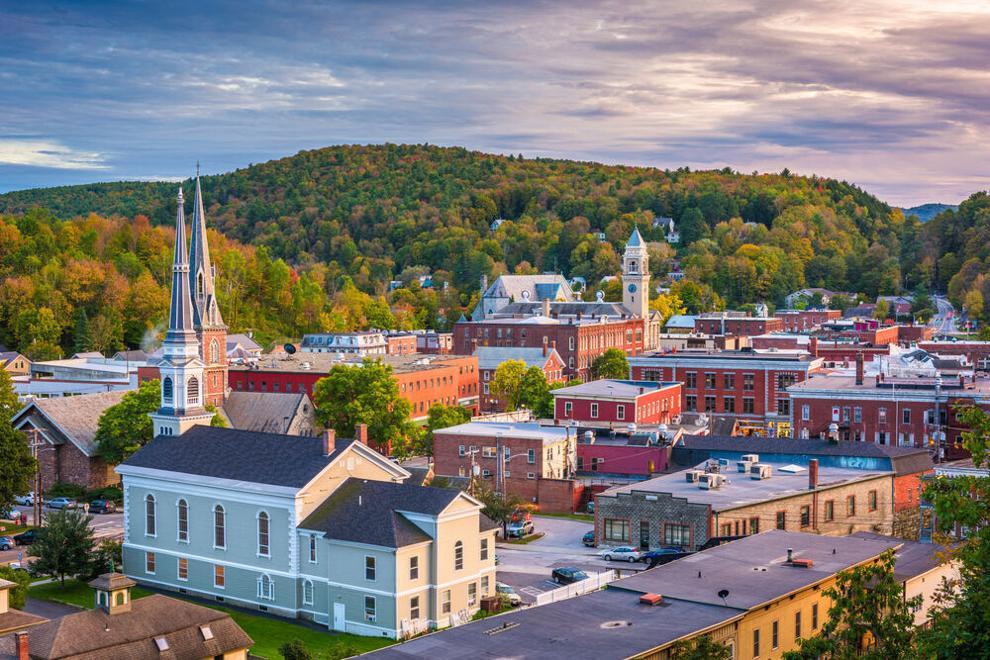 12. North Carolina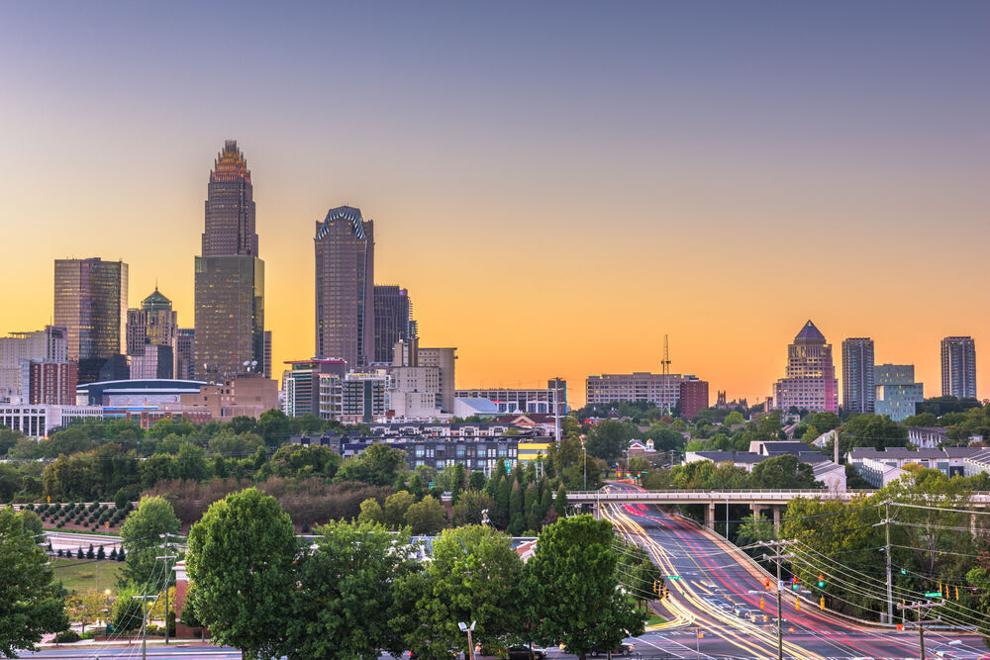 11. South Carolina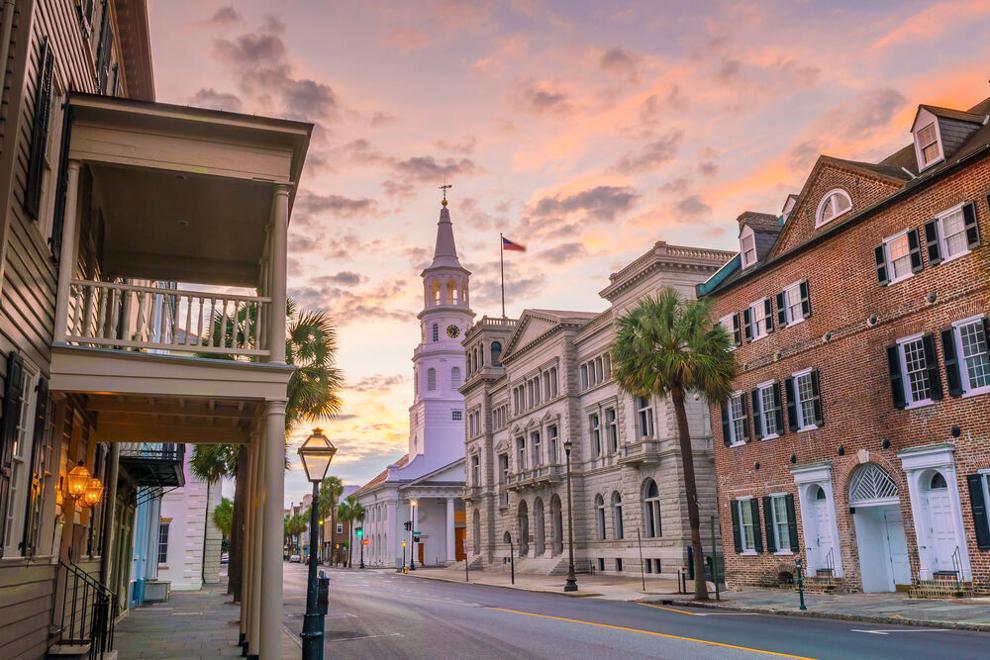 10. California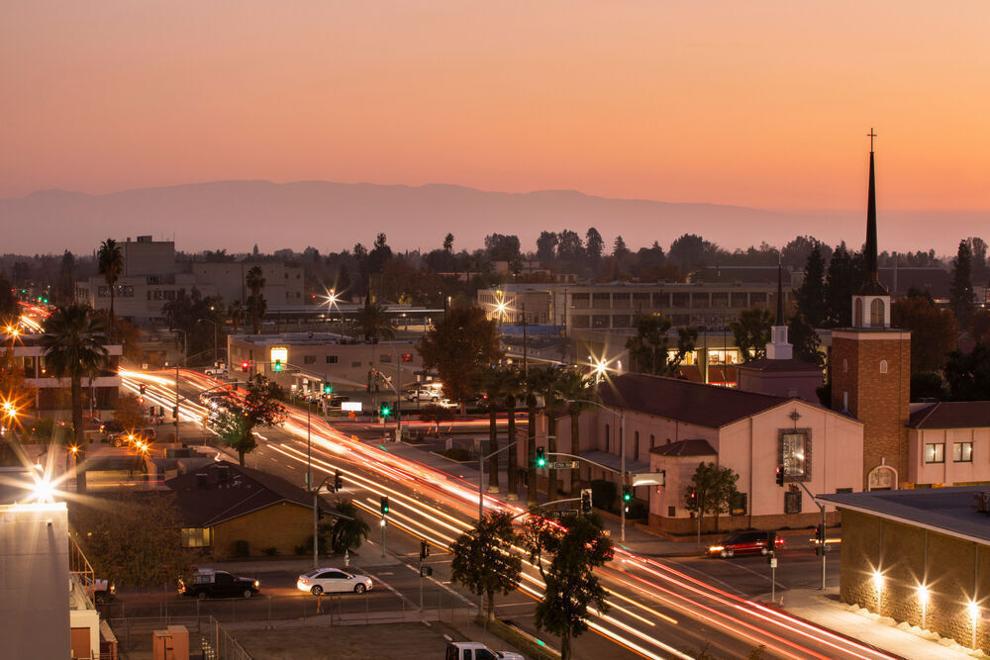 9. New Hampshire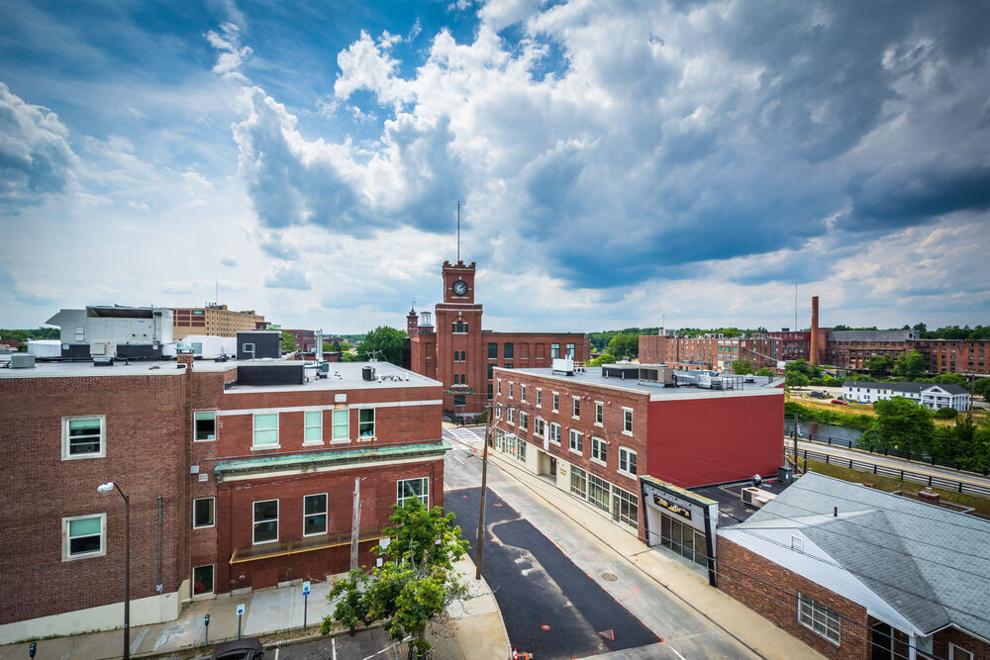 8. Connecticut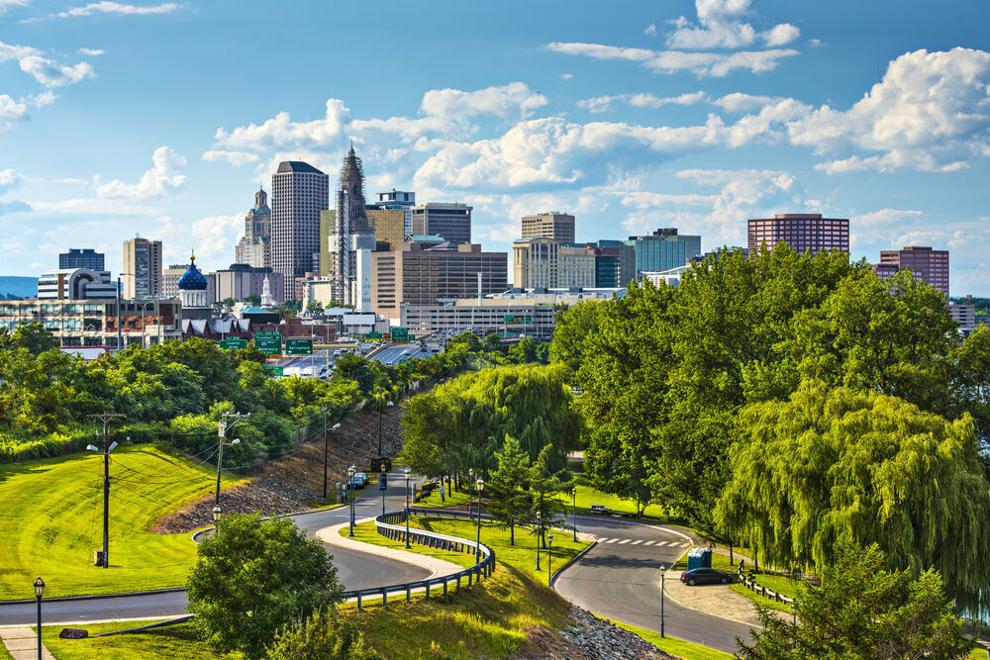 7. Massachusetts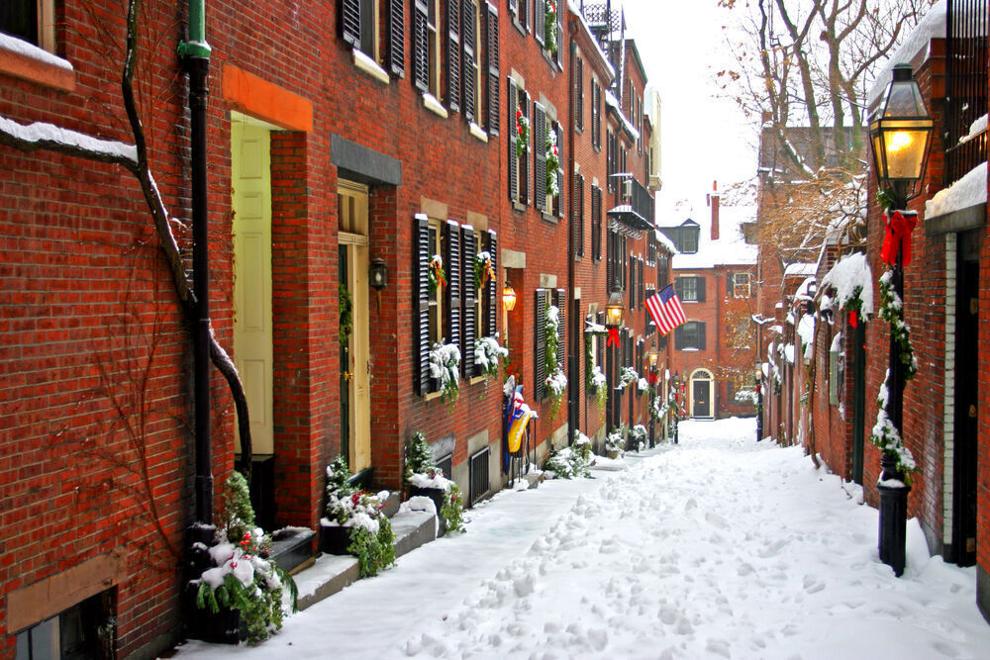 6. Maine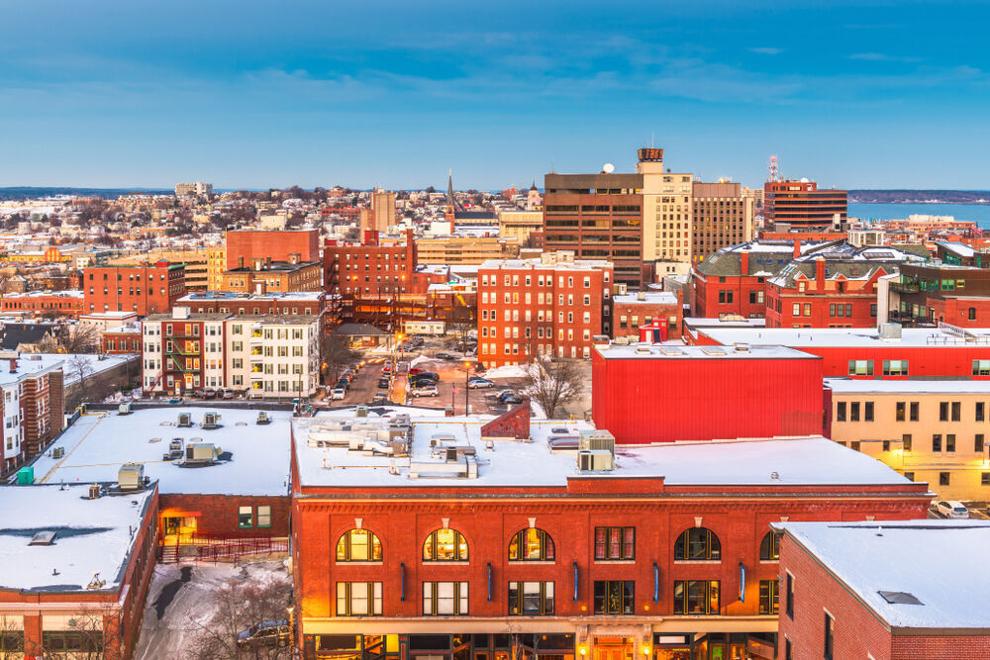 5. Rhode Island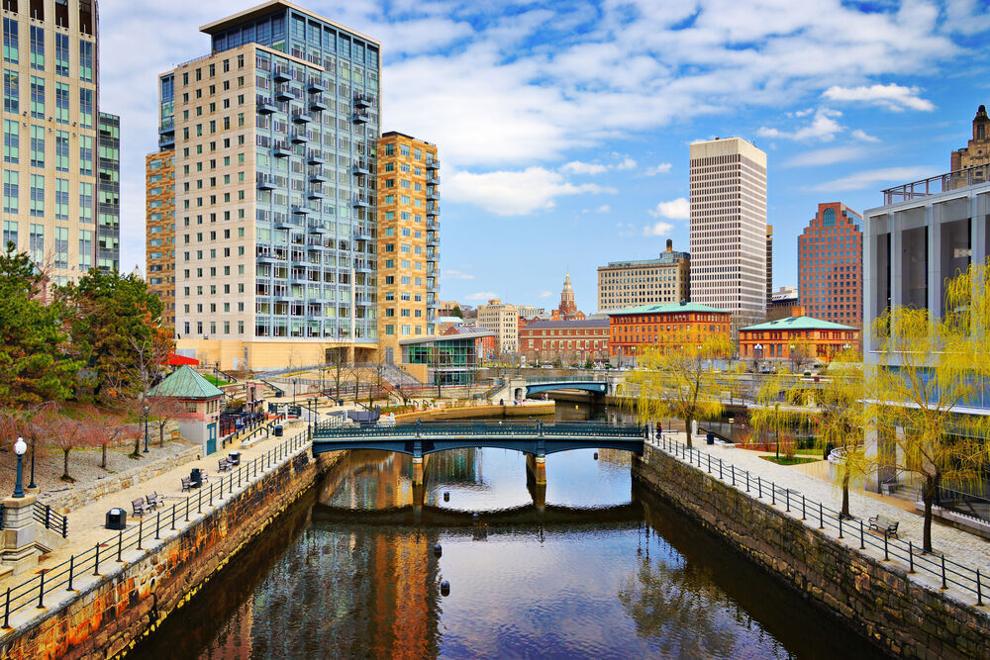 4. Georgia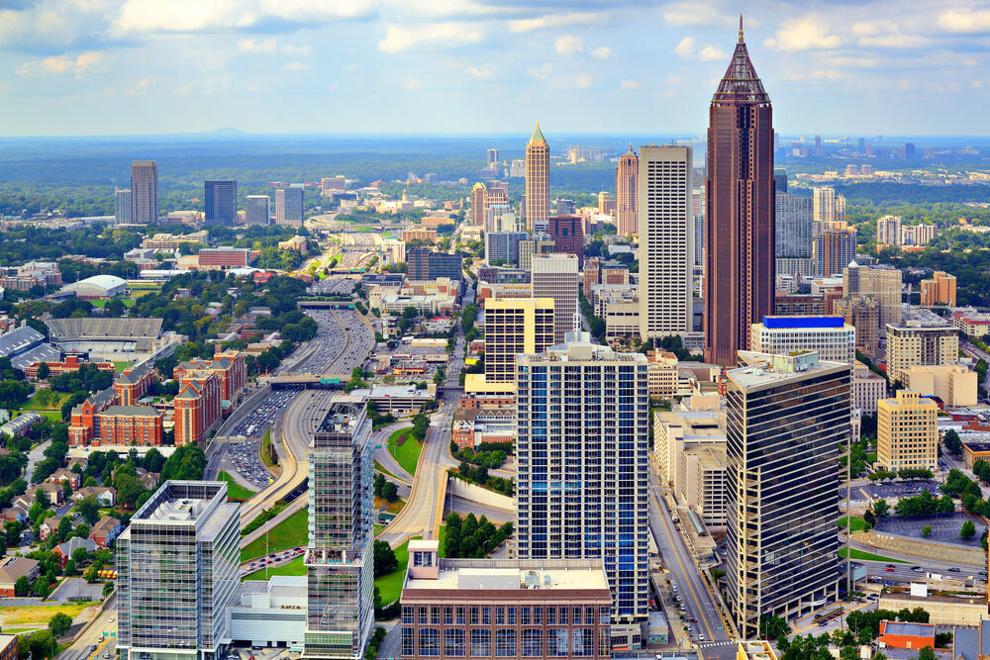 3. Alabama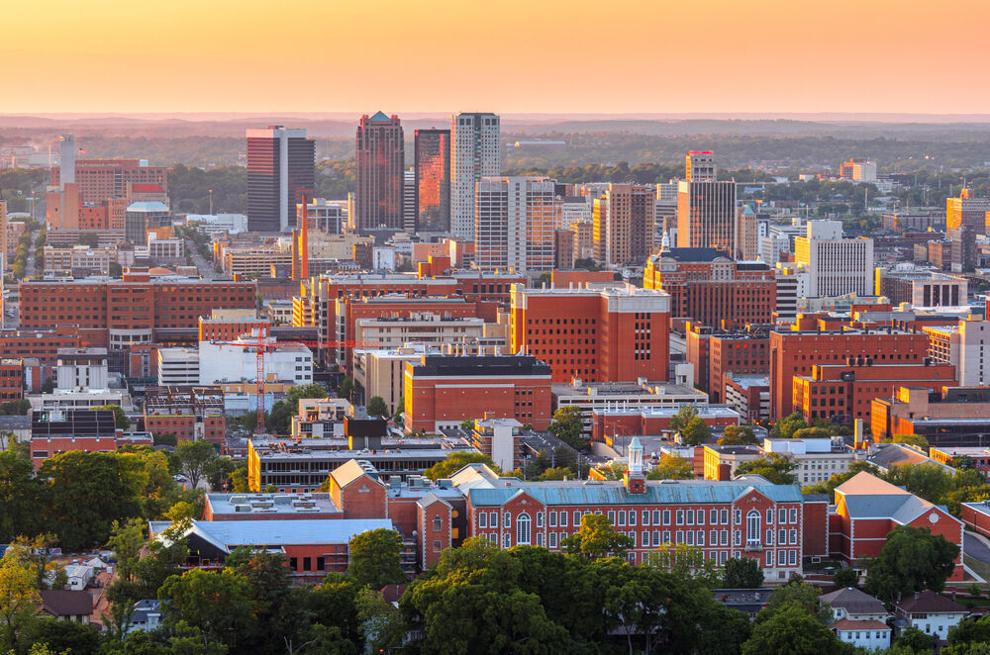 2. Florida
1. Hawaii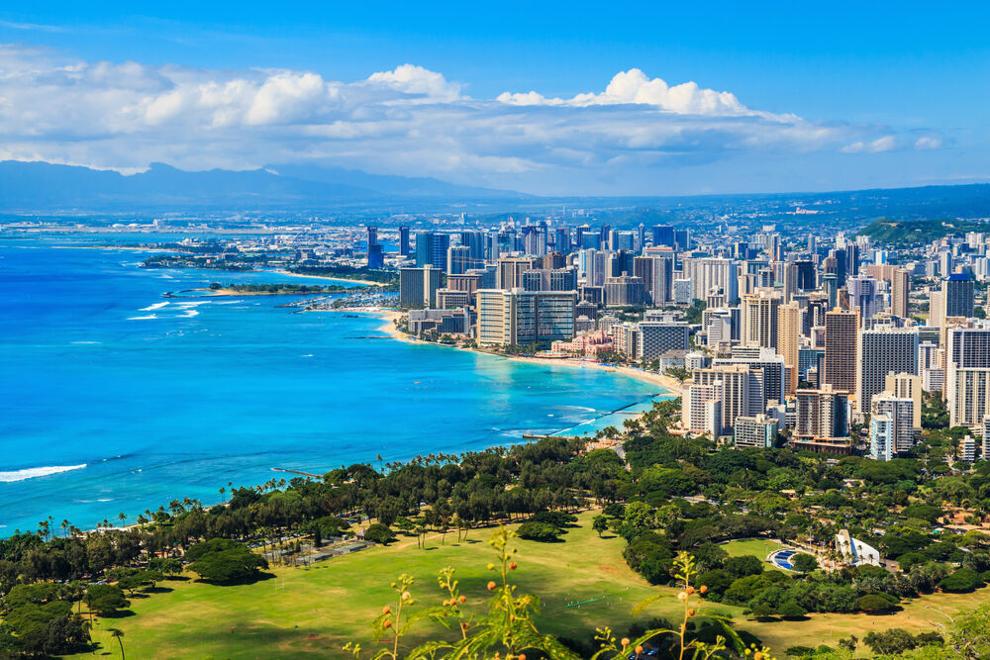 Matt Holiner covers weather and climate across the Midwest. Matt has eight years of professional meteorology experience and has forecast every type of weather for cities across the country. He holds the National Weather Association's Seal of Approval.