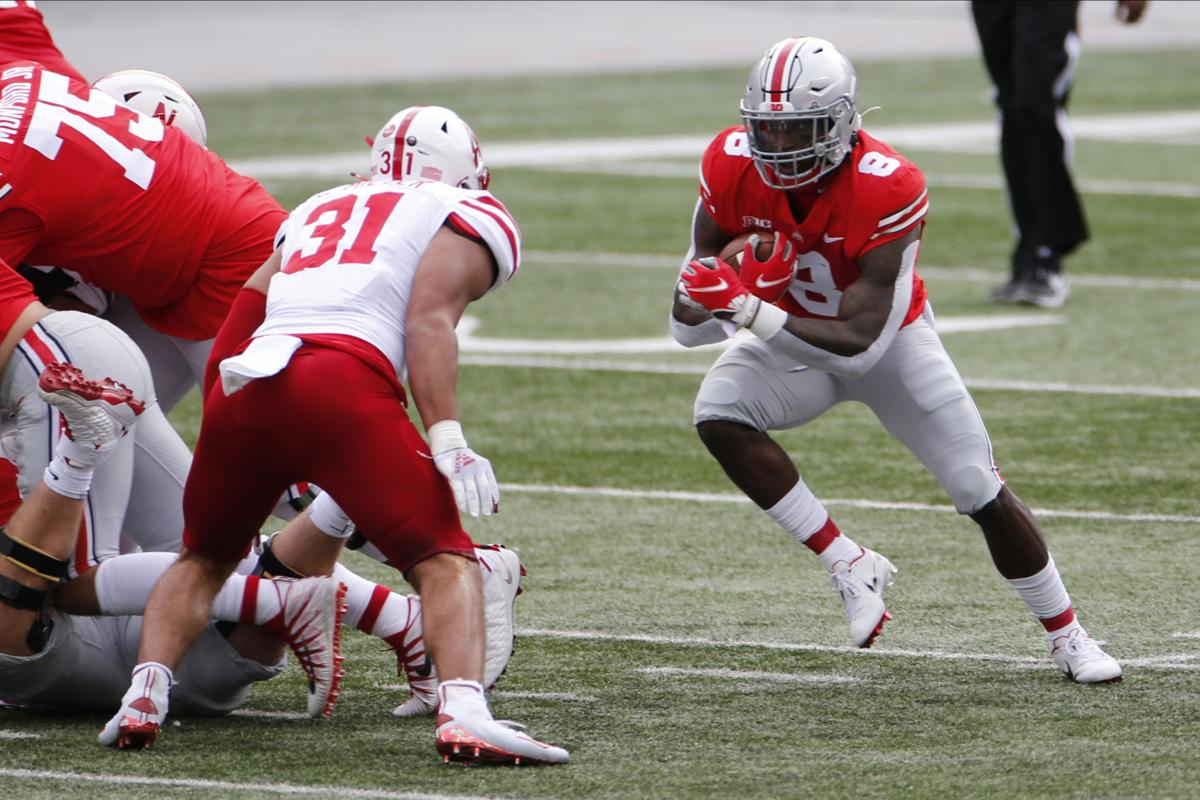 COLUMBUS, Ohio — Justin Fields completed 20 of 21 passes for two touchdowns and ran for another, Master Teague III rushed for a pair of scores and Ohio State rolled over Nebraska 52-17 Saturday on the opening day of the Big Ten's pandemic-delayed season.
Fields, a Heisman Trophy finalist last season, completed his first 12 passes and threw for 276 yards. He ran for another 52 — including a stunning 17-yard third-quarter touchdown scramble around the left side that saw him spin past a defender into the end zone.
"You guys saw the arm we saw," Nebraska linebacker Collin Miller said. "He's making throws guys on Sundays make."
The Ohio State defense took most of the first half to figure out a way to contain quarterback Adrian Martinez, who marched the Huskers down for a touchdown in the opening 2 minutes of the game.
Nebraska (0-1, 0-1 Big Ten) tied the score at 14 in the second quarter, but an Ohio State (1-0, 1-0 Big Ten) field goal, a defensive stop and Teague's second TD run gave the Buckeyes a 24-14 lead at the half. Then came Fields' nifty touchdown run and a 55-yard scoop and score by Buckeyes cornerback Sevyn Banks, and Ohio State had it under control.
"Just to go 1-0 is a great day," Ohio State coach Ryan Day said. "We're very proud of what we did today."
No. 1 Clemson 47, Syracuse 21
CLEMSON, S.C. — Trevor Lawrence threw two touchdown passes and Travis Etienne ran for three scores as No. 1 Clemson shook off a sluggish performance to win their 27th straight Atlantic Coast Conference game and put away pesky Syracuse 47-21 on Saturday.
The Tigers opened 6-0 for the sixth straight season, but it took a late burst to get it done — just like usual against Syracuse (1-5, 1-4).
The Orange were the last ACC team to defeat the Tigers (5-0 ACC) with a 27-24 victory in 2017. A year later at Death Valley, Syracuse again looked primed for the upset as it held a 10-point lead in the fourth quarter before Clemson's 27-23 escape to keep its national championship season intact.
Despite entering as 45-point underdogs, coach Dino Babers and Syracuse kept the Tigers out of synch much of the game and were down just 27-21 late in the third quarter.
But Andrew Booth Jr.'s fumble recovery and touchdown run after Rex Culpepper was sacked late in the third quarter turned the game in Clemson's favor for good.
Etienne added rushing TDs of 9 and 1 yard. Lawrence threw for 289 yards with scoring passes of 25 yards to Cornell Powell and 18 yards to Davis Allen.
The Tigers broke fast for a 17-0 lead less than 11 minutes into the game. That's when things got away from the five-time defending ACC champion.
Syracuse freshman Drew Tuazama blocked a punt and four plays later Sean Tucker scored on a 7-yard run. Then right before half, Orange cornerback Garrett Williams caught a pass off Amari Rodgers' hands and took it 39 yards for a pick six.
Lawrence had gone 12 games without throwing an interception before the streak ended last week against Georgia Tech.
Syracuse made it a one-score game when Nykeim Johnson caught an 83-yard TD pass from Culpepper to draw within 27-21 — and stun the crowd of about 19,000 before Booth's defensive score got the Tigers rolling to victory.
No. 14 UNC 48, No. 23 N.C. State 21
CHAPEL HILL, N.C. — Javonte Williams ran for 160 yards and three touchdowns to help No. 14 North Carolina beat No. 23 North Carolina State 48-21 in Saturday's renewal of the longtime state rivalry.
Michael Carter ran for 106 yards and a score of his own for the Tar Heels (4-1, 4-1 Atlantic Coast Conference), who used a run-through-and-over-tacklers ground game that helped them take control in the third quarter. UNC ran for 326 yards and finished with 578 overall, bouncing back from an upset loss at Florida State to beat the Wolfpack (4-2, 4-2) by a lopsided margin for the second straight season.
Williams had three touchdowns in last year's 41-10 win, then had a pair of short TD runs as UNC ran off 21 straight points after leading just 17-7 at halftime. He punctuated another big rivalry performance by blowing through a huge hole up front then cutting past multiple defenders to the pylon for a 27-yard score that made it 45-14 with 14:11 left.
Sam Howell threw for 252 yards and a TD for the Tar Heels, while Dyami Brown had 105 yards on a career-best seven catches.
The Wolfpack had little go right offensively in the first game without injured starting quarterback Devin Leary. Bailey Hockman started but was pulled after three series for true freshman Ben Finley, only to see the Wolfpack go back to Hockman in the third after Finley threw two interceptions — one off a bobbled pass by Dylan Parham in the end zone by that should've been a first-half touchdown — and lost a fumble on a sack.
Finley threw for 143 yards and a 42-yard score to Emeka Emezie, while Hockman scored on a short keeper and threw for a TD after returning with the Tar Heels up big.
No. 20 Kansas State 55, Kansas 14
MANHATTAN, Kan. — Phillip Brooks returned a pair of punts for touchdowns, Kansas State took advantage of an embarrassing day of special teams by its biggest rival, and the No. 20 Wildcats rolled to a 55-14 victory over Kansas on Saturday.
Will Howard threw for 243 yards and two touchdowns while Justin Gardner returned an interception 25 yards for another score, helping the Wildcats (4-1) improve to 4-0 in the Big 12 for the first time since 2014.
Deuce Vaughn added 71 yards rushing and another touchdown as Kansas State beat the Jayhawks (0-5, 0-4) for a series-record 12th straight time. Kansas has not beaten its Interstate 70 rival since Nov. 1, 2008, in Lawrence.
Freshman Jalon Daniels was just 22 of 39 for 207 yards for the Jayhawks, who were playing their first game since coach Les Miles returned from a positive COVID-19 test. It also was their first game since running back Pooka Williams, an All-Big 12 selection a year ago, decided to opt out for the remainder of the season.
Along with giving up two punt return TDs, the Jayhawks also had two punts nearly returned for scores and were lousy in their own return game. They also watched Jacob Borcila bang a field-goal attempt off the upright.
The lopsided score allowed Kansas State coach Chris Klieman to empty his bench early in the fourth quarter.
The Wildcats' offense actually struggled early behind their own freshman quarterback, making his second start in place of the injured Skylar Thompson. But their defense and special teams scored 27 points in staking them to a 34-7 halftime lead.
Be the first to know
Get local news delivered to your inbox!