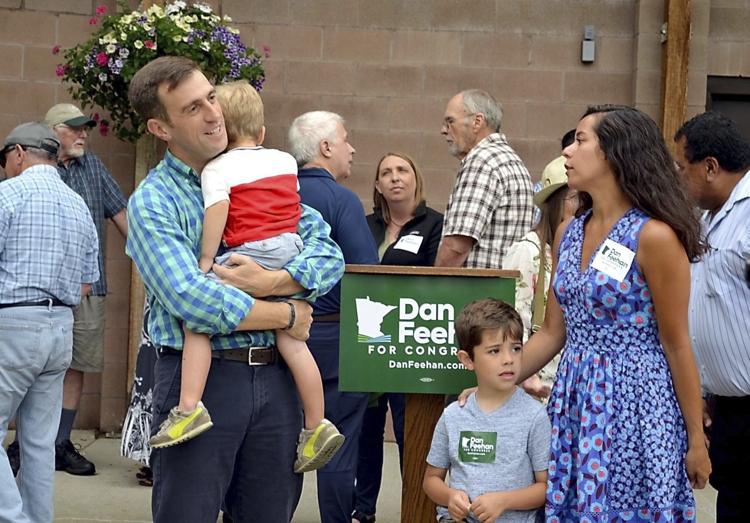 Perhaps the candidate who values compromise the most is Feehan, a 36-year-old Iraq War veteran and former Department of Defense official who is seeking office for the first time.
He doesn't speak as though he has all the answers. He has not drawn a line in the sand. He's not too proud to realize these are complicated questions that can't — and shouldn't — be answered with soundbites and rallying cries.
"When you are engaging the other side from the beginning of the policy process — not the end, but the beginning — you learn that your ideas aren't as good as you think they are and you humanize yourself to the other side," Feehan said. "That's something that is missing in Washington."
Through his work at the Pentagon, Feehan said he's already established relationships with two Republicans in the House: Elise Stefanik (upstate New York) and Mike Gallagher (Green Bay, Wis.)
We heard no such willingness for compromise or coalition building from Jim Hagedorn, a 56-year-old businessmen from Blue Earth, Minn., seeking this seat for the fourth time.
His platform centers around his desire to be a "conservative reinforcement" for President Donald Trump.
The difference between the two candidates is most stark on the issue of immigration, where Hagedorn's fearmongering, parroting the rhetoric from Trump's campaign rallies and tweets, should be roundly rejected by voters in Winona, Minnesota's first Welcoming America city and home to Project FINE, a nonprofit organization that helps empower immigrants and refugees.
Feehan does not, as Hagedorn insist, want open borders.
"That's the terminology that gets thrown in when people are unwilling to actually address the systemic issue of immigration," said Feehan, who supports a robust guest worker program, would like to turn DACA into law and wants to provide a clear pathway to citizenship to those who work and pay taxes and are law-abiding.
"Those are bi-partisan ideas," he said.
This is just one example. Feehan is looking to go to Washington to roll up his sleeves. We think Hagedorn is going to look for the biggest microphone.
We give Feehan our strongest endorsement.