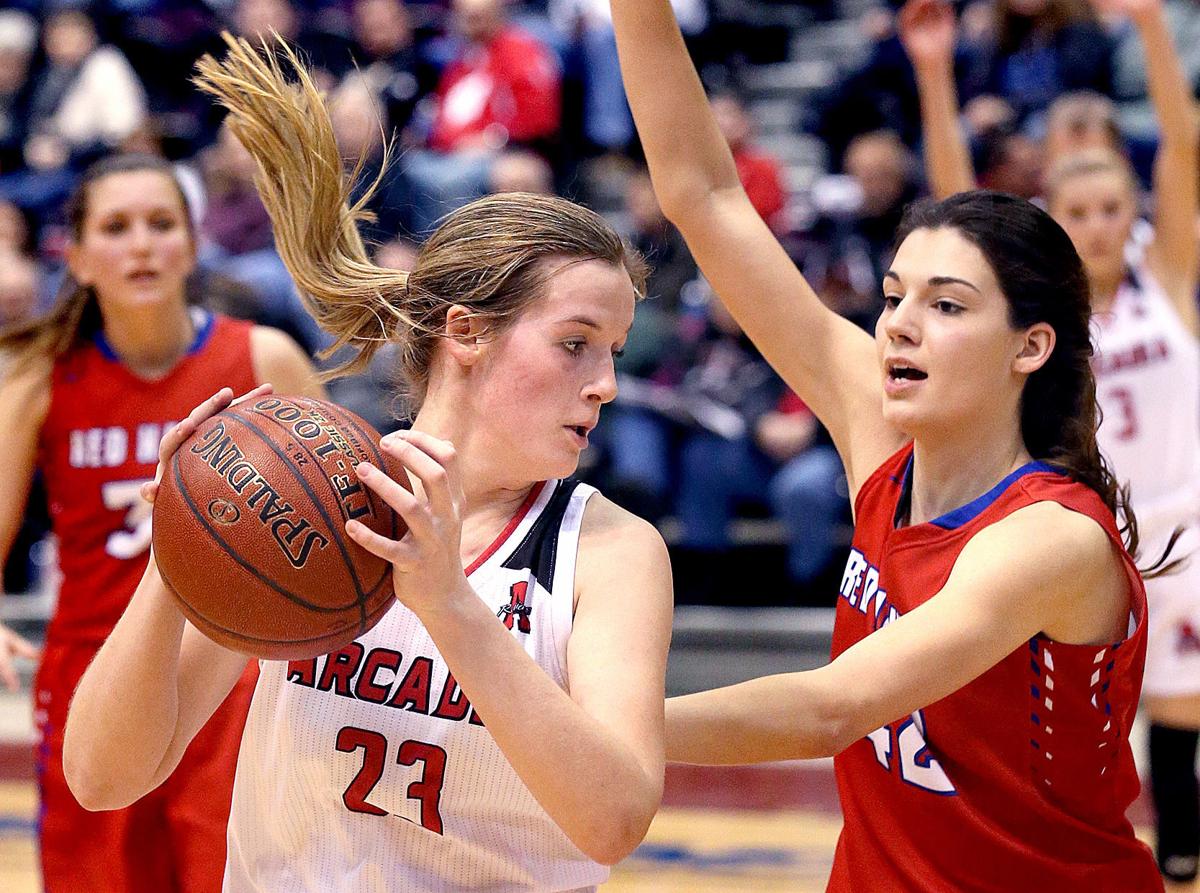 BALDWIN, Wis. — It all started when the Arcadia High School girls basketball team was eliminated by G-E-T in a WIAA Division 3 sectional semifinal last season.
Coach Tom Cowley gathered his team at midcourt and talked about its future in detail.
He told them that they could be the Red Hawks of this season and represent the Coulee Region in the state tournament a year from then. The players didn't need long to contemplate the thought before going along with their coach.
"They all put there hands in the middle," Cowley said, "and said, 'We're in.'"
Well, the Raiders are in the state tournament after holding on to beat St. Croix Falls 52-49 Saturday afternoon in Baldwin, Wis.
Arcadia (23-3) will begin its first state tournament since 1998 at 1:35 p.m. Thursday afternoon after being given the No. 4 seed Sunday morning. That means they will face off against top-seeded Platteville (25-0). The Hillmen were the consensus No. 1 in the final rankings by the Associated Press and have won every game — outside of three — by double digits. The slimmest margin came against Prairie du Chien when they knocked off the Blackhawks 49-44 to advance to the sectional championship where they quickly dispatched Marshall 50-34.
On the other side of the bracket, Wrightstown (24-2) is the No. 2 seed and will take on Lake Mills (24-2) after Arcadia and Platteville square off.
The Hillmen will be a great challenge, but the Raiders have been working for this moment.
"They were great throughout the summer," Cowley said. "There were a lot of them together working out.
"Every single moment we had, their focus was kept on that goal we made."
The Raiders held off a 7-0 St. Croix Falls run late in the first half to take a 30-21 lead into halftime. The teams exchanged runs in the second half, and the Raiders held on despite making 7 of 20 attempts from the free-throw line.
"We made the big ones," Cowley said.
An 11-2 run put St. Croix Falls up 43-42 when Linzy Sendelbach's three-point play put Arcadia back in front with 3 minutes, 21 seconds to go.
Sendelbach scored a team-high 14 points for the Raiders, who also received 13 from Ellie Hoesley and 10 from Chloe Halverson.
"They tied it up once or twice and took the lead, but the kids didn't panic," Cowley said. "They took the lead with about two minutes to go until we took it back and built on it a little.
"The girls never lost their focus or demeanor on the floor and hung in there."
Be the first to know
Get local news delivered to your inbox!