LA CRESCENT, Minn. — As is the case with most living rooms, the one in Joe and Joni Hayes' home in La Crescent has a couch.
It's a red couch and somewhere between velvet and suede. It dominates the space, large enough to fit four people comfortably, though it could likely hold six — or even more — if the moment called for that.
First-year La Crescent-Hokah High School boys hockey coach and former NHL player Eriah Hayes spent countless hours on that couch in his childhood home during the heart of 2016 and stretching into 2017 — the year he took a break from hockey to recover from a number of injuries.
It was the year that effectively changed his life.
The rise
Eriah's rise from a standout for the Lancers to the NHL is well-documented.
He graduated from La Crescent in 2007 as the program's record-holder in points (240) but got little notice from college teams. A solid performance in the Great 8 tournament, however, earned Eriah an invitation to play for the Topeka Roadrunners in the NAHL, where he excelled; he totaled 56 points, including 30 goals, in 53 games during the 2007-08 season.
From there, Eriah played a season with the Waterloo Black Hawks before playing for four years at Minnesota State-Mankato. Shortly after his time with the Mavericks came to an end, he signed a two-year deal with the NHL's San Jose Sharks. He bounced around between San Jose and its former AHL affiliate, Worcester, and played in 19 games in the NHL. He scored his lone NHL goal against Calgary during the 2013-14 season.
Equally well-documented is the end of his hockey career before his retirement in October 2017.
After Eriah's contract with the Sharks was up, he signed a one-year deal with the Chicago Wolves and played in 39 games in the 2015-16 season. But a number of injuries — including a broken nose, multiple concussions and a skull fracture — cut his season short.
Eriah decided to take the next season off to recover, and a hip surgery after the 2015-16 season concluded landed him on that couch.
The motivation
For much of Eriah's life up to that point, one of his motivators — his "why," he calls it — was proving people wrong.
Despite being one of the best athletes to come out of the Coulee Region — he was a standout for the Lancers in baseball, soccer and football, the latter of which he only played his senior year, in addition to hockey — some doubted pro-level talent could come from such a small community. So Eriah put in the work, and success followed.
Of course, the amount of time and energy he dedicated to the sport increased as he climbed hockey's ranks — from slapping pucks at his parents' garage door to poring over hours and hours of tape.
"The line is so thin between being on the big club and being in the AHL," he says. "Any edge you could find, you were looking for it."
It was easy for him to form habits around the sport, especially since he likes to have things to do and a routine to go along with it.
"It was getting up in the morning and getting dressed the same way and doing everything the same way," Eriah says. "Eating the same thing every day, drinking the same things, driving the same roads to the rink, doing the same things at the rink."
That made the transition to the couch all the more jarring, and there was little he could do to change it.
After his hip surgery in Chicago in April 2016, Eriah's parents opened up their home for him and his wife, Katie, who was pregnant with their first daughter, expected to be born that summer.
The recovery process from the hip surgery alone was expected to take about eight months. As part of his rehab, he had to place his leg in a machine that would bend his knee and push it toward his chest, and week by week, the machine increased its angle.
"I had to do it four hours at a time," Eriah says. "It was just absolutely agonizing."
That's not to mention his concussion symptoms, which lingered into 2017. Lights were bothersome, headaches were frequent and anxiety often followed. There were times he had trouble staying awake, and he had to sleep sitting up.
Even when he could keep his eyes open, he had double vision on objects far away. An eventual eye surgery sought to correct it, but his double vision persists, just with closer objects.
Any hockey routine was shattered, and working out to try to stay in shape for a comeback was out of the question.
"I was in a bit of a dark place for a while," Eriah says. "... You just don't feel like yourself, I'll say that."
Good days were few at the start, but they gradually grew in number. He took walks when he could and did anything to keep his mind busy, from reading books to piecing together puzzles to solving crosswords. Television became a go-to, and he and Katie binged many shows, including The Wire, Deadwood and Game of Thrones.
Hockey, however, was never on the TV.
"It was such a huge part of my life for so long, I kind of felt like it was ripped away from me a little bit," Eriah says. "... It kind of gave me a bad taste in my mouth.
"Thank goodness for my wife. She always kept me positive. ... She knew I was kind of all over the place. She's like, 'You need some routine in your life.' So she helped me with that."
"He's so strong," Katie says of those early months of Eriah's recovery. "He's never complained. He's always just moving forward."
You have free articles remaining.
And Eriah knew shortly after the end of the 2015-16 season that moving forward would likely mean a future without hockey. Numerous doctors appointments all but confirmed this, yet Eriah held out hope in the back of his mind that he could return to the ice.
He knew it was a stretch, but why couldn't he prove the doctors wrong? After all, he'd proven others wrong before.
Then his "why" changed in June 2016.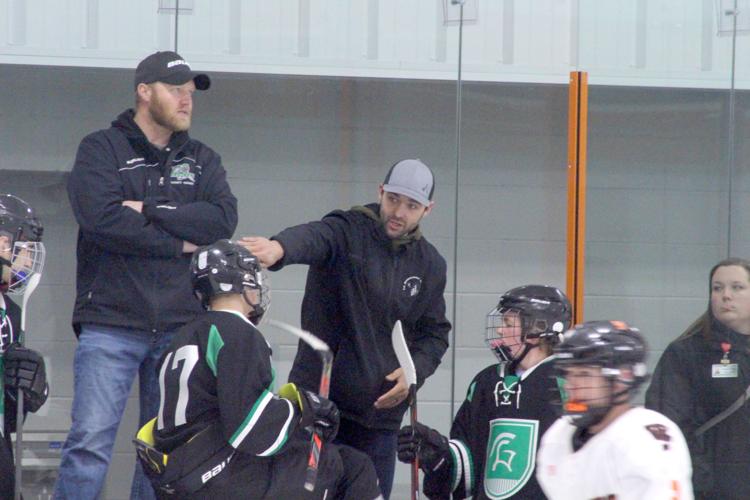 Family bond
The fact that the red couch is in Eriah's parents' home shouldn't be glossed over. Family is essential to him.
Eriah looked up to his older sister, Ruanna, as he grew up, and sports brought him close to his younger sisters, Brittany and Autumn, the former of whom played goalie for the La Crescent-Hokah boys hockey team with Eriah.
"We're a really tight-knit family," Eriah says. "We're all really close. Always have been, always will be."
His parents' actions speak for themselves, and they didn't stop at welcoming Eriah and Katie into their home as Eriah recovered.
"When (Eriah) had the hip surgery, he had a follow up appointment that he needed to drive four hours back to Chicago for, and I was super pregnant at the time," Katie says. "So his mom took him.
"They're the parents that will bend over backwards to try to make things happen for (their kids)."
It's no surprise, then, that as Eriah sat on that couch and mulled over potential futures, he thought about the daughter that was about enter he and Katie's lives and the family they would be starting. He knew a return to hockey could complicate things, especially if he suffered more head injuries.
"He wanted to be here for his kids," Katie says. "He wanted to be here to watch them grow up and be a part of their lives and be active and be the best version (of himself) that he could be for them."
In June, their first daughter, Poppy, came.
"(Poppy) just put things into perspective," Eriah says. "Life wasn't about me anymore; it was about her. I was living for her now."
Eriah began working out as soon as he recovered from his hip surgery and the concussion symptoms subsided. Before too long, he was back in good enough physical shape to step back on the ice.
But that ship had sailed. He had a more important "why," and one that changed his life.
"(That year) was tough, but thank God for my wife," Eriah says. "(Poppy) was a huge blessing for me to turn my focus to her and my wife. (Taking that year off) was really just a huge blessing in disguise."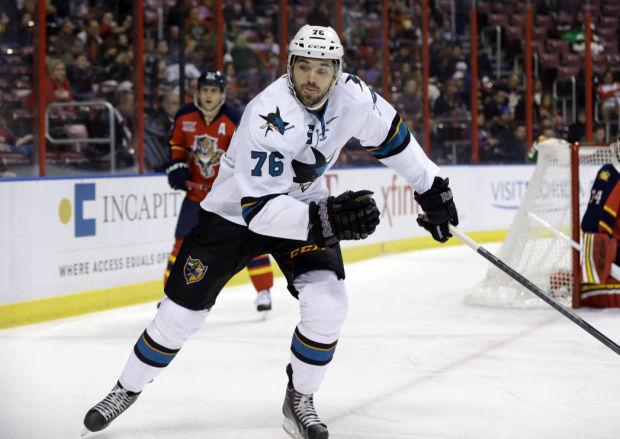 The next chapter
Eriah is happy with where he is now, and he considers himself lucky.
Lucky that he's back in his hometown, lucky to have his family — which now includes another daughter, Lottie — and lucky to be as healthy as he is.
"Less than a year ago, we went to an ENT," Katie says. "He said, 'I looked at your X-rays before I saw you today.' And he said, 'I thought I was going to walk into a room with someone that was unrecognizable.'"
Eriah and Katie have a farm right outside of La Crescent that borders the farm Katie grew up on — family is important, after all — and have enough land for Eriah to hunt on, which he does to clear his mind.
In town, he is the co-owner of the gym FIVE7 and, of course, is the La Crescent-Hokah boys hockey coach.
It took some time for Eriah to simply get back to watching hockey — he started to ease back into it in 2018 — and though he knew he always wanted to return to La Crescent, he never thought he would become a coach.
But after some nudging and being an assistant with the team last season, he took the spot as the program's leader. He views it as a way to give back to a community that gave so much to him and wants to instill in local athletes that dreams are achievable.
Eriah admits that he still has a lot to learn about coaching as he navigates the challenges of passing along the knowledge he gained as a player in the NHL.
"You think about the game on such a high-end level when you're watching that much video, and when I'm trying to explain that to a kid, they're kind of looking at me like, 'What are you talking about?'" Eriah says. "So I've got to go back to 101 and build off of that."
But if the past is any indicator, he'll be up to the challenge.