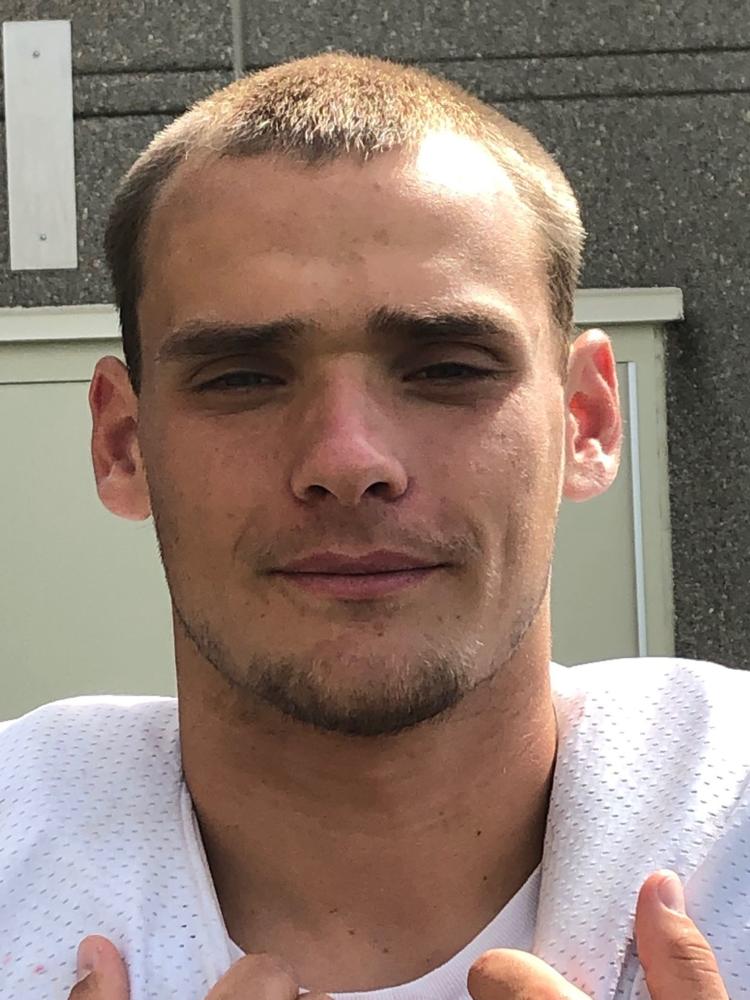 CALEDONIA — As football players position themselves in the Caledonia High School cafeteria to get what they want from tables full of food provided by their families on Thanksgiving evening, coach Carl Fruechte watches from afar.
He makes sure to take enough time to enjoy a tradition that many teams never get the chance to experience once before taking his leave and heading home. Practice is now over, and all that remains — besides this meal, sleep (hopefully) and a morning breakfast before the bus ride to U.S. Bank Stadium — is the MSHSL Class AA championship game against Minneapolis North (13-0) at 1 p.m. Friday.
Fruechte turns his focus on the game inward as players, coaches and their families outwardly enjoy each other's company and a spaghetti supper together before trying to get some sleep before an early-morning departure for U.S. Bank Stadium.
"I don't stay and eat," Fruechte said. "I leave. For me, it's their time to be together.
"I watch for a little bit, then I sneak out."
The scene is always something Fruechte wants to see. It means something to everyone involved, and it might mean as much as it does because nothing is taken for granted in Caledonia. No one expects to do this every Thanksgiving, but they work as hard as they possibly can with the hope that it does.
Four straight Class AA state championships and 67 consecutive victories will mean nothing to the Warriors (13-0) when they line up for kickoff on Friday. Even if they bump those numbers to five and 68 by beating Minneapolis North, what takes place together on Thanksgiving probably means more.
Those outside the program may dispute that, but those involved just might agree.
You have free articles remaining.
It's special because it's rare. The actual supper isn't rare because it's done every week of the season, but spending time together as a football team still pursuing a goal on Thanksgiving is. There are 14 teams with a game remaining on their schedule for the final weekend of the season, and Caledonia has been one of those teams in 11 of the past 15 years.
"They look forward to this so much," Fruechte said of the gathering after the final practice. "This is where they want to be. For a couple hours, they really enjoy it. You can feel that. You can feel the vibe and togetherness."
Senior Noah King has no desire to lay on the couch and watch football or fall asleep after eating too much turkey. He still gets a little turkey with his family, but it's all become a prelude to an afternoon practice, and this will be King's last as a football player.
"There will many more (Thanksgivings) for that," said King, who is committed to play basketball at Division I South Dakota State University. "We (seniors) will never be able to do this again, so this is where we want to be."
It's easy, of course, to build this kind of camaraderie by winning games, but winning games isn't easy — even if Caledonia makes it look that way. It takes commitment, preparation, organization and a clear vision from the coaching staff that filters down and is accepted by not only the players but their families involved.
The dedication required to do what the Warriors are doing has to be grown and cared for. It doesn't come without flaws or mistakes, but that dedication can overcome imperfections.
It can also lead to the formation of a family. And if this program is a second family for everyone involved, Thanksgiving is definitely a time to continue the bonding experience.
"It's awesome," senior lineman Isaiah Forester said. "It gets us hyped for the game, we get to eat good food, and we just get to spend some more time together.