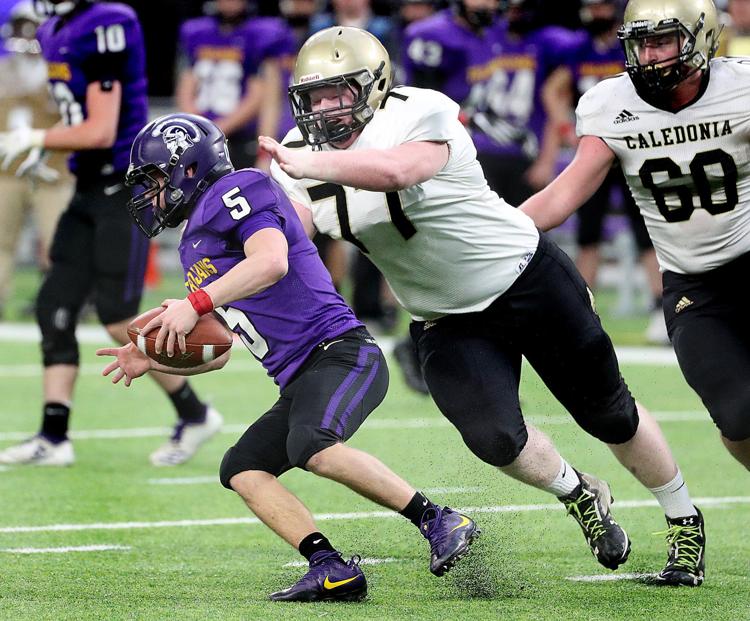 CALEDONIA — Everything was setting up nicely for Isaiah Forester's senior season with the Caledonia High School football team.
The 6-foot-2, 290-pound offensive and defensive lineman helped the Warriors win the MSHSL Class AA state championship as a starting junior and was ready to slide into the role of senior leader to make a run at another title.
Forester attended a camp hosted by North Dakota State University in the summer and was selected by staff as one of its top performers.
"He did well out there," Caledonia coach Carl Fruechte said of Forester, whose team plays Minneapolis North for the Class AA championship at U.S. Bank Stadium on Friday. "Being picked as one of those top performers is a big deal."
But it took exactly one game for Forester to tear the meniscus in his right knee and see his role with the team change. He doesn't remember the play or what exactly caused the injury, just that he experienced pain after the top-ranked Warriors' 55-7 stomping of Red Wing concluded.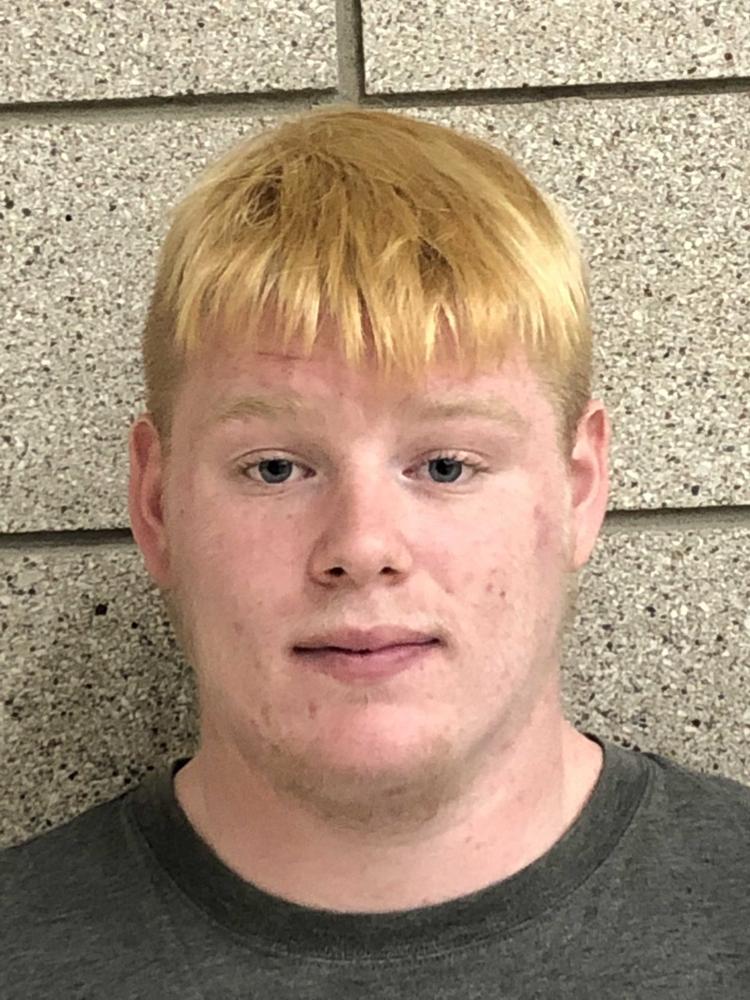 "I think it was just adrenaline that kept me in the game," said Forester said. "It was sore and swelling up after."
Am MRI revealed the injury, and Forester was forced to miss a couple of games before doctors gave him the choice to return to the field against Chatfield three weeks later. He decided to play, and did, but missed the next two games.
The frustration at not being able to play consistently was countered with Forester's ability to remain a key piece to the puzzle. He simply turned into a coach.
Forester watched everything that happened on the field. If he saw something he would try to exploit or take advantage of as a player, he made sure to share it with the sideline instead of lamenting the fact that he couldn't do it himself.
Forester talked to teammates and coaches to get his points across.
"He's a 1-percenter when it comes to being able to coach the way he does," Caledonia coach Carl Fruechte said. "He'll call out guys in practice, call out guys in games. Off the top of my head, Isaiah and Dustin King are guys who could really coach when they were banged up and couldn't play for us."
His communication wasn't exclusively with teammates, though. He has never been shy about telling Fruechte what was on his mind, either.
You have free articles remaining.
Register for more free articles
Stay logged in to skip the surveys
"I may say, 'Isaiah, I need you to watch this, this and this," Fruechte said. "He'll come up and grab me if something is wrong and say, 'Carl, remember you said to do this.'
"I love that. I don't want players or coaches to say after the game, 'Well, I was going to tell you this, but I was afraid to say something (during the game). That's garbage. Tell me what you are thinking, and he does that."
The other good news for Caledonia is that Forester is ready to be back on the field. While he hasn't practiced in weeks, Forester returned during Caledonia's 43-12 semifinal win over second-ranked Barnesville on Nov. 15 and is ready to go against third-ranked Minneapolis North (13-0).
He played defensively and pitched in on offense when the Warriors reached the red zone against the Trojans. His role could expand against the Polars before he has surgery to repair the injury after the season concludes.
While Forester hasn't played a lot this season, his minutes have been impactful. Through one full game and parts of three others, Forester has six tackles. but he also has a sack, one forced fumble and one fumble recovered.
"It's easier to go out and play defense because I don't have to plant on my leg as much," Forester said. "But I moved to the left side (offensive guard), and I have felt good there. I've moved around a lot over the years, so I'm comfortable anywhere, I guess."
He is adjusted to a two-point stance defensively to improve his speed across the line, and it worked in the semifinal.
Forester made two tackles and pitched on a stop behind the line of scrimmage against Barnesville, but he also forced the Trojans to do some things they didn't want to do and redirect plays if he lined up where they wanted to go.
"He was making man plays in that game," Fruechte said.
Fruechte expects that to continue after Friday. The accolades from the NDSU camp show that Forester can play college football if healthy, and surgery should take care of that.
Forester, who has said he expects to attend a junior college after graduation and try to work his way to a higher level.
"We feel that Isaiah has a future in this game," Fruechte said. "We feel it can better his life, and we hope he carries this on to the rest of his life."