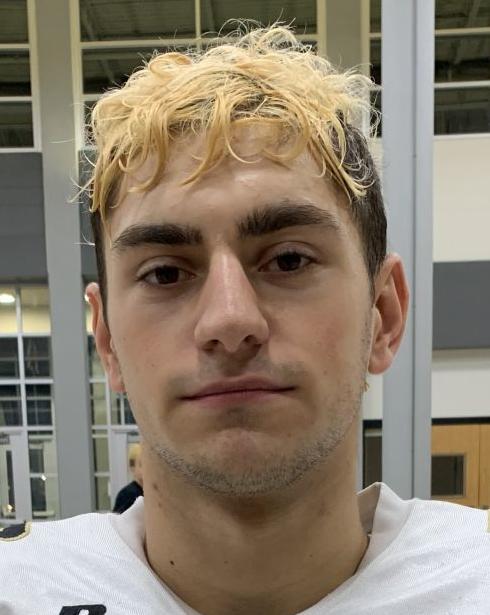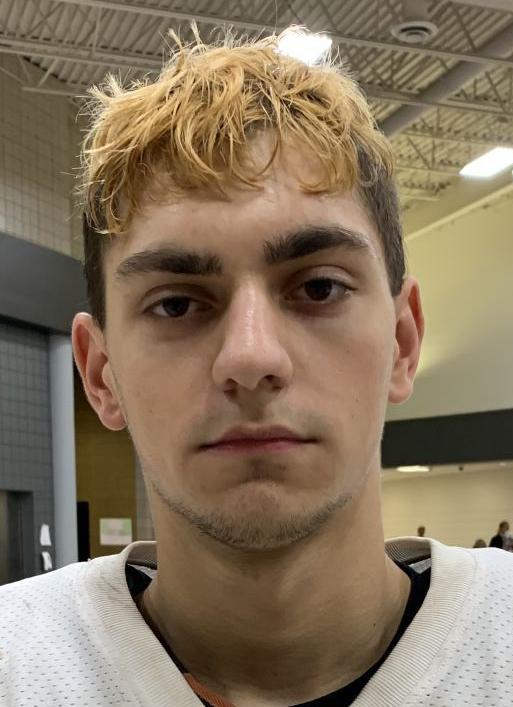 CALEDONIA, Minn. — The Caledonia High School football team's emphasis on speed is no secret. It's a frequent talking point of coach Carl Fruechte and evident when playmakers get the ball in their hands.
But when the team splits for individual drills in practice, the real athletes — as Fruechte calls them — go with the head coach.
"That's O- and D-line," Fruechte said with a smile.
Among the skill Caledonia boasts in the trenches — the Warriors average 5.44 yards per carry on offense and have held opponents to eight total rushing touchdowns — twins Ezra and Elias Dvorak might be at the top of the list. Both are defensive ends, while Ezra plays at tackle and Elias at center on the offensive line.
"Our offensive linemen and defensive linemen, we call them athletes," Fruechte said. "(Ezra and Elias) are two of our best."
The Dvoraks fit the bill of stereotypical twins. The seniors are difficult to tell apart and are close off the field; both enjoy hunting and camping and have fond memories of fishing trips. Perhaps the only differences between the two are their go-to beverages — Elias prefers chocolate milk while Ezra favors water — and that Ezra is older by about 19 minutes, which he sometimes holds over Elias' head.
"I view us as the same," Elias said.
Proximity in age bred a healthy rivalry in backyard sports, mainly basketball and football, as the pair grew up. Elias, who also plays basketball for the Warriors, claims to have won the majority of the one-on-one hoops matchups, much to the protest of Ezra, who stopped playing after his sophomore year. But they agreed neither held the edge when running routes against each other.
"As linemen, we weren't very good at it," Ezra said.
But as linemen, they have excelled for Caledonia, thanks in large part to their speed.
"What they do is, you know, very athletic. They've got high motors," Fruechte said. "They've got good hands, and they know how to use them. And they've got good feet."
The Dvoraks have shown such abilities on both sides of the ball, but the defensive line allows them to truly showcase their quickness as they wreak havoc in opposing backfields.
Elias has 25 tackles on the season, including five sacks, to go along with four forced fumbles; no other Warrior has forced more than one fumble. Ezra has 35 tackles, seven sacks — which is a team-high and accounts for nearly one-fourth of Caledonia's total sacks — and two defensive touchdowns, one of which came after Elias stripped Pine Island's quarterback in Week 7.
It's no surprise the older of the two, who's a fan of Minnesota Vikings defensive end Danielle Hunter, has a soft spot for defense.
"When you're watching yourself on tape, just kind of beating up on those people, it gets pretty fun," Ezra said.
It's also no surprise, given the importance of the center on the Warriors' offensive line, that Elias views both sides of the ball equally.
"In our program, we've got a multitude of blocking schemes, and (Elias) has to be able to make the calls and make sure everybody's on the same page," Fruechte said.
It's given Elias a concrete way to lead Caledonia up front, something Fruechte said the twins do well despite being soft-spoken and in their first full year as starters.
"They are hard workers. They try to do the right thing all the time," Fruechte said. "You know, we like to talk about actions speaking louder than words, and that would definitely fit those two."
"When you're an underclassman, you're looking up to those seniors," Ezra added. "When you're a senior, it really comes around, you know. You really realize how much of an impact you make on those underclassmen."
The Dvoraks will also need to make an impact when the Warriors meet Minneapolis North in the MSHSL Class AA state title game at 1 p.m. Friday at U.S. Bank Stadium in Minneapolis.
The Polars (12-0) are led by junior running back Terrance Kamara, who rushed for 205 yards and four touchdowns on 30 carries in the team's 44-32 win over Paynesville in the state semifinals. The Warriors will need to contain the speedy back and get a push against a defensive line that Fruechte spoke highly of.
"(The Dvoraks) got to have a great game," he said. "Minneapolis North has a very good offensive and defensive line. They're going to try to run over us. They're bigger than us. And those two guys kind of set the tone and make sure we're ready."
Be the first to know
Get local news delivered to your inbox!