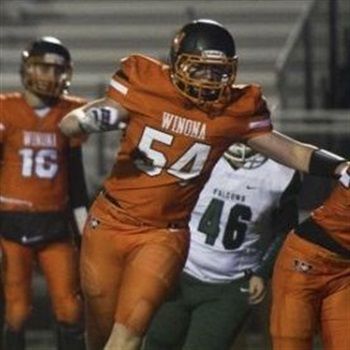 Garit Wollan has always been familiar with the Winona State purple and white.
His father, Eric Wollan, played offensive tackle for the Warriors from 1992-96 and continued to be a proud supporter of WSU football and athletics after graduation. Thus, it was common to find a young Garit, as well as his younger brother Wesley, running around in the now Altra Federal Credit Union Stadium parking lot, tailgating before Winona State football games before catching passes on the field after the games. Despite playing on that field all those times, Garit never really envisioned himself wearing that familiar purple.
"I always prided myself on not going there," Wollan said. "Just due to my dad playing there. … I knew if I chose to go there I would be overshadowed by, 'Oh, his dad went there. Oh, he just follows in his daddy's footsteps.' That's bound to happen.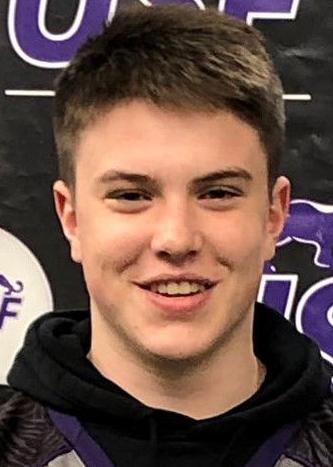 "I just wanted to make a name for myself, you know?"
To be fair, Wollan would be the first to tell you, he never really expected to play college football in general. He showed up at the Winona Senior High weight room as a thin 150-pound freshman with the nickname 'Daddy Longlegs' because his long legs were so skinny.
"I was the scrawniest kid," he said with a laugh.
Seeing the likes of Nick Waldo, Jacob Stanislawski and Bryce Heftman, it was clear Wollan had work to do to not only live up to the expectations that had been placed on him because of who his father was, but also just to play the sport he loves.
Having friends and hard-working teammates such as Ethan Prodzinski, Bennett Heftman, Sam Kanne, Dayne Gamoke, Austin Mlynczak and Aaron Witt certainly helped.
"I feel like we were the hardest working group that came through," Wollan said. "We were always in the weight room. If people skipped, we would get on them. … We need people in the weight room to have the success that we did."
Wollan was in the weight room everyday and pounded protein shakes like nobody's business.
"A lot of protein shakes," he said with a chuckle.
By his junior year, he had put on 80 pounds of muscle because of his work in his weight room, but also the simple fact that he hit puberty. His body was now ready to dish out some damage.
"As a freshman, he was a tight end for us," Winona coach John Cassellius said. "He just kept getting bigger and bigger. … He's got good feet, he moves well and is just a good athlete. He knows what he's doing, and he's a super smart kid."
After playing some varsity as a backup tight end as a sophomore, Wollan entered his junior season ready to start at linebacker and tight end while also serving as a backup tailback and offensive lineman. In fact, they brought two jerseys along his junior season just in case he was ever needed.
That came earlier than expected when injuries took over along the offensive line, thrusting Wollan into the left guard spot. But it didn't matter to Wollan, he was all for it. It allowed him to contribute more on offense, something he felt he wasn't necessarily doing while playing at tight end.
"It gave me the opportunity to play more football," he said. "At the time, I wasn't able to play at that position because there were better guys ahead of me, but it gave me the opportunity to actually play varsity football and be able to contribute to the team on the offensive side of the ball."
Wollan stayed inside along the line his junior season and was an instrumental part in helping pave the way for running back Trevor Pomeroy's record-breaking 2018 season. That's also when schools came calling. Sioux Falls, Augustana, UW-La Crosse and Winona State were the ones most interested. Like he said, he never envisioned going to Winona State, but when he took his official visit it just felt right.
"I wanted to play somewhere else, but after I went on my official visit, it kind of turned it around and they made me feel like we don't want you because of your dad, we're not giving the scholarship because your dad played here," Wollan said. "They made me feel like they want me as an individual. They made me feel special about everything."
Winona State offered him early in the summer between his junior and senior year. That same summer, at the Warriors' one-day camp, they — to his surprise — had him run a few routes at tight end and loved what they saw.
"I just ran a few routes, and I guess they liked what they saw," he said. "It's cool because I actually enjoyed playing that position, getting to do something different."
The opportunity to play tight end is an exciting one, but Winona State also likes the positional flexibility he offers.
"We moved him inside because of need and you know the same thing could happen at Winona State, as he continues to get stronger and bigger," Cassellius said. "And maybe they decide to move on to another position, but he runs nice routes because he's done 7-on-7 stuff for us. Then there'd be times that we'd have him play tight end in our offense a little bit in practice, just to get him used to moving like that."
It will be a special moment for the Wollan family to see Garit don the same colors his father wore just a little over 20 years ago, but he's ready to make his own legacy.
"I know I'll have my dad's legacy at Winona State overshadowing me," Wollan said. "But it's fine, you know? Just makes me want to be better than he was."
Get in the game with our Prep Sports Newsletter
Sent weekly directly to your inbox!