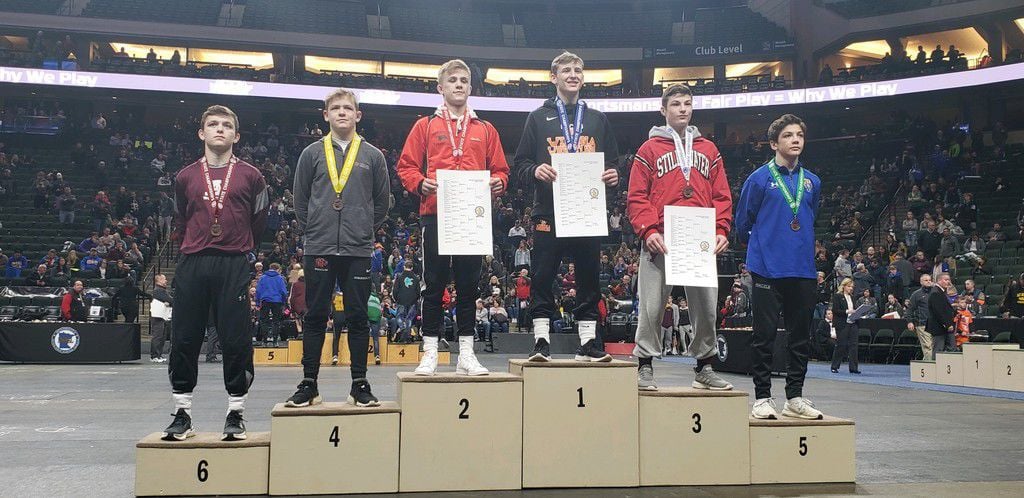 ST. PAUL — It was the perfect storybook ending.
After being so close the past two years, Winona/Cotter senior wrestler Ryan Henningson ended his tremendous high school career on top, defeating nemesis Paxton Creese of Shakopee 6-4 to win the MSHSL Class AAA 120-pound state title Saturday night at the Xcel Energy Center.
Henningson became just the fourth wrestler in program history to win a state title, joining Kermit Selke (1952, 1953), his coach Joe Hoialmen (1989) and Max Lossen (2001).
"It feels better than I ever thought," Henningson said. "Best feeling in the world."
Creese (51-3) had defeated Henningson in the last two state meets, with last year's being the most painful. It was decided on a controversial call that didn't go Henningson's way, giving the Class AAA 113-pound title to Creese. But Henningson handled it with grace and class, saying afterward: "It was a controversial call but it didn't go my way. At this point, I've just got to overlook it and work harder for next year."
He did just that by doing the extra conditioning, living in the weight room, eating right and it showed.
"Once we got to the third period, I looked over to my assistant coach, I said, 'Hey, we got this. We got this. Ryan works his butt off. There is nobody in better shape in the state of Minnesota than Ryan Henningson,'" Hoialmen said. "As a coach, I have never coached somebody more dedicated and more deserving than Ryan Henningson."
Henningson (51-2) was leading 3-2 after scoring on a reversal late in the second period, but Creese took a 4-3 lead with an impressive reversal early in the third. Creese — a St. Cloud State commit — could contort and flip his body in a way that not many are able to do. That's one of the reasons why he is such a tough opponent. You think you have him, and then he flips it around on you.
"Everytime we wrestle, there is amazing scrambles," said Henningson, a North Dakota State commit. "We are both just quick. It makes the match so fun and difficult at the same time."
Henningson tied it on an escape just six seconds later before registering a takedown with a minute left to take a 6-4 lead. At that point, all Henningson had to do was hang on, something that is much easier said than done against someone like Creese. But Henningson trusted his abilities to take him home.
"I just trusted my ability to ride," Henningson said. "And I just hammered him the whole time. I kept moving my hands and my feet, kept the pressure on him. I knew I could do it."
It was clear that Henningson's strategy was wearing Creese down and with about 25 seconds left, Henningson had flipped Creese face down on the mat and laid on top of him.
Creese was gassed and couldn't move.
As the clock started winding down it became apparent that Henningson was going to do it. When the clock struck double zero, Hoialmen leapt into the air before a running Henningson came to embrace him in a moment that the two will never forget.
"He said that he knew that I could do it all along," Henningson said when asked about that moment between his coach. "And that I deserved it more than anybody."
"I'm just so proud of him," Hoialmen said.
Get in the game with our Prep Sports Newsletter
Sent weekly directly to your inbox!