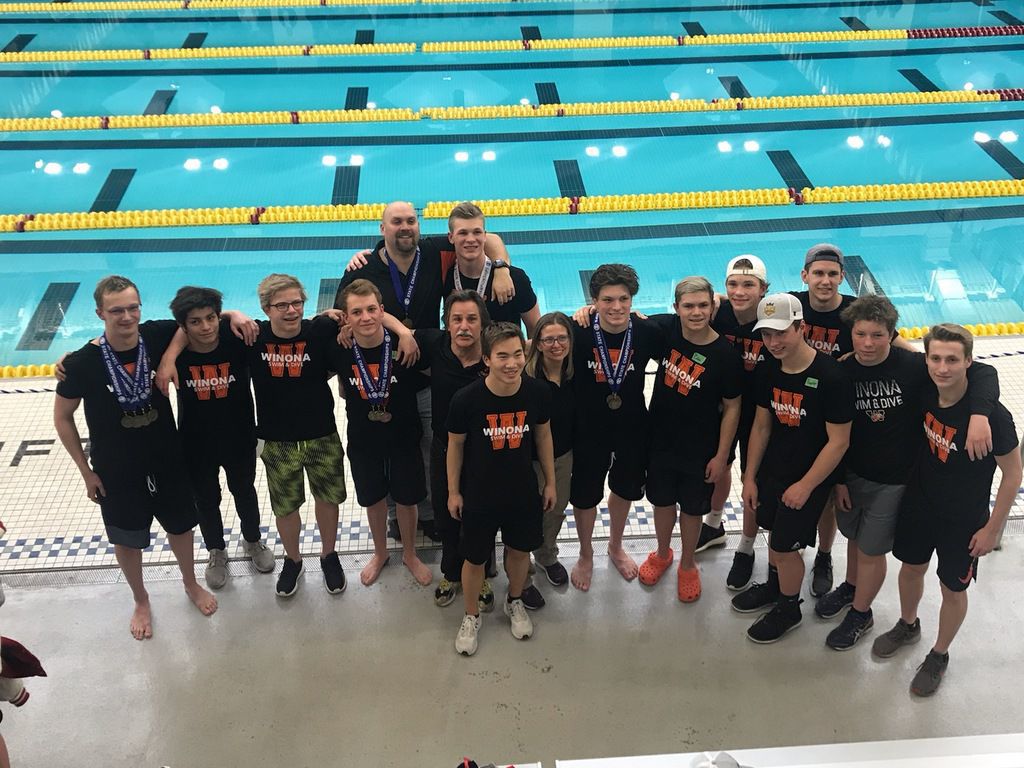 MINNEAPOLIS — After watching the relay team of Alex Jorgenson, Tanner Lozenski, Jack Herczeg and Grant Wolner — all seniors — close out the MSHSL Class A state swim meet with another state meet record, Winona Senior High swim coach Chris Mayer wrapped his arms around them.
This group was a special one, helping the program reach heights it had never seen before.
It was a moment Mayer will never forget.
"I've been reminiscing about these little fourth-graders that I started the swim club out with ... and in the back of my mind I cannot believe where these guys have come from," Mayer said. "Just watching their growth, their development."
"Today was incredible. It really was. ... I don't even know what to say, it was just incredible."
Saturday truly was one for the record books for Winona.
The Winhawks broke three MSHSL Class A state meet records, seven school records, had two automatic All-American times and another three All-American consideration times on Saturday en route to a fourth place finish as a team with 210 points.
Breck/Blake finished with 342 points to win their fourth straight state title, finishing ahead of St. Thomas Academy (232) in second and Sartell-St. Stephen (218) in third place.
Coming in, Mayer knew they had a chance to do something special, but admitted he never expected this.
"Every single swim — well except for Jack's 100 (yard freestyle) — everything else was a new best," Mayer said. "It was just incredible to see."
"Tanner's 200 was our first swim of the meet, he swam well and from then on we just kept piling on," Herczeg said. "Good swim from Tanner, good swim from myself, Grant had a good IM and it just kept building. Everyone kept getting faster and kept doing better than the performance before them."
Jack Herczeg defended his titles in both the 100- and 200-yard freestyles in dominating fashion. The Ohio State commit just missed out on the record in the 100 (44.63) finishing just .01 seconds behind the record he set yesterday in prelims. He won the 200 by more than a full body length.
"This is just such a cool way to end the season," Herczeg said. "Especially, not only to bring home some state championship hardware, but also to have the titles of state record holders for our relays and automatic All-Americans for our relays, it's nothing like we have ever done before."
After taking third with a school record time and a time that was good enough for an All-American consideration in the 200 individual medley (1:50.81), Wolner had his eyes set on the 100 butterfly state meet record. For eight years, the state meet record (49.35) stood.
That is until Saturday when Wolner set the new bar with a time of 49.28 to defend his title.
"Yesterday I PR'd in the butterfly, which I was ecstatic about, but the record was definitely in the back of my head," Wolner said. "The record had stood for eight years and it was definitely something I was gunning for. I swam my race and saw the people next to me, they pushed me. Once I touched the wall and looked up. I was absolutely elated."
"He had been working so hard to get that fly record and watching him get it was nothing short of surreal," Mayer said.
Lozenski took sixth in the 500 free (4:52.45) while Jorgenson finished second in the 100 (46.48) and third in the 50 free (21.51).
"Two or three years ago, Alex wasn't even making section finals. I don't think he made any section finals as a freshman," Mayer said. "And now all of a sudden he's top three and top two in state and a part of two state record holders."
But the highlights of the night came in the 200 and 400 free relays when the four seniors teamed up to deliver once in a lifetime type of moments. They knew they were in good position, but had talked the night before how they just needed to be a bit faster if they wanted to do something special.
They did just that, earning automatic All-American nods after they broke the state meet record for both relays, finishing with a time of 1:23.84 in the 200 free relay before finishing over half a pool length ahead of their nearest threat with a time of 3:05.61.
"I think every swimmer's dream is to swim a race and after touching the wall look up at the clock and not expect the time that they swam," Wolner said. "I think that all of us swam out of our minds and the adrenaline, I think we kind of built off of one another. We went in there and we got it done.
"(Friday) was a good starting point, but we knew for finals there was going to be a lot more hype and the atmosphere. We knew we needed to back up our coaches and show what they are capable of doing when it came to molding us."
The relays were always special for this group. So it was only fitting they went out this way.
"It was the coolest thing to do something this incredible with guys that I swim with everyday," Herczeg said. "I love these guys. They are basically like extended brothers and it was really special to do something this incredible with my best friends."
Get in the game with our Prep Sports Newsletter
Sent weekly directly to your inbox!