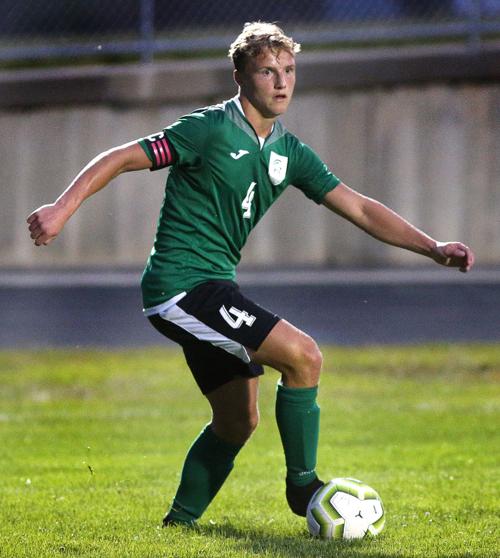 As the MSHSL cross country section meet results roll in this week, La Crescent-Hokah coach Mark Abraham will be watching with a wistful eye as the names and times appear without any of his runners listed.
Likewise, Lancers boys soccer coach JP Piche has been watching the MSHSL Section 1A tournament with great interest, wondering how his red-hot Lancers would have stacked up.
Both teams, like all of the school's fall sports teams, were unable to participate in their abbreviated postseasons after La Crescent-Hokah Public Schools transitioned to virtual learning on Oct. 8.
It was an unfortunate end to a season that Abraham said they were thankful to have in the first place, considering all of the teams and schools that have not competed yet this school year because of the changes forced by COVID-19.
"Judging by how national COVID levels were looking, and seeing outbreaks and positive tests, we were thinking in early August that there was no way that we were going to have anything," said Abraham. "You just don't get to pick how things happen."
Both the boys and girls cross country teams had been running well, with both teams winning the St. Charles Invitational on Tuesday, Oct. 6, the last race for each team. Juniors Jack Redman and Cody Kowalski placed third and fourth, respectively, to pace the Lancers' boys, while senior Ashley Muenzenberger (third) and sophomore Autumn Rabe (fifth) led the Lancers' girls.
Had La Crescent-Hokah been able to compete in the section meet, Abraham thought that a top-three finish was certainly in play based off of the recent success.
"Unfortunately, they don't get to go out there and see where they belong," Abraham said. "I can kind of hypothesize where we would have finished, but there will always be the wonder of what we would have done."
Piche said that the boys soccer team had prepared for each game this season like it could be its last, making it through the regular season with a 6-3-1 record and winning five of its last six.
"We talked about this possibility from Day 1, and we always knew it was a chance," said Piche. "We're happy we got our 10 games in, but that's the nature of the beast."
Looking at where the Lancers might have fit into the section bracket, Piche thought maybe they would have been seeded seventh, which would have meant a home game on Tuesday night.
Not getting that opportunity in particular is bittersweet, especially for the team's nine seniors, and Piche said that he hopes the group can get back together at some point when in-person classes resume.
"We'll get together and do something. They do still have to hand their uniforms in," Piche said with a laugh. "We don't want to keep belaboring the point and think about what could have been, but we haven't had any closure yet, and hopefully we will at some point."
The soccer team will lose leading scorers Andy Lopez and Sam Wilson to graduation, as well as primary goalkeepers Damian Welpert and Dawson Colbert among the nine seniors, but Piche said that the future is still bright, including a junior varsity team that finished 10-0 while surrendering just two goals.
The cross country teams will graduate just one senior, and while the external competition won't be there for the rest of the fall, Abraham said he hopes his runners will still find some time to take to the streets and push themselves.
"If all else, get the shoes on the feet, get out the door, and get some miles in. Don't go backwards, keep looking ahead and moving forward."
Get in the game with our Prep Sports Newsletter
Sent weekly directly to your inbox!