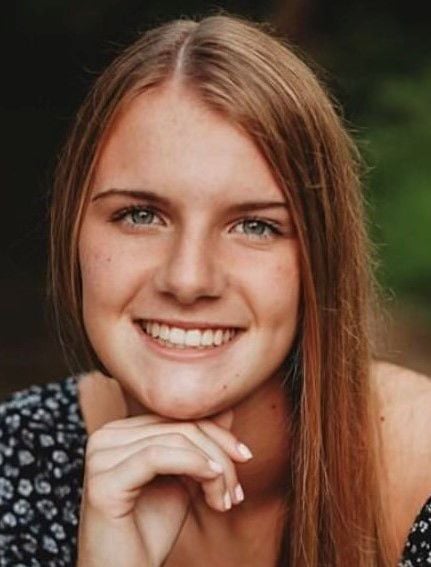 CHATFIELD, Minn. — Playing in their first game since Ellie Macal's walk-off grand slam against St. Charles, the Cotter softball team didn't need late-game heroics on Tuesday, but once again used a late-inning home run to help get past another conference foe.
Lexi Hadaway smacked a three-run home run as part of a seven-run sixth inning to help lead the Ramblers to a 10-0 victory over Chatfield on the road.
Hadaway finished the day with two hits and four RBI, while Alison French and Abree Dieterman each added two hits to pace an offense that had 10 hits.
Madison Hazelton once again earned the win in the circle for the Ramblers (4-0, 4-0), allowing just three hits with a walk and three strikeouts in the five innings.
Arcadia 12, G-E-T 9: GALESVILLE — The Raiders started the season with a 15-hit performance to beat the Red Hawks.
Senior center fielder Chloe Halverson was 4 for 5 with four runs scored as Arcadia's leadoff, and freshman Casidi Pehler and juniors Catherine Pehler, Kianna Suchle and Courtney Bjorge all added two hits for the Raiders.
Casidi Pehler scored three times.
Junior Kaitlyn Gunderson had three hits for G-E-T.
Big 9 Quadrangular: ROCHESTER — Marquetta Berlin-Burns and Chloe Hughes each won a pair of events in dominating fashion for the second straight meet, while Mandy Duellman had an impressive display in the discus and shot put, as the Winhawks competed against Rochester Mayo, Rochester Century and Albert Lea.
Team scores were not available due to technical difficulties.
Berlin-Burns once again swept the 100- and 200-meter dashes, thanks to a time of 12.98 in the 100 and a 26.46 in the 200. Hughes won the 100 (15.45) by nearly a second, before winning the 300 hurdles by seven hundredths of a second (46.82). That mark is currently the top time in all of Minnesota.
Duellman won the shot put with a personal best throw of 33-09.50 and the discus with a PR 98-10. Kiley Pollock placed second in the mile (5:47).
BOYS TRACK AND FIELD
ALBERT LEA — Winona finished third with 32 points behind Rochester Mayo (102.50), Rochester Century (62) and ahead of Albert Lea (11.5).
James Molitor took third in the 110-meter hurdles (18.11), Dominic Davis took third in the 100 (11.72), while Owen Graner (12.10) and Mason Langowski (12.17) took fifth and sixth, respectively. Graner also finished second in the long jump with a leap of 18-11.25.
Cody Peterson was fourth in the 1600 with a sub-five minute mile (4:53.44), Brayden Draheim finished fourth in the 300 hurdles (46.95). Ethan Greene was fourth in the discus (113-10), as well as the shot put (38-04), while Wesley Wollan finished third in the shot put (38-10.50).
BOYS GOLF
HOUSTON, Minn. — Houston beat Glenville-Emmons at Valley High Golf Course, as the Wolverines did not have enough golfers to compete as a team.
The Hurricanes, who shot 239, were led by Owen Gaustad, who shot a 50 and finished second individually.
Ethan Knutson followed with a 52, while Noah Kingsley (68) and Preston Peterson (69) rounded out the scoring.