CALEDONIA, Minn. — The Cotter girls soccer team dominated from start to finish to defeat Three Rivers Conference foe Caledonia 13-0 Thursday night.
The Ramblers (4-0, 4-0) wasted little time getting things started with standout junior Olivia Gardner scoring a goal off of a Sera Speltz pass just 21 seconds into the match.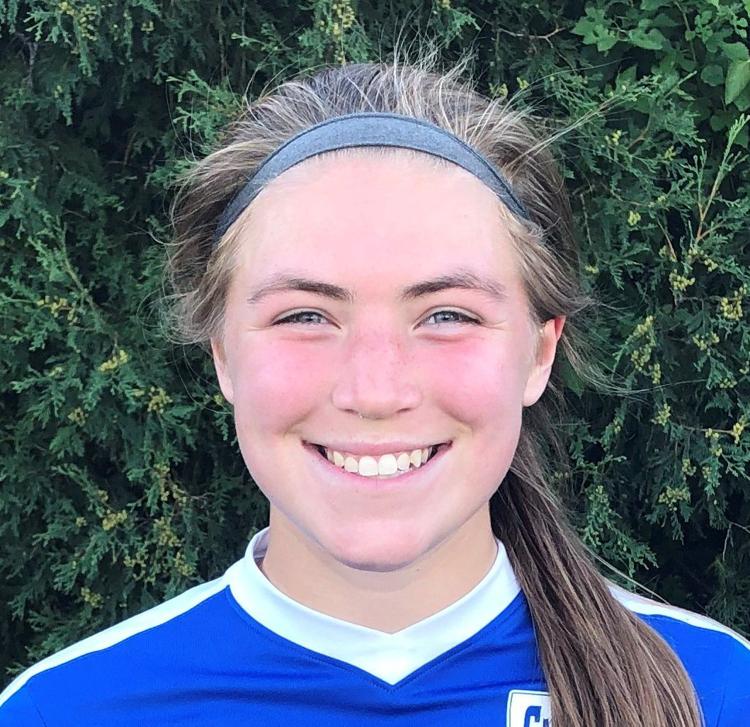 Gardner would score again in the eighth minute off a pass from Araceli White before Megan Morgan scored just 35 seconds later to make it 3-0.
Ella Leaf, Izzie Biesanz and Freya Brandvik would all score in the first half to make it a 6-0 halftime lead.
But the Ramblers weren't satisfied yet, scoring seven more times with Allyssa Williams, Speltz, White and Ava Killian all finding the back of the net in the second half.
The Ramblers are back in action at 7 p.m. Tuesday on the road against P-E-M.
CROSS COUNTRY
La Crescent Invitational
LA CRESCENT, Minn. — The Cotter girls won the La Crescent invitational at Pine Creek Golf Course on Thursday with 23 points.
La Crescent finished second with 47 points, and Dover-Eyota was third with 53 points.
The Ramblers had three runners finish in the top four with six finishing in the top 10.
Seniors Claire Ebertowski (16 minutes and 42 seconds) and Aubrey Williams (16:47) finished second and third, respectively, while eighth grader Sonja Semling finished fourth (16:51). Junior Ellie Glodowski finished sixth (17:35) with seventh grader Adyson Speltz finishing 10th to round out the top 10 for the Ramblers.
La Crescent junior Lydia Rosendahl (fifth, 17:05), sophomore Autumn Rabe (seventh, 18:17) and senior Ashley Muenzenberger (eighth, 18:20) finished in the top 10 for La Crescent-Hokah.
Dover-Eyota's Malia Nelson won the 4,000-meter invite in 16 minutes and 39 seconds.
On the boys side, it was La Crescent finishing first with 23 points followed by Cotter (51) and Dover-Eyota (59).
The Lancers, who have won back-to-back meets, took the top three spots and were led by junior Cody Kowalski, who won the 4,000-meter race in 14 minutes, 29 seconds for his second straight individual victory. Junior Jack Redman finished second in 15:08, and sophomore Sam Culver was third in 15:24.
Samuel Petersen (seventh, 16:08) and Tyler Groth (10th, 16:39) were also in the top 10 for La Crescent-Hokah.
Cotter's John Fritts (15:46) and Cole Ebertowski (15:54) were fourth and fifth, respectively, to round out the top 5.
Coulee Conference Meet
ETTRICK, Wis. — Paced by a trio of top 10 finishes the G-E-T girls cross country team won the first Coulee Conference meet of the season with 55 points.
Westby was next with 65 points followed by Arcadia (68), West Salem (73), Onalaska Luther (116), Viroqua (139) and Black River Falls (184).
Adrianna Rodering led the Red Hawks with a third place finish (21:39.3), finishing just ahead of Westby's Meghan Nelson (21:39.8). Quinn Wenthe finished eighth (22:45) while AJ Parker finished 10th (23:02) for G-E-T.
Arcadia's Teagan Michalak won the 5,000-meter invite (20:46) while West Salem's Macey Tauscher finished second (21:23).
On the boys side, West Salem used a one, two finish from Charles McKinney and Brady Neimeier to win with 30 points.
G-E-T was second with 56 followed by Westby (99), Onalaska Luther (102), Viroqua (135), Arcadia (149) and Black River Falls (149).
It was a two-man race with McKinney (17:11) and Niemeier (17:15) finishing well ahead of Arcadia's Jose Monroy (17:54.3).
Riley Kirkey (17:58.3) and Sam Ruiter (18:02) placed fifth and sixth to lead G-E-T.
Get in the game with our Prep Sports Newsletter
Sent weekly directly to your inbox!