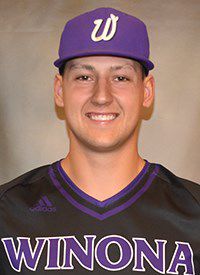 PITTSBURG, Kan. — The 2020 baseball season is underway, and Winona State is in the win column. The Warriors tallied their first opening day victory since 2014 by holding off Pittsburg State in game one of a three-game weekend series, 3-2.
Aaron Mutter (1-0) tossed five scoreless innings in the start for WSU while allowing just three hits and striking out six batters. Nicolas Herold, who ranked second in the NSIC in saves a year ago (8), struck out the side in the ninth frame to his first save of the new season.
The Warrior offense showed little signs of offseason rust by scoring runs in each of the first two innings.
Zac Stange led off the first with one of his three walks in the ballgame and moved into scoring position on a single by Sam Kohnle. Two batters later, Andrew Pliner broke the scoring seal with a clutch two-out single to right field to send Stange home for the first run of the day.
Another free pass came back to haunt the Gorillas in the second inning when Nick Nalewanski reached with a one-out walk. The senior proceeded to steal second base and score on an RBI-single by Nick Herbst.
With a 2-0 lead in his back pocket, Mutter was in control on the mound.
After Winona State added an insurance run in the top of the seventh on a sac fly by Kohnle, Pittsburg State's offense was able to get to the Warrior bullpen.
In his second inning of work, freshman Bailey Banaszynski was charged with a pair of runs (one earned) as the Gorillas made it a 3-2 affair. However, the rookie right-hander was able to work out of trouble in the bottom of the seventh to keep the lead intact.
Justin Firpo worked a scoreless eighth inning for the Warriors before handing the ball over to Herold for the final three outs of the game.
Herbst, Kohnle and Tanner Williams each went 2-for-4 at the plate.
The Warriors and Gorillas were originally scheduled to play single games on Saturday and Sunday, but will now conclude their series with a doubleheader on Saturday due to rain forecast on Sunday. First pitch is set for noon.
Be the first to know
Get local news delivered to your inbox!