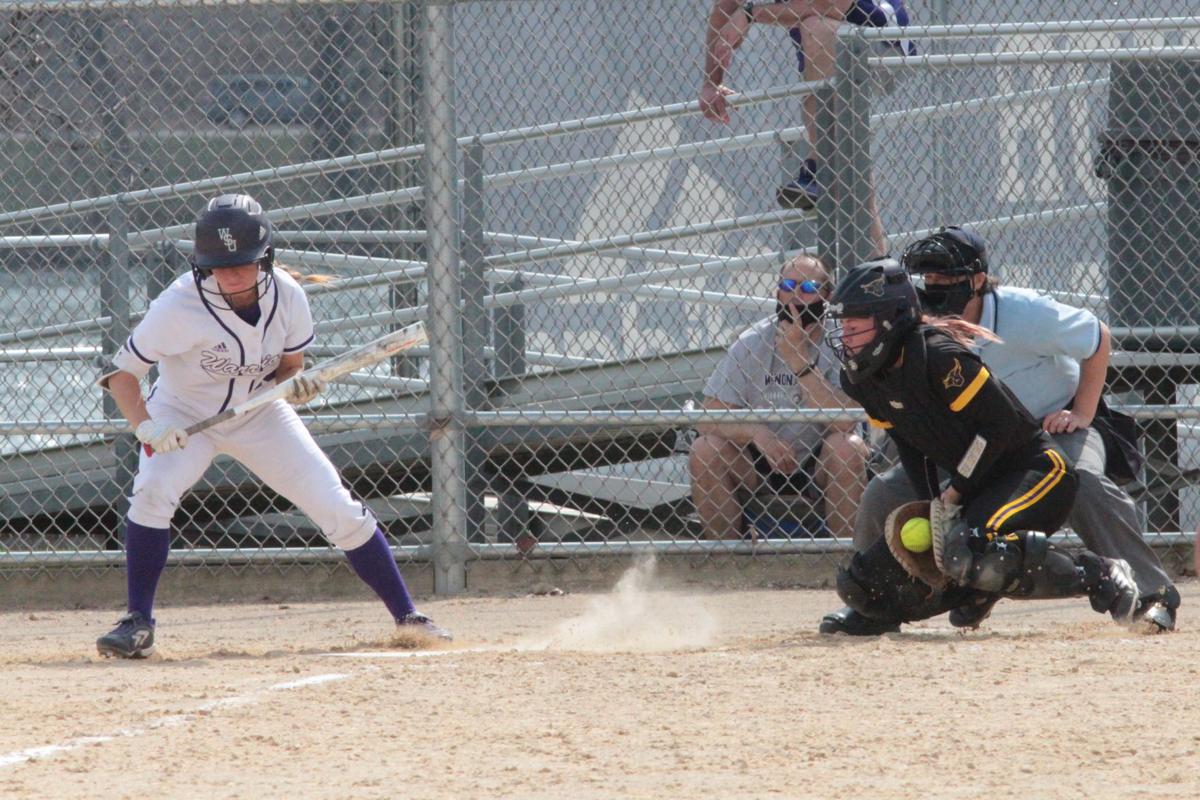 The No. 13 ranked Winona State softball team dropped consecutive games at Maynard R. Johnson Field for the first time since 2018, as they were swept 3-1, 11-2 (5) by MSU-Mankato in a Tuesday doubleheader.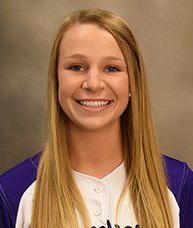 The day started with an eye on history as senior starter Jordyn Kleman looked to tie Cyndy Schubbe's all-time wins record at 85. But the Mavericks — ranked No. 20 by the National Fastpitch Coaches Association — struck for two runs on a two-run home run from Madi Neumann in the second inning, before adding another run in the third to take a 3-0 lead.
Kleman (10-2) bounced back by retiring 14 of the next 17 hitters to cap off a complete game effort. The La Crosse Logan High School graduate finished with a final line of three runs on eight hits with four strikeouts.
The three runs turned out to be more than enough for Mankato (14-4, 4-2) starter Mackenzie Ward, who kept the Warriors (16-4, 5-3) off-balance throughout, thanks to a nasty offspeed and high heat combination. Ward retired the first nine batters of the game in order and didn't allow a hit until WSU freshman Sam Keller led off the fifth with a single. She finished with an eye-popping 13 strikeouts.
The Warriors had their chances late in the game, however.
The first two batters of the sixth reached before eventually stranding the bases loaded with two outs. The Warriors loaded the bases again in the seventh, this time with nobody out. The Warriors scratched out a run on a sacrifice fly by Carly Hordich but Ward buckled down by striking out the next two Warriors to cap off her complete game performance.
In game two, it was all Mankato.
The Mavericks scored in every inning, finishing with 11 runs on 14 hits. Sydney Nielsen homered twice and finished with five RBI to lead Mankato.
Katie Kolb went 2-for-2 with a run scored to pace the Warriors, who will look to bounce back on the road 1 p.m. Saturday at Sioux Falls for a doubleheader.
Warriors split with Huskies
ST. CLOUD — After allowing 14 hits in an 8-3 seven-inning loss in game one, the Winona State baseball team's pitching staff bounced back by allowing just one run on four hits to help the Warriors earn a split with a 5-1 victory in game two on the road against St. Cloud State on Tuesday.
The Huskies tagged Warriors starter Bailey Banaszynski for five runs on nine hits in 3⅓ innings, before adding three more runs against reliever Mitchell Mueller.
SCSU starter Jack Habeck held the Warriors to just two hits in 5⅔ shutout innings.
In game two, WSU starter Cameron Kramer and reliever Nicolas Herold combined to keep the Huskies in check.
Kramer earned his second win of the season by allowing just four hits, while striking out three in five scoreless innings. Herold picked up right where Kramer left off with four hitless innings in relief. The only run was unearned on a wild pitch in the ninth.
The Warriors scored three runs in the fourth on two passed balls and a sacrifice fly.
St. Mary's holds off Carleton
NORTHFIELD, Minn. — Despite a 40-minute lightning delay, the Saint Mary's baseball team opened Tuesday's MIAC doubleheader against Carleton with a 4-0 victory in Game one.
Game two was halted in the eighth with the Cardinals leading 6-2 due to another round of lightning. The teams will attempt to finish the halted contest sometime later this week.
Mired in a five-game losing streak — and having surrendered a combined 56 runs in those five contests — the Cardinals received a pair of stellar performances from starter James Green and reliever Addison Hochever.
Green, making his first start of the season, limited the Knights to just four hits over the first three innings, before giving way to Hochevar, who tossed four innings of one-hit relief to record his team-leading third win of the season.
Saint Mary's got all the offense it would need in the second inning. Andy Tepp led off with a walk, advanced to second on a wild pitch, moved to third on a Connor Cornell fly out to right, and scored on Joey Costello's two-out RBI single.
The Cardinals added three more in the sixth on RBI from Justin Weinberg and Will Matthews, as well as a wild pitch.
Carleton grabbed the early upper hand in the nightcap, scoring twice off Cardinal starter Luke Gilbertson. But the right-hander settled down, allowing just one hit, while striking out five, over the next five innings, before giving way to Jonathan Cieminski. The Cochrane-Fountain City High School graduate retired the side in order in the seventh.
The Cardinals are currently in the midst of a three-run, four-hit eighth inning.
Saint Mary's drops opener
The Saint Mary's women's soccer team hung tough against St. Thomas in the team's final ever meetings, before the Tommies scored four second half goals to pull away.
The Cardinals (0-1-0 MIAC, 0-1-0 overall) are back in action on 12:30 p.m. Sunday at Augsburg.