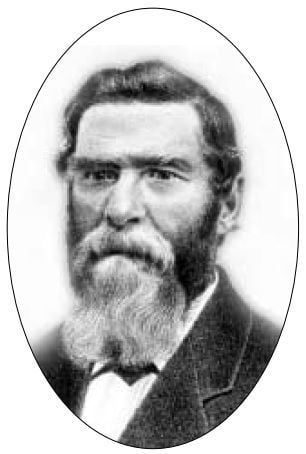 On May 4, 1852, an unemployed Baptist preacher, Rev. Edward Ely, stepped off the Nominee onto Wabasha's Prairie. In time Ely would become postmaster and one of early Winona's most respected citizens. Ely recorded impressions of early Winona in his diary:
• May 4, 1852 — Landed at this place from the steamer Nominee at one o'clock this morning. Went to the hospitable hotel of E.H. Johnson. This "hotel" is a mere board shanty, located about ten rods from the river. It is built with less than 800 feet of boards — no shingles.
In the morning went out to viewthe prairie and see the settlers. The prairie is now covered with dry grass about 1 1 / 2 feet high; it is marked in all directions with Indian trails leading to the landing. Steamboat men, and indeed all river men, unite in declaring the ground too low ever to build upon. They say steamboats have passed over it in all directions in high water. For this reason many are determined not to remain here, yet the whole prairie is marked out in claims. The names of the claimants are first, Capt. Orrin Smith, of the Nominee, E.H. Johnson, Ed Hamilton, Wm. H. Stevens, John Nash, John Evans, and J. McDermot — these holding claims are considered of little value, but are held by Beecher Gere, Elijah Silsbee, Frank Curtiss, Geo. W. Clark and Allen Gilmore. The last beyond the slough on the west. All that marks a claim is three or four rails in the form of a cob house.
The Indians are still here in great numbers, but are getting ready to leave.
•  May 28 — It was now a little more than three weeks since the arrival of the first boat, and already our register contained the names of six who had died, and another one was past hope of recovery. The real Asiatic cholera was here.
There was much sickness and suffering in a little shanty made of a few boards, on the mound at the landing, now at the foot of Main street. This shanty was made for the purpose of storing goods, without any roof except a few boards laid loosely over the top. Several families had been detained here on their way to Minnesota City, until bad weather and exposure had brought on sickness.
There were several days of cold rain about this time — no shelter, no physicians , no medicine, no place to work or sleep, and it could hardly be expected that the sick would recover.
Two little children died, and the mother, by incessant watching was taken the same disease. As soon as the children could be buried the mother was carried on board the boat in a large chair and taken to La Crosse, where she died in a day or two. Such are some of the early trials of the first settlers on this side of the river.
• June 10 — At this time several young ladies came here. As these were the first, they of course created quite a sensation. The young men vied with each other in paying them especial attention. These last arrivals made quite an accession to the society on the prairie.
Dr. Balcombe, after boarding a short time with Mrs. Goddard, built a small shanty , with a shingle roof. That was the first roof covered with shingles in the limits of the present city. Dr. Balcombe brought the first horse and buggy that was ever here, and that was the only one for nearly two years.
•  June — There is a doctrine in the creed of many theologians that supreme selfishness is the governing motive in all human actions. If any one doubts this theory, let him go and live for a few years in a claim country and he will be convinced that there is some reason for this belief to be discovered in the conduct of men.
The great institution of the time was the Wabasha Protection Club, (the purpose of which was to settle disputes over claims). Things were taking shape that would require an appeal to this body — two parties claimed the same piece of land, and as this land was valuable the matter to be decided was quite important.
There was no legal tribunal to settle any question. This club had been organized to prevent personal quarrels. It was governed by constitution which provided that every question of difference should be settled by a reference to committee of three to be appointed by the body. Each party might have counsel and witnesses. Priority in making a claim was to decide the whole matter.
Many had been up from La Crosse in the winter, and walked over the prairie and had made claims for themselves, or for their friends, leaving no mark to indicate the location or extent of the claim. Others had claimed the same ground — so of course there was room for any amount of litigation.
The claim laws were very imperfectly understood. Possession was nine points of the law. I may say here that all quarrels arose from persons who had not been residents. If a man made a claim and left no marks to indicate the bounds of his claim, it would not be respected.
•  July — Near the first of July, 1852, Byron M. Veits came with quite a drove of cows and other stock, to live on the prairie. He immediately commenced building what was known as the Old Winona House on Front street, in the rear of Cone's store. He thought a hotel was needed, and determined to build one that would accommodate the place for some years.
About this time Elijah Silsbee built a small shanty on his claim, lying next above the Veits, along the margin of the lake. This is the claim that Mr. Silsbee protected with his shot-gun when he though Mr. Huff was intruding. Mr. Huff's pocketbook saved his life; for, lying immediately over the heart, it received the main contents of the gun, which otherwise would have produced almost instant death.
Week after week passes without anything occurring worthy of note. We were occasionally visited by some traveler who would remain a day or two and go and fish for trout. Sometimes a man looking for a place to settle would stop a few days and take look at the country, but not one that I know of went as far out as beyond the bluffs. Some would go away saying that they would not take the whole prairie as a gift. It was nothing but a bed of sand thrown up by the rush of the river. Others would look upon it more favorably and say there might be a "right smart" town here some day.
•  August — The sickly season commenced about the first of August. Many, I think more than three-fourths of all the settlers, men, women, and children, were down with the ague or some more dangerous form of disease. It was hardly possible to find a house that had not one or more sick. It was a common saying that the settlers paid more for quinine than for flour. Many died. More that one-tenth of all the settlers were buried before the snow fell.
•  December — The reader would perhaps like to see the village of Winona and its surroundings as it was at the opening of winter in 1852. The result of the labors of the summer was now apparent.
Five little buildings had been put up on the claim of Smith and Johnson, two or three on the claim of Stevens and Laird. There was not another claim that had more than one building upon it. Some of these buildings were surrounded by an apology for a fence. There was a large number of hay stacks near the houses, and here and there a yard for a cow, or a pair of oxen, or a few young cattle.
The promise of pork for the coming season was all centered in one little spotted pig, that had escaped from a steamboat while the boat lay aground on the sand bar below the city. This little pig was a common property and ran at large making his morning visits to every house in the city to pick up any little crumbs that might be at the door. Everybody expected his morning visit and were generally glad to hear him at the door It is useless to say that the little porker fared well.