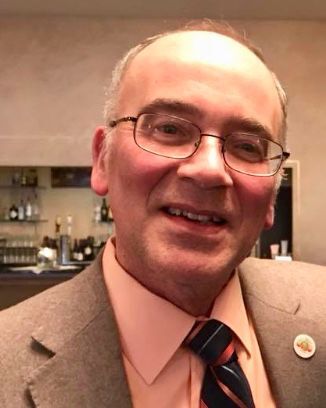 Changing jobs is always challenging, and changing in the time of a global pandemic is incredibly daunting.
Add to that that you are a community editor who enjoys meeting people and going everywhere, and it's a masked adventure in 2020.
That's me, and I'm honored to join this talented staff of the River Valley Media Group as we do the best job we can to keep you informed.
Community journalism has always been my passion, and there has never been a better time to tell stories important to you, on multiple platforms, as quickly as we have them. We want to deliver news you need to know, whether on policy or tax rates, and news and sports that recognize achievement and add to our quality of life.
My goal always is to reach everybody, in print and beyond; through digital and social media we are able to inform more people of news of their community.
And we have that opportunity here, with three daily papers and multiple weeklies — all with websites — covering vast areas of Wisconsin and Minnesota. It's an ideal spot for the journalism I so treasure.
I consider myself a reader first, then an editor. So I will ask questions for you and work hard to give you — the reader — the best experience.
I've been so fortunate to work in some wonderful communities, the most recent of which was Kenosha.
I joined the Kenosha News a little more than two years ago and most recently oversaw the coverage of the police-involved shooting of Jacob Blake, and the protests, riots and civil unrest that followed drew international attention in late August.
Both presidential candidates visited Kenosha in the same week, and it would not surprise me if the election in the critical divided state of Wisconsin comes down to which side better handled the response in Kenosha.
I will watch from here, thrilled to become a resident of La Crosse just as the leaves are turning in my favorite season of fall.
As I learn about the region and our various publications, I want to launch a few print and digital initiatives that you can get involved in, if you'd like.
First, regarding the pandemic, wearing a face mask is what we all should do, as we social distance and maintain safe practices. With that in mind our River Valley publications will publish photos raising awareness of mask use, and collect photos in galleries online to further raise awareness.
As we promote safety through masks, we'll publish everything we can to update and inform you of the coronavirus and its impact. Please stay safe.
Another initiative for participation might be as simple as going outside in coming weeks. Let's show off our beautiful fall colors, whether in Tomah, La Crosse, Winona and everywhere else in the River Valley.
Send us your photos by using a form at https://go.lacrossetribune.com/Photos. We'll print some of them and build out collections online that will highlight our region and our quality of life.
Those are just two, and you can count on more. Join us on our Facebook pages and look for announcements on how to participate in our papers.
In the meantime, I look forward to hearing from you, whether by email, by phone or by a social-distanced meeting wearing masks. I'm honored to be a part of your community, and let's make it the best it can be.
Bob Heisse is executive editor of the River Valley Media Group. He can be reached at 608 791-8285 or bob.heisse@lee.net