The road back to the Minnesota Governor's Residence took Tim Pawlenty through Winona on Tuesday, as the former governor made his first public campaign appearance in the area since announcing his candidacy in early April.
After a tour of RTP Co. with state Sen. Jeremy Miller, R-Winona, Pawlenty met with a group of about 20 local business leaders for a roundtable discussion at Winona Family Restaurant and shared his vision for making the state more friendly to businesses and "the hard-working middle- and modest-income Minnesotans."
The discussion centered mainly around the state's business climate — several in the crowd shared stories of what they would consider burdensome regulations or taxation — but Pawlenty also shared his views on health care and education reform.
"We need to make Minnesota government more customer service-oriented and change the culture of state government," Pawlenty said. "Part of that is making sure you have commissioners and leaders who are dogged and determined and hold government accountable. There's a lot of slippage in terms of keeping government accountable."
One of the roundtable participants who runs a company that cleans up industrial sites said that he was billed $13,000 by a state agency to review a report. Although he disagreed with the amount, he paid it. Two months later, he said he got the same bill again because the agency had "personnel changes" and had to review it again. The fees were waived after speaking with the commissioner of the agency, but when a new commissioner came aboard six months later, so did another bill for $13,000 — which was later sent to collections.
"That's unbelievable," Pawlenty said. "Who should bear the risk of the problem? Once you pay your share, you shouldn't have to go through with it."
Others mentioned the difference in taxes between Minnesota and the surrounding states, particularly Wisconsin.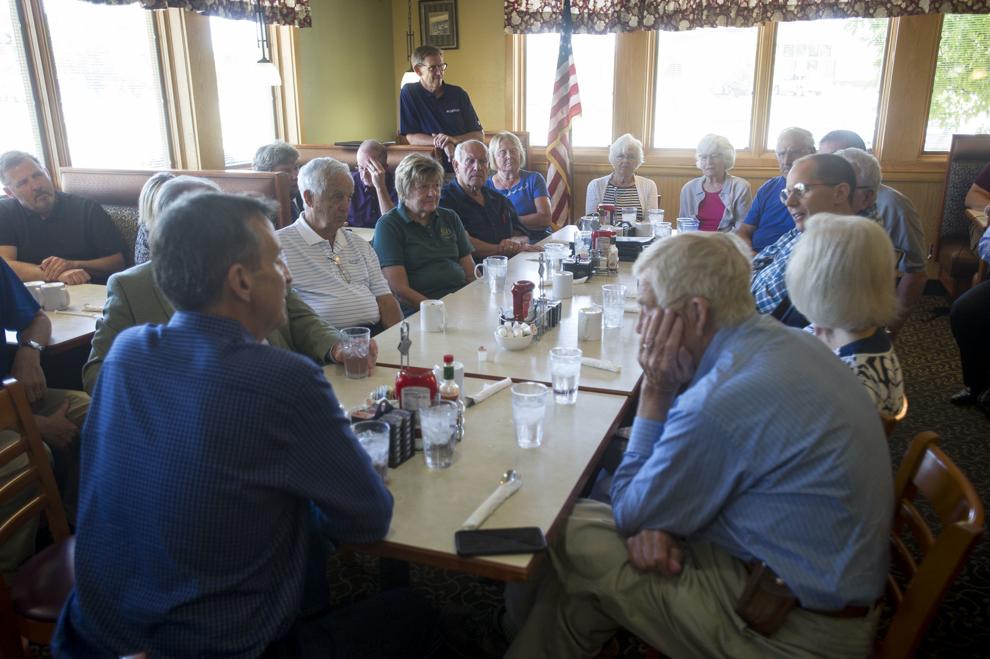 "We need tax relief in Minnesota," Pawlenty said. "We are the third highest income taxed state in the country, fifth highest overall tax burden in the country. We have high property taxes, high sales taxes. We should at least get Minnesota out of the top 10. There's only been one governor who has done that, and he's talking to you now."
Pawlenty, who did not seek the state party's endorsement, is running against the endorsed candidate, Jeff Johnson, who lost by 5½ points to Mark Dayton in 2014. When Johnson visited with the Winona Daily News last week, he said his message of "real conservative reform vs. business as usual" would win over voters, even though Pawlenty has a major edge in fundraising (at the last filing deadline, Pawlenty had $1.3 million in cash on hand vs. $186,000 for Johnson) and name recognition.
"It's competitive," Pawlenty said. "He and I are back and forth on a lot of different things. I think it's fair to say we're both conservative. But one thing I like to highlight is that I ran for statewide office twice and won twice. He's run for statewide office twice and lost twice, including once in the same year (2006, when Johnson ran for state attorney general), when I won and he lost by 12 points."
Pawlenty was also asked about the the DFL candidates, one of whom — U.S. Rep. Tim Walz — also was in Winona on Tuesday. The others are state Rep. Erin Murphy and attorney general Lori Swanson.
Murphy was in Winona last week pitching her vision for transitioning the state to single payer health care, an idea that Walz has also publicly supported.
Like Johnson, Pawlenty said that would be a "terrible idea." Instead, he wanted to move to a transparent pricing model.
"If I go to the Cub and buy a gallon of milk, the price is right there," he said. "I don't take the gallon of milk home and a month later get a bill for the price and be shocked at how much it costs. Then a week later get a second bill from the woman who milked the cow. Or from the truck driver who drove the milk."
There will be other fundamental differences, Pawlenty said, that will become clear in the general election, no matter who is opponent is.
"You need to be able to show the people of Minnesota that your ideas will work and you're going to be able to implement them in a way that's going to be helpful," he said. "I think we're going to have better ideas."
"There's a lot of slippage in terms of keeping government accountable." Tim Pawlenty