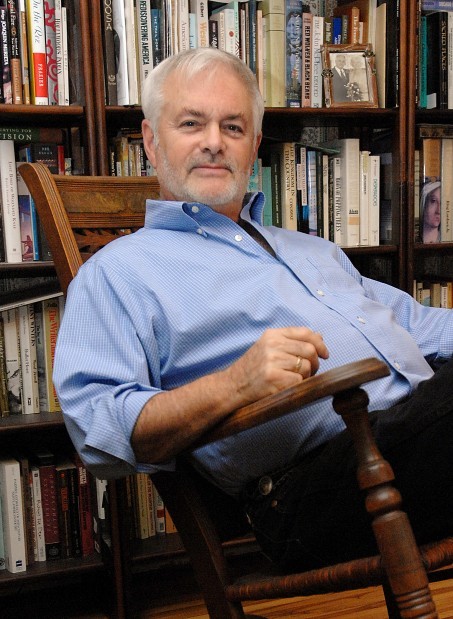 We've just completed National Poetry Month, and I thought it appropriate to put in a plug for poetry, but to also compare our tradition to the tradition of another country, Colombia, where I attended a major poetry festival last July.
When I was a kid, back in the mid-20th century, we still had to memorize poetry in school.
Famous actors made albums of recorded poetry and uncles often recited old classics when they'd had a jar or two; it was part of our lives.
In the '40s and '50s, poetry was taken over by the academy until the Beat Poets once again made it public, but these things go in cycles-now, in recent years, much of the poetry being published is back under the aegis of the academy, only accessible if you are wearing your decoder ring.
Most poetry readings are sparsely attended, though Poetry Slams, for example, continue to be popular as do other forms of Spoken Word events, and Poetry Out Loud! competitions proliferate on the high-school level.
This is the climate that I'm used to. But consider this: When I attended the 20th International Poetry Festival in Medellin, Colombia, in July 2010, our opening ceremony was attended by 4,000 people, who sat in an amphitheatre in the rain for a reading that lasted three hours.
During the week I was there, I gave six readings (in combination with other poets from a variety of countries ranging from Tibet to Togo to New Zealand), and at each reading, whether in a huge auditorium, ornate library, town hall, or barrio community center, we read to a packed house and generally got applause after each poem.
The festival had published a handsome anthology with selections of our poetry in our native language accompanied by translations into Spanish. Each of us had our own translator as well as our own reader.
After readings, crowds of young people would flock around us and ask to have their pictures taken with us, and older people would have us sign the anthology or copies of our books they'd purchased.
One fairly well-known and flashy popular singer attended three of my readings, asked to be photographed with me, and gave me some of her CDs.
When we poets returned to our hotel in the evenings, there would be groups of high school and university students waiting for autographs.
One afternoon, as I was walking through Simon Bolivar Square, which is frequented by winos, one supine gentleman propped himself up on his elbow and seeing that I was wearing a shoulder bag with the logo of the festival, said to me, in a gruff voice "Poeta?"
"Si!" I said with enthusiasm.
He said "Bravo!" and raised his fist in salute.
The poets were all housed in the same hotel and we ate or meals together- the camaraderie was profound and the networking amazing. Incidentally, one of the poets participating in the festival was Yevgeny Yevtushenko, the most famous living Russian poet, who, in his heyday read to soccer stadiums of 50,000 people.
Doubtless you are wondering what it was like to come back to reality when I returned home. When I am introduced as our Poet Laureate, people most often are polite, now and then enthusiastic, though high school kids do not stop me on the street for my autograph.
Yes, consider the difference in cultures.
An old friend, well-traveled in South America, told me that he had once witnessed a spirited argument between two laborers digging a ditch in Santiago, Chile. The argument was settled when one of the laborers quoted a line of poetry from Nobel laureate Pablo Neruda.
I worked as a union laborer for a number of years and find it hard to believe that I would ever win an argument in such a manner.
You might also ask me, facetiously, whether I'd rather live in Medellin, Colombia, or Winona.
If you know anything about the recent history of Medellin, you are aware that it was the center of the drug cartels. And under Pablo Escobar, there were myriad killings in that city every day - the Wild West gone haywire.
The International Poetry Festival was started in Medellin 21 years ago, as an attempt to counter that violence with poetry.
But when all is said and done, Winona is where I prefer to be. The people are friendly, we settle our disputes peaceably, and we do appreciate the arts here. Look around: the Great River Shakespeare Festival, Beethoven Festival, Frozen River, Midwest Music Festival, Theatre du Mississippi.
Maybe it will become popular again to memorize poetry-what comes around. ...
And I won't expect you to ask me for an autograph.
As Whitman said "I take off my hat to no man."
That's the way we do it here. In Dublin, where they take their writers seriously, you'll find writers quoted on buses, plaques and billboards.
In small ways, we are moving in that direction. If you pull in to the rest stop west of Rochester on Interstate 90, heading east, you'll find a free-standing plaque with James Wright's poem "A Blessing."
Garrison Keillor paid to have it placed there.
In St. Paul, they have poems written by local poets stamped into the sidewalks.
We are discussing a similar project with the city of Winona. And we are one of the seven cities in the state that has a Poet Laureate.
To close, I'll leave you with a short poem from my experience in Medellin. It doesn't rhyme and it's in two languages, but maybe you'll find something in it that appeals to you.
In the cathedral, the priest removes
The archbishop steps forward and looks at all of us.
He begins to speak, full-throated, of bandidos.
a mother with the hair of Raphael's angels,
the eyes and face of this world,
who cannot see nor can he hear.
A radiance surrounds them both.
She works his fingers to sign the words
of the singing, the liturgy
and his face leans in, eager:
...por quien todo fue hecho;
y por obra del Espíritu Santo
se encarnó de María, la Virgen,
To their left, father cradles little sister.