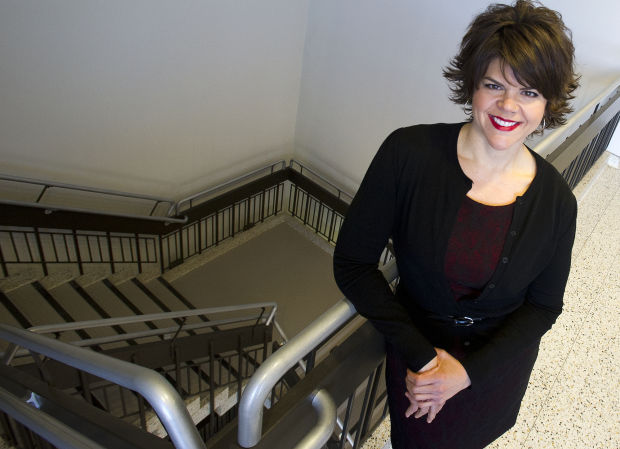 Winona State University professor April Herndon is not on board with Michelle Obama's "Let's Move" campaign.
It's not that she's against exercise or eating right. On the contrary, she's for both. It's the campaign's focus on childhood obesity that has her casting a critical eye.
"Weight loss is often conflated with being healthy," she said. "I don't think obesity in and of itself is a health problem."
Herndon has a new book, "Fat Blame: How the War on Obesity Victimizes Women and Children," coming out May 5. She did much of the work for it over the course of her sabbatical last year, but the project has been based on a lifetime of experience.
"Fat Blame" explores the divide between large bodies and small bodies, and Herndon has lived in both. Ever since she was a child growing up in the 1970s, she has been overweight. Until a few years ago, she weighed almost 300 pounds.
Then she rapidly dropped 120. The world was suddenly a different place. She was treated differently in restaurants, on airplanes, everywhere.
"I always knew thin privilege was real," she said. "On this side of the fence, I saw it more."
The so-called national War on Obesity, she said, has had plenty of collateral damages, she discovered while researching and writing her book. Chief among those damages is overweight children being removed from their homes by social services.
Not to mention which kids are the ones most often getting taken away. Working-class families and single moms, she said, are the ones getting the brunt of the attention from campaigns like "Let's Move."
"It's hard to imagine pulling a fat kid out of a wealthy home," she said.
When children are removed from their families, she said, it can have detrimental psychological effects. Besides that, statistically, these children aren't getting thinner as a result.
"Pulling kids out of their homes won't work," she said. "Even if you think obesity is a serious issue, that's doing more harm than good."
Not everybody agrees with Herndon, including on a local level. There are those who think obesity is, in fact, a serious issue, and among them is Herndon's colleague at WSU, pediatric nursing professor Linda Heath.
Like Herndon, Heath's involvement in the issue of childhood obesity comes from a place of long-seated passion. She's been a pediatric nurse for more than 20 years. She's become alarmed with the trends she's seen over time and convinced they can no longer be ignored.
"We're starting to see adult onset diabetes in kids," she said. "When there is an imbalance between what goes in and what goes out, it leads to health problems."
Herndon maintains that correlations between obesity and harmful disorders like diabetes are not so clear-cut.
"Even if it turned out obesity did cause all these health problems, we don't have a way to fix it," she said. "No doubt some people end up fat because of what they eat, but some people will always end up being heavy people."
That back-and-forth resembles the ongoing discussion the two professors have been having about their different approaches to public health and obesity. Their approaches to bettering public health, however, are similar in a couple of ways.
First is holding off on the blame:
"When somebody dictates to you how to take care of your body, it doesn't work," Heath said.
Second, less chewing the fat:
"If you want to have a discussion about eating well and moving, obesity is not a requirement for that," Herndon said. "Everybody ought to have it."
For Herndon, the "Let's Move" campaign may be pinning too much on childhood obesity, but its call to action is something she can get behind.
"Regardless of what size your body is, moving is good for you," she said.
But emphasizing movement doesn't mean emphasizing thinness.
"That makes fat kids the problem," she said.
Instead of a War on Obesity, Herndon, in "Fat Blame," is calling for a War for Health — a war everyone fights together.
"I hope people who aren't fat themselves will read it," she said, "And I hope people who are fat will read it and think, 'Finally, somebody gets it.'"