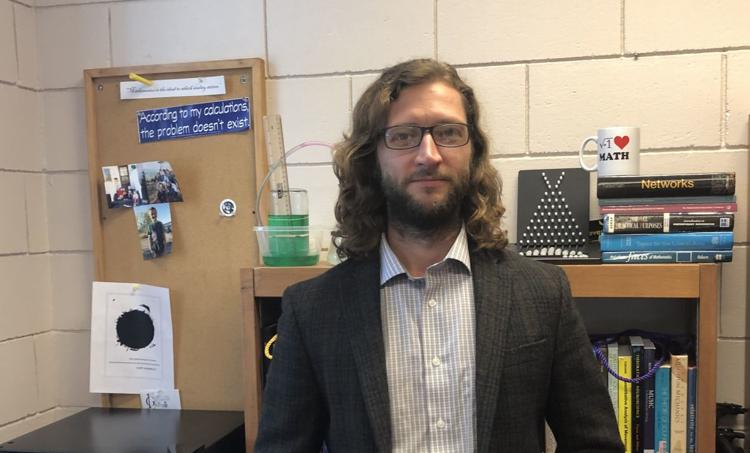 Jacob Duncan, a Winona State University assistant professor of mathematics and statistics, has taken his knowledge of math and insects to the next level, using it to discover a new way to predict relapses in addiction.
His model is based on craving and mood. Cravings are shown to slowly return after treatment, but the mood change is much faster, spiking and then crashing during relapse.
The model aims to predict the fast and slow states' durations, then use that information to predict the timing of a potential relapse. Health care professionals can then better prepare for potential relapses and identify which preventative steps should be taken and when for individual patients.
Duncan's love for math began with his first experience witnessing the field, back in the early 1990s. He remembered being shown by a family member a fractal zooming video created by Cornell University.
"I was just amazed by the fact that what I was watching was actually mathematics," Duncan said.
"I was blown away by that. As a child, I don't know if I thought much of math after that. But in high school, I suppose it was," Duncan said. "I started slowly realizing that math is probably the most precise and most succinct way of describing any natural phenomena."
He also recalled wanting to be a scientist as a child, which he said connected to his future career in math. He said that the two subjects are "kind of inseparable in a way."
Duncan began studying insects while working to complete his PhD. He had been trying to model pest-insect outbreaks.
"The mountain pine beetle is what I focused on," he said. "When it outbreaks, every 30 to 50 years or so, it will wipe out millions of acres of pine forests. … In the meantime, the forest recovers, new trees grow up, and once they're big enough for the beetles to eat them, then another outbreak happens.
You have free articles remaining.
Register for more free articles
Stay logged in to skip the surveys
"I realized that there are … some fundamental similarities, at least, phenomenal logically, between insect outbreaks and addiction relapses. So relapses to an addict as an outbreak is to the forest," he said.
"An individual fanatical relapse, it throws your brain neurotransmitters all out of whack. That's sort of like the devastation you see in a forest. And it takes a while for your brain to recover and get those neurotransmitters back to (normal) levels. Normal state, that's sort of the recovery period. But then once that's happened, the stage is set again for another relapse, just like after the forest regrows, the stage is set for another outbreak."
His familiarity with addiction and its cycles was a result of seeing and experiencing addiction throughout his life.
"Well, to me personally, addiction has been a part of my life in one way or another for my whole life, I would say, whether that's relatives, friends and eventually myself," he said.
"I've been through the ringer in the past, as they say. Recovering now. So that's another reason this was important to me."
The process of creating the model included brainstorming, testing and tweaking, according to Duncan.
Duncan worked with Teresa Aubele-Futch and Monica McGrath of St. Mary's College in Notre Dame, Ind., to complete this research. With their help, he was able to confirm information within his work that related to fields he was less familiar with.
Duncan said, "I want this to be, I guess, another tool in the toolbox for treating addiction."
Next for this new tool in the fight against addiction will be clinical trials to test if this really is an accurate way of helping those working to get better. This will be an opportunity to adjust this tool to match the lives and minds of different individuals.