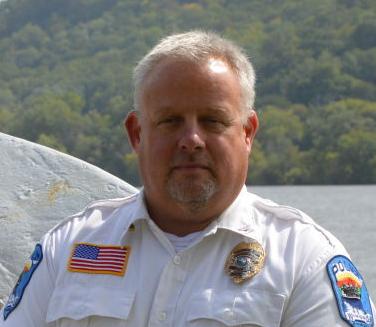 After 34 years in law enforcement, including 28-and-a-half years with Winona, Police Chief Paul Bostrack will say goodbye Sept. 24.
Bostrack, who became chief in 2009, said the decision to retire was influenced by his children, who are in their last year of school and getting ready to move on with their lives.
"The timing was just right," Bostrack said.
The decision to retire has been floating in Bostrack's mind for a little more than a year, but COVID-19 almost changed that.
"When COVID came along, I said, 'I'm not so sure I'm going to leave while all of this is going on,'' he said. "But it seems like things have calmed down, because a lot was unknown in the beginning ... and I just went back to my original plan."
Aside from spending more time with his children, Bostrack said he doesn't have any big plans.
"Basically just working around the house and catching up on things that have slid for a while," Bostrack said. "After that, I'm sure I'll hit a point where I'll look to do something else. I just haven't decided what that would be yet."
Looking back on his career as the chief of police and in law enforcement, Bostrack noted multiple things he's proud of.
One thing he paid particular attention to was the creation of the Emergency Response Team in the early 1990s and his role in helping build it.
"I developed some policies based on other departments, set up training and made the system work," Bostrack said. "I was on the Emergency Response Team for about 15 years as the team leader, and that was a very neat opportunity when I was younger and I enjoyed that greatly."
Another thing he mentioned was working with the city manager and the rest of the department in creating the community outreach officer positions.
"I think that's a very good program. It's working out very well so far and I think it'll hopefully help out a great deal in the future and continue to be a success," Bostrack said.
As for what he hopes for the future of the department, Bostrack mentioned having a good hiring list — which he has been working on before he leaves — as he expects more people to retire in the near future.
Specifically, Bostrack hopes more social workers can be hired through the department as more about mental health is learned.
"That's in the process of being looked into very quickly now, to see if they can make that work and have it implemented," Bostrack said. "It's good timing, because some of the other departments that have had social workers on have made adjustments based on what did and didn't work, so we can learn from the trials of others."
Leaving behind an opportunity to allow for more officers and workers in the department is a priority as Bostrack nears retirement.
"I just want to make sure that we have good people moving into those positions ... and keep the same level of service to the city and maybe even improve on things as we go along," Bostrack said.
Get local news delivered to your inbox!
Subscribe to our Daily Headlines newsletter.