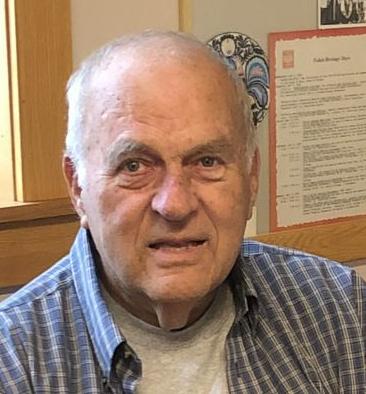 Winona native Father Paul Breza has grown up to leave an impact on the city, not just within the Winona Diocese, but also by preserving the culture of locals with ties to Poland.
Breza, now 82, can still recall how many blocks away his family members lived when he was growing up within the city. Those family members helped infuse in him an appreciation for his Polish heritage, which would eventually lead him to open the Polish Cultural Institute and Museum.
"He's just done an amazing job of starting and building the Polish Cultural Institute and Museum. He is a wonderful guy," Mayor Mark Peterson, who met Breza when he was in high school in Mankato, said. "He's totally dedicated to promoting the culture of the Polish people of Winona. He's done an amazing job."
"I was always proud of being Polish," Breza said.
He said that this pride in his heritage was possibly developed because of the Polish always being put down, such as with jokes. He also said it developed from some rivalries between people of different nationalities.
"I was always conscious of that and very proud of it," he said. "I didn't know why. I had never been there."
He said that both of his parents were born in the United States, with some of his family having a deep history in the country. His paternal grandfather was born in Poland, though.
He attended Saint Stanislaus Kostka School and Cotter High School, eventually attending Saint Mary's University. While studying at the latter two, he recalled bragging about his Polish heritage.
At Cotter High School, he was named the Student of the Year when he graduated in 1955.
He also received the Cotter Alumni Achievement Award in 2007 for his "honorable career as a devoted Catholic project and preservationist of Winona's Polish heritage," according to Cotter Schools.
Priesthood
Breza started considering being a priest during high school, but at the time his focus was going to Marquette University in Milwaukee to study mechanical engineering and music.
A love for music, he said, is a common characteristic he's seen within people with Polish heritage.
He went as far as traveling to Milwaukee and starting there, but he said that something was bothering him. This led to him coming back to Winona to study at SMU. Eventually, he went on to St. Paul for graduate school.
During his career, he worked throughout Minnesota including Winona, Rochester, Blooming Prairie, Mankato, Hokah and Brownsville.
Tim Breza, a member of the Polish Cultural Institute and Museum board of directors and not a close relative to Breza, said that in the parishes that Breza has worked at, people are able to recognize him by sight.
Tim said that Breza has a special way of being able to get his points across without making people feel as if he is preaching at them.
Winona, though, was always his first love, he said. He always kept tabs on what was going on in Winona and how the city was changing over time.
Breza began the process of retiring when he was 70. He actually retired for three weeks before being asked to work again for about nine months.
Today, he continues to help with funerals and other events.
"The nice part is I can say no," he said about being asked to help now that he is retired.
Chuck Kernler, another member of the museum's board of directors, said Breza might need to improve on actually telling people no, as Kernler has seen Breza's love for his work and willingness to help.
Tim said that Breza keeps helping young priests by having a collection of diocese objects, such as chalices, that he'll let them take from. Some of the needed items can be very expensive. Tim shared that Breza's one rule is that if something is taken, something else must be put back into the inventory.
Polish Cultural Institute and Museum
Breza decided to open the museum in the 1970s after seeing the success of an honorary dinner for Polish people that Breza and his sister Marianne started at Saint Mary's University.
He remembered Marianne telling him, "You've got to change the attitude of Winona's Polish people toward themselves."
This instruction led to his lifelong goal of doing so.
When the idea of the dinner shared, there were doubts from community members about how many tickets were going to be sold. Ticket sales far exceeded the original guesses.
During the second annual dinner, an exhibit of Polish items were shown. Locals had contributed the items and they were then given to Breza to save. Breza said they had no place to store the items given, so a building was bought.
When working on the building, finances were a bit of an unexpected issue. Breza had expected more help financially from the community than what originally was given.
Breza also said there were issues with the building, such as fires, leaky roofs, frozen pipes and structural problems.
Many people from Winona did help with getting the building to a useable state, which took years to do.
He recalled his sister expecting it to be open in a week after buying it, even putting an open sign outside.
Breza opened the museum before he ever traveled to Poland, traveling there for the first time when he was 60.
When he finally traveled there, during a time when he said the country was quite poor, he was surprised by the progress that was being made.
Breza continues to run the museum, which contains enough materials to fill the building it calls its home.
Kernler shared how he helps Breza in the orchards that help support the costs of the museum. He remembered Breza telling him that he gets a lifetime supply of apples from the orchard, simply for giving some crates to help.
Tim shared that if an old friend of Breza's requests to purchase some apples, Breza is willing to drive long distances to bring the apples to them, both to be helpful to the friends and to be able to support the museum.
Tim said that Breza is passionate about the orchards, with a large amount of knowledge about the types of apples. He's able to identify them by just looking at the trees.
Tim recognizes that Breza may struggle a bit more with the work he used to do in the orchard, and that Breza may be closer to considering retiring from working in the orchard.
Tim said, though, "I don't think he knows what (retiring) means."
Kernler said that without the powerful impact Breza has made on Winona, along with Breza's "leadership and initiative," community members wouldn't know as much as they do about the Polish culture.
Tim said that Breza has put his heart and soul into his work and that whatever Breza puts his mind too, he will not be satisfied until his goals are accomplished.
Tim shared that Breza's work has been recognized internationally, with Poland naming Breza an honorary citizen and giving him the Cavalier's Cross of the Order of Merit for his work in preserving the Polish culture in Winona.
The Polish Cultural Institute and Museum is located at 102 Liberty St., Winona.
Get local news delivered to your inbox!
Subscribe to our Daily Headlines newsletter.