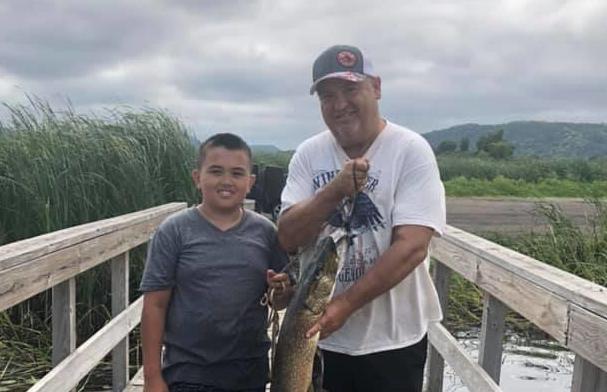 A Winona man is in urgent need of a new kidney.
Andy Kuklinski, 48, is in Stage 5 renal failure, and he is urgently searching for a kidney from a living donor so he can see his 13-year-old son into adulthood.
Those with end-stage renal failure have less than 5% kidney function and must receive dialysis treatment multiple days a week for upward of four hours at a time. The treatment is exhausting to the body and ultimately puts a lot of strain on the heart, which can often lead to heart failure.
Kuklinski has type O-positive blood, but he is emphatic that other blood types should not be discouraged from donating if they are not a match.
"Let's say I found a donor this week and their blood type doesn't match, it's not a problem," Kuklinski said. "Because now they have a database that goes across the country, and they find somebody else who has a donor, but doesn't match, and we do a swap."
The database Kuklinski is referring to is the United Network for Organ Sharing, and in order to be eligible for the program, a patient must have an organ donor.
"This is the biggest thing that has sped up kidney transplants in the last 10 years," Kuklinski said.
Since 2016, Kuklinski has been receiving dialysis treatment for his kidney failure multiple days each week at Winona Health. When he began the effort to be put on a transplant list, he was told he had to go through a dramatic change.
"I had to lose over 150 pounds to be eligible for a transplant, and I did it," Kuklinski said.
Much of them time, Kuklinski doesn't look sick. Looks, however, can be deceiving.
"When you look at a person with kidney failure, oftentimes you'll see they can hike, bike, canoe or whatever, and people think they're living a pretty normal life because they look healthy on the outside," Kuklinski said. "But they don't understand I spend three days a week at Winona Health in the dialysis clinic. I'm on the machine for four hours each treatment, and I'm usually wiped out for the rest of the day. I can't do much after treatment."
A key component to being able to receive a transplant is that patients must be healthy enough to endure surgery, which means those such as Kuklinski often look healthy on the outside.
"Oftentimes people wait to offer a donation until they see a person looking sick," Kuklinski said. "At that time, it's too late — the patient is too sick to go through the surgery, and they're not eligible for a transplant any longer. That's one of the big things. I've been in dialysis for four years, and I know this firsthand. I see it."
Because of his dialysis treatment, Kuklinski normally suffers from extreme fatigue, thirst, blood-pressure drops and cramps.
"(I) have cramps like you would not believe," Kuklinski said. "I'm getting cramps in places on my body where you never get cramps in, and it's because of the huge fluid shifts (from dialysis). When you go in for dialysis, they pull an average of 6 to 9 pounds each treatment. So (next time) I go into dialysis ... they're going to pull about six or nine pounds of fluid off of me. That causes havoc on your heart."
Kuklinski's age is another component he and his doctors need to factor when looking for a potential donor. If he were to receive a kidney from a deceased donor, its longevity would be significantly less than if he were to receive one from a living donor, which could result in him being in the same position as he is now in just a few years.
At 48 years old, Kuklinski's body might not be able to take additional treatment should he find himself in renal failure again.
"My doctors are really pressing me to find a living donor," Kuklinski said. "If I get a deceased donor's kidney, those kidneys average about five years. Some of them go much longer than that, but the average is five years. Whereas if I get a living kidney donor, the average is 10 to 15 years and higher. They don't want me to have to go through this again — dialysis and waiting for a kidney."
Kuklinski added if he got a deceased donor's kidney and he found himself in need of a new one in the future, he would end up back at the bottom of the transplant list.
Luckily, he has a silver lining that is keeping him going.
The driving force and light in Kuklinski's life is his 13-year-old son Yusuf, who Kuklinski has full-time custody of and prioritizes above all else, even in the face of uncertainty.
"My son has been with me through all of this, and he's witnessed a lot for a child his age," Kuklinski said. "He's really mature for his age as a result of it, I think. He's really responsible, and he helps me with day-to-day things."
If something were to happen to his father, Yusuf would likely end up leaving the country to live with his mother and leave all the family and friends he has in Winona behind.
"It's extremely urgent," Kuklinski said. "My son is very close to all of my family. He doesn't want to leave."
Get local news delivered to your inbox!
Subscribe to our Daily Headlines newsletter.