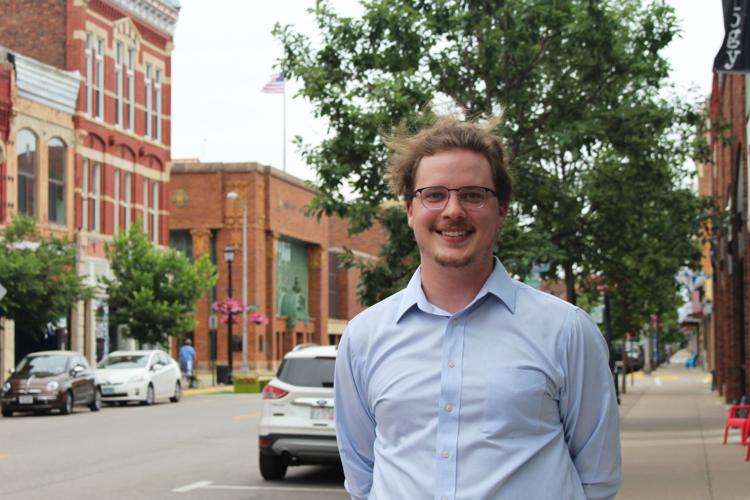 There are a number of puzzle pieces that pump life into a city's downtown.
Economic development. Arts and culture. Recreation opportunities. Good spots for food and drink.
Winona has a strong start, but there's room to grow, says Ben Strand, the new program manager of Winona Main Street. The initiative began in 2013 to spur business growth, new events and more residential life downtown. The program's $60,000 standing budget is managed in part by the Winona Chamber of Commerce and also by the city's Port Authority.
"I'm a very strong believer that a cohesive and collaborative downtown business benefits everybody," Strand said. "Winona's heading in a really good direction right now. There's still a lot of work to do."
Strand is no stranger to playing a part in that work. As a 2017 Winona State University graduate, he had already launched Treedome Productions with a group of college friends and is still a co-owner today, and he has made stops at the Pump House Regional Arts Center in La Crosse and Winona-based Fluoramics.
His involvement with Treedome was actually what led him to Main Street: The two organizations teamed up to put on Shut Down Third Street last fall, which predictably shut down the downtown's most well-known street to host shoppers, drinkers, diners and several events.
"(Shut Down Third Street) really showed me what I'm personally capable of and how much I really do love and care about this community," Strand said.
Shut Down Third Street, which will return this year on Sept. 21, was a product of the Third Space: Artists on Main Street grant that the program has been handing out for the past few years. It's also responsible for the bright new mural at the intersection of Third and Lafayette.
You have free articles remaining.
The 25-year-old is not letting his age get in the way of success, something he said he learned in earnest while participating in a retreat with the Blandin Foundation, which hosted a number of Winona-area leaders in 2018.
Strand plans to bolster the Third Thursdays event, started by local business owners to draw folks into downtown past 5 p.m. on a weeknight, by pumping in dedicated funding and marketing.
He also seeks to beef up the Friends of Main Street program and make connections that could bring life to downtown in new ways, like at Fastenal's new office building and with preparation for the Flyaway bike trail. Artists on Main Street will also continue.
Downtown is the heart of a community, Strand said, and without a top-notch one, it's "one less thing for people to do in Winona."
"Without a thriving downtown, Winona loses part of its identity," he said.
So how does the city keep it thriving? Foot traffic on both weekdays and weekends, no empty storefronts and attracting new businesses to fill open spaces, Strand said.
Support for Main Street, whether it's been monetary or through volunteers, has demonstrated that the community wants that, he said.
"Winona is investing in this program because it believes it serves an important purpose in this town," Strand said. "(It) speaks volumes to what I think the community wants to see happen."