If you've bumped your way through the parking lot at Winona Senior High School, Julie Heinrichs and Lindsy O'Shea want you to remember that when you head to the ballot box on Nov. 6.
"That is the first impression that people get when they come to the high school … this bouncy parking lot as they're coming in," Heinrichs said. "We can give a better first impression of Winona than that."
Heinrichs and O'Shea head up the Vote Yes committee, which formed to encourage voters to accept the $9.42 million bond referendum that the school district will ask for in a month — part of which would go toward fixing that parking lot.
For a district that has struggled in recent months with public perception due to school closures, plummeting enrollment numbers and a tight budget that forced officials to make millions in cuts, the two women said it's important to remind residents that when you help the public schools, you help the community.
In addition to the parking lot, the funding from the referendum would provide security updates, fix critical maintenance needs at the district's 1930s-era elementary schools and revamp accessibility for people with physical disabilities at schools like Jefferson, which Heinrichs said could badly use it — and not just for the kids.
"One classmate of my daughter, her aunt is in a wheelchair. So for her to come to any school events, she also would have the same limitations in her accessibility as any kid would," she said.
Both Heinrichs and O'Shea served on a facilities task force that the district put together in 2016, which sent recommendations to the school board. The school board ultimately made their own recommendation and posed an $82 million referendum to the community, which was roundly rejected last November.
You have free articles remaining.
This year's smaller referendum is meant to address the highest-priority needs, decrease the impact on district taxpayers and allow the district to earn back trust, O'Shea said. The committee has appeared at athletic events and other school and community functions to try to spread the word, and "Vote Yes" yard signs stretch from Minnesota City to Cedar Valley.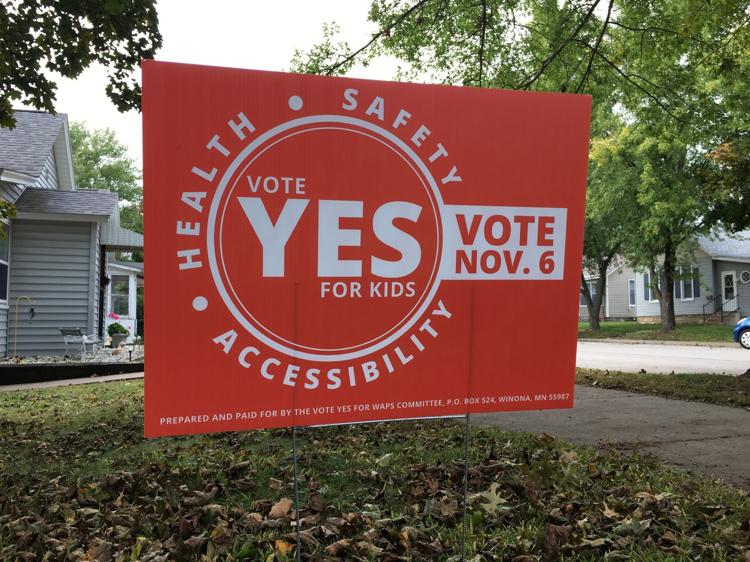 They're also trying to reach voters on the periphery of the district's lines, which stretches into more rural areas. O'Shea said part of that outreach is making sure farmers are aware that 40 percent of their tax liability for this bond can be taken up by the state, meaning the state will pay that portion of the tax on their agricultural land.
"The school district can provide the information and what the needs are and why this is the solution that they've gone with, but they can't actually tell people, 'Vote yes,' and they can't put the human stories behind it," O'Shea said. "A lot of times people don't realize what our schools are like inside, or even outside."
When they hear pushback, it's mostly because of missing information. For example, O'Shea said the facilities task force outlined $5 million in needs and the school board designated projects for the other half of the bond, but some people believe those projects haven't been set yet. It's why committee members will try to be "as available as possible" through November, Heinrichs explained, to share the facts.
Even beyond November's election, when the fate of the referendum will be settled, the committee's work isn't over.
"There's some really good things happening in Winona right now," Heinrichs said, pointing to the revitalization in the downtown area. "But really, in order to contribute to livability and quality of life in Winona, we need to be investing in our education and our kids, too. That's where the real future is."