When Bridget Borjas graduated from Treatment Court of Winona County last month, she was leaving behind a lifestyle that brought out her lowest of lows.
Her life started to spiral into drugs after her children had been taken away from her due to a violent relationship, and without them, she was left without anything to look forward to.
Drugs were a coping mechanism, something to take her mind off the grating reality her life was falling into.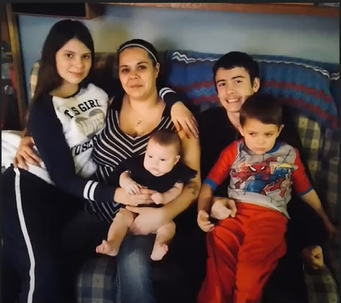 "When I dove into drugs, I didn't have any hope," Borjas said. "I didn't have any confidence that I'd ever be able to have a relationship with my children or anything like that."
"I just wanted to numb the pain," she added. "Somebody had offered it to me, and once I took that first hit, it numbed everything and I just didn't care anymore."
When she was put in jail, she discovered something that made her care and want to turn her life around.
"I found out I was pregnant while I was jail with my youngest daughter, and I didn't want to take a chance on losing her," Borjas said. "I knew I needed to do better for her than I did with my other children."
Better didn't come easily at first, she admitted.
"I had to cut off everybody who was a bad influence on me — everybody who was using," she said. "It might sound odd, but that was one of hardest things to do, because I like to help people."
With a baby on the way, though, getting clean wasn't just a choice; it was also an obligation.
When presented with the chance to go through treatment court, Borjas said, she jumped at the opportunity, even with the prospect of going through it all alone due to her having to cut out the negative influences from her life.
But it wasn't as lonely as she thought.
"I'm very faith-oriented — I rediscovered my faith when I was in jail — and my sponsor has been there with me every step of the way," Borjas said. "When I went to outpatient treatment here in Winona at Common Ground, I found a ton of new support systems and people who were in the same boat I was."
On top of the support she now has, Borjas also chairs Narcotics Anonymous and attempts to help others who are overcoming drugs.
The result of her hard work? Two years of sobriety, a bright future and, most importantly, her four kids.
"Life is now great," Borjas said. "I get to see my kids — I get to talk with them. I've also got this great job opportunity coming up to be able to work at the Grace House transitional shelter. I have a very supportive group of people and I'm actually happy."
If she weren't busy enough now, Borjas is also putting herself through school, where she is majoring in criminal justice.
While her initial plans involved becoming a lawyer, her plans have turned close to home.
"I'm gearing toward a drug and alcohol counselor," Borjas said. "And who knows, with this opportunity to be a part of the Grace transitional shelter, I could be a drug and alcohol counselor through them."
Being on the outside of dependency, Borjas is able to empathize with those who are still using and also offer some advice on how to quit.
"I would tell them not to lose hope and not give up," she said. "There are people out there who actually do genuinely care. I would suggest treatment court to anybody, because it's a great program."
"Yes, they're very structured, even I fought it and I think most of us do and that's just because of what we're coming out of — we don't like being told what to do," Borjas added. "But everything they have put in place is for a reason. They do genuinely care. If it wasn't for treatment court, I don't know where I would be. Probably prison, to be honest."
Borjas also directed her attention toward those she might have left behind when she started using drugs.
"I'd like them to know I'm truly sorry I didn't reach out and that I chose to numb my senses rather than try to get help and try to get therapy," she said. "But I also want them to know that if I didn't go through what I went through, I wouldn't be the person I am today and I wouldn't be striving for a better me every day."
Get local news delivered to your inbox!
Subscribe to our Daily Headlines newsletter.