As part of our Throwback Thursday series, this initially appeared in the Winona Daily News on Oct. 23, 1954, written by Tom Berghs, Daily News staff writer.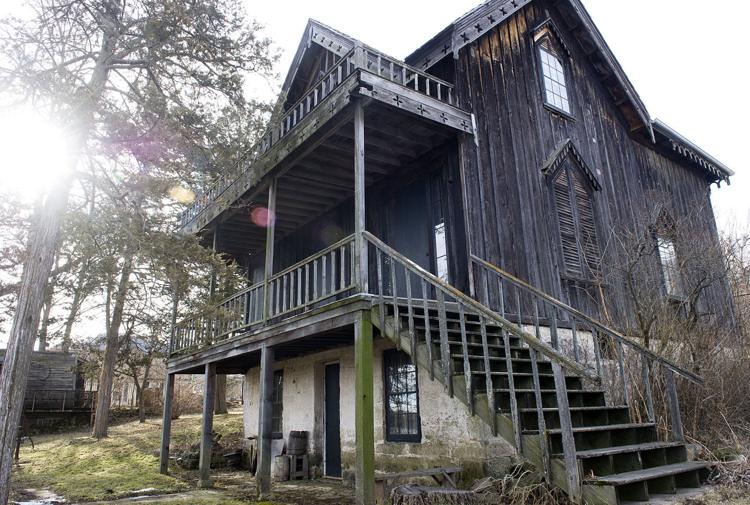 On a down-sweep of land at Homer — five miles east of Winona — where the main channel of the Mississippi glides near a sandy bank, stands a rough-hewn cornerstone of Minnesota history — the Willard B. Bunnell home, thought to be the oldest house in the county and birthplace of the first white child in Winona County.
The house, which hasn't been used for year-round living since 1918 and has been completely unoccupied since 1946, was purchased from its owner Mrs. Agnes Berrum, Winona, by the Winona County Historical Society two weeks ago.
Friday and today, the old home, rich in memories of Indian and fur trading days, is a virtual beehive of activity, as members of Winona's Portia Club apply elbow grease to the monumental task of cleaning up the dust and dirt — some of it close to 100 years old.
Historical society representatives, wishing to raise funds for establishment of some sort of county historical museum, appeared before the County Board in September and asked commissioners for a grant of money to aid them in their project.
Commissioners gave the society $2,500 in October, officials added the sum to several private philanthropic gifts and purchased tbe Bunnell home for $3,500.
Assured parking space
Dr. Lewis I. Younger, president of the society, said Friday that "when the new highway (U.S. 14 from Winona to La Crosse) goes through here next year, the state is going to put up a historical site marker and build us a cut-off and parking space out in front — then we'll have a real interesting tourist stop here."
Friday, members of the Portia group were busy scrubbing walls, floors and windows that hadn't been touched for certain since 1946, when the owner abandoned the place as a summer residence, with much of it undisturbed since 1918 or even earlier.
Today, another dozen task-devoted women will invade the home in order to complete the clean-up before Wednesday, when the Historical Society's board of directors will tour the site and decide on the next moves. The home itself is a fascinating place. Built on a sharply-rising grade about 100 yards from the southwest bank of Old Man River, it presents a three-story view to riverside onlookers and an abbreviated two-story vista to Highway 61 travelers.
The present building is the successor to the two-story log house built by Willard Bradley Bunnell, a pioneer fur-trader and trapper, who settled in Homer in 1849. That building had to be moved back when the Milwaukee Road laid track through the property in 1872. It burned down when struck by lightning in 1901.
Begun in 1849
You have free articles remaining.
Register for more free articles
Stay logged in to skip the surveys
A second home — the one now standing — was begun in the spring of 1849 out of lumber brought to Winona County by ox team from Prairie du Chien, Wis. It was not quite finished in 1861 when Willard Bunnell died.
Previously, Bunnell's wife Matilda gave birth to the couple's fourth child — Frances Matilda — Feb. 22, 1850.
Frances was the first white child born in Winona County. Later, residents of Homer, named for Mr. Bunnell's birthplace in New York state, named a street down by the river in honor of Frances' mother. Matilda Street is still used by people traversing the lower level between the river and the highway.
When you walk into the place from Highway 61, it looks like you're going in the front door — actually you're on the second level. The first level — the house's front — faces the Mississippi. Logic for that arrangement is grounded in pioneer Indian-protection measures.
On this floor are a living-dining room combination, a sweeping parapet porch and a room that probably was once Willard Bunnell's study.
The most interesting part of the home is on the first level. Here is a huge kitchen, where all food preparation was done; one can almost sense steaming platters of hearty food being carried up a winding set of walnut-girded stairs to the dining room on the second floor.
'Bed-sink' room
And too, down here is the home's most history-crusted room. It was called in other days the "bed-sink" room. Actually, it was the dying room. Just large enough for a bed, it was a death room for family members suffering past-hope illnesses.
Here Willard Bunnell died in 1861, his wife Matilda in 1867 and descendant children through later years. It's rather eerie — thinking of the dread that family members must have felt as they were carried from a bedroom on the third level down to the bed-sink room — knowing that they were tabbed for death, at least by their contemporaries.
On the first-floor level there's also a sort of all-purpose root cellar and storage room, whose hand-hewn ceiling beams carry right back into the earthen bank and a huge screened-in porch overlooking the Mississippi.
In bygone days, according to Dr. Younger, the entire house was heated by contrivances called Franklin stoves (named after lightning-rod Ben), whose sweeping iron screens channeled heat in the desired direction.
Outside, the home has never been painted, its oak planking surviving over 100 years of wind and rain off the turbulent river. All joints were hand-mitered in and secured with square-headed iron nails which show today along the seams of its construction.
Younger said Friday that it would take an estimated two years to restore the home to a replica of the day it was completed in 1861; but then, he said, "after we get some of our prized historical items in here, the society will have restored a landmark the entire county can be proud of."