This story originally was published in the Winona Daily News on June 21, 1970.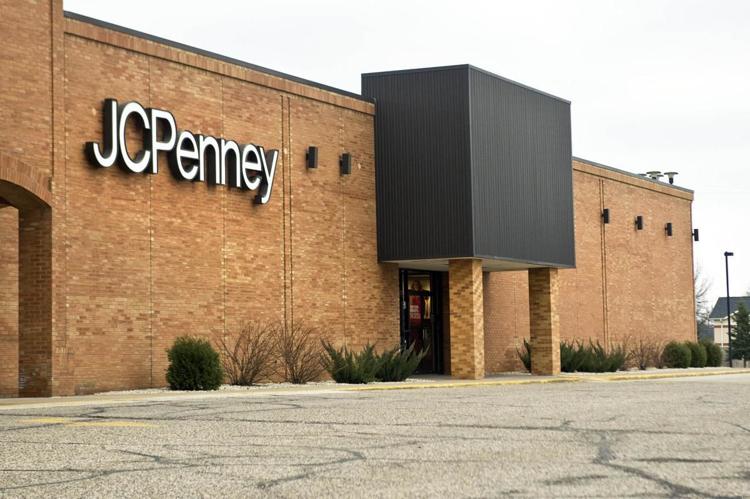 Put two football fields side-by-side. Fill them with quality merchandise of all descriptions. Enclose them with a modern structure and keep the prices down.
That is a brief description of the new J.C. Penney Co. store which opens Thursday.
The new one-stop shopping complex covers 115,000 square feet — the area of two gridirons — or three square acres. It is located on a 12-acre lot at Service Road and Pelzer Street and cost $1.7 million to construct. The nine acres which are not used in actual store space will provide sufficient room to park 800 automobiles.
The 68-year-old Penney Co. has nearly 1,700 stores in 48 states, including 57 in Minnesota. Many of Penney's new lines of appliances and home furnishings will be introduced in this area at this newest store.
The store, which will employ 275, replaces the 48-year-old conventional line store in downtown Winona. The new unit is nine times larger than the downtown Penney's which closed June 20. Most of the employees will work on a part-time basis.
Paul Miller, who will manage the new complex consisting of a main store and a separate auto service center and outdoor shop, emphasized that quality merchandise and customer service are still the backbone of the operation, even as Penney stores continue to grow in size.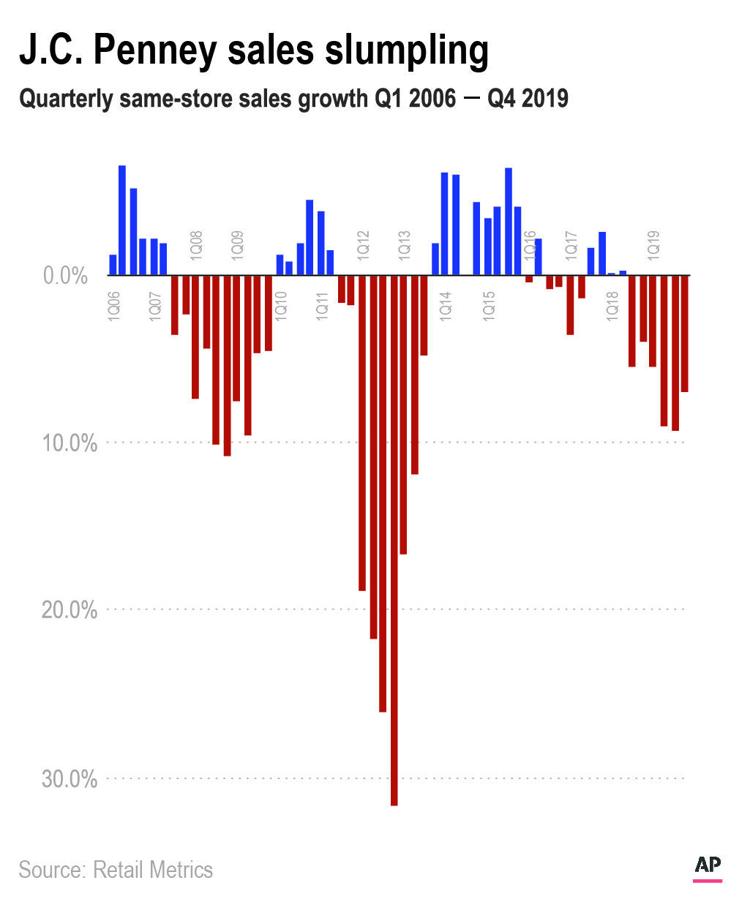 Penney officials are calling the new store a landmark to the 68-year-old Penney Co., noting that this will not only be the first Penney's in the country to have a food supermarket but it will also provide innovations in Penney's traditional customer service.
The motto "Service when you want it" is Penney's description of this new dimension in service. The variety and depth of merchandise lines and the design of display fixtures and the store itself will allow customers to shop independently, explained manager Miller.
Penney service assistants will be distinguishable by their blue jackets or smocks.
Immediately inside the entrance, customers will find a complete information and service desk where they will receive instant service on all refunds, exchanges and other sales adjustments. Providing another continuous service, check-out counters at the front of the store and new low-profile shopping carts will make multiple purchases easier and more convenient.
A coffee shop and snack bar will be among several customer convenience departments, which also include Penney's full-service beauty salon and complete catalog shopping through Penney's catalog desk and its new order call stations spotted throughout the store.
Merchandise offered at the store represents a broad assortment of soft goods and hard goods. Among the departments featured at the new store are:
Supermarket: One of the most unique features of the new Penney's will be the food supermarket, located within the main store. Food shoppers will be able to choose from full selections of groceries including the most popular national brands. Penney's food supermarket will feature an automobile order-pickup facility. Customers may continue to shop in other departments after buying groceries.
Beauty salon: The new modern salon will be staffed by experienced operators. High-speed dryers will be standard equipment in the attractively decorated salon, which will offer complete service from hairstyling to permanents, to wash and set, cutting, wigs and falls. There will also be a special wig department in the store. Penney shoppers may use their charge cards at the beauty salon and no appointment is necessary.
Paint and hardware: Portable power tools and hand tools, along with paints and supplies under Penney's own brand name will be sold here. Lighting fixtures will also be featured.
Outdoor shop: Outdoor furniture and heavy-duty lawn and garden equipment such as power lawn mowers will be displayed. The outdoor shop will also offer a wide variety of seasonal plantings and plant foods.
Sporting goods: Golf bags and brand name golf club sets will be offered, along with bowling balls and equipment, fishing tackle and team sports equipment. Guns and equipment, camping outfits and accessories for area sportsmen will be additional features.
Record center: A vast collection of records and tapes appealing to every musical taste will be offered, along with a selection of accessories to add to a listener's pleasure. In addition, a separate collection of tapes will be available in the auto center for auto tape decks.
Cameras: A broad array of photographic equipment and supplies.
Shoes: The entire family can be fitted in size and style. Convenient independent shopping is enabled by electronic size-measurement equipment and full self-service fixtures.
Toys and games: Penney's new toy department will have a large selection of toys and games for every age, including bicycles and other wheel goods, a variety of adult games and hobby equipment.
In addition to new merchandise and services listed above, traditional soft lines of boys', girls' and infants wear will be available in broad assortments. Women's ready-to-wear, foundations, sportswear and coordinates departments will offer complete lines emphasizing latest fashions. The junior petite and young miss departments will also have a strong fashion emphasis. The men's furnishings department will include, men's slacks, sports clothes/shirts, ties and a variety of accessories.
Other specialized areas will include health and beauty aids, lingerie, foundations, bath shop, housewares department, work clothing, drapery and hardware, curtains, area and room-size rugs and a home entertainment centers with complete lines of stereo units and television sets in cabinets offering a wide/variety of styles and finishes.
The shopping complex will also significantly broaden its merchandise offerings to customers with a fully staffed catalog sales desk and instant order call, an innovation in catalog shopping.
The "Order-Call" displays will he spotted throughout the store, each featuring some of the more than 85,000 items in Penney's catalog. Direct-line telephones in each area will simplify ordering the featured merchandise. In addition, full catalog service will be available in person or by telephone at Penney's catalog desk, prominently located in the. store.
One-stop shopping is the key at Penney's newest auto service center adjacent to the new Penney store. The auto center will offer. Penney's owm brand gasolines for the first time in the Winona area and will feature full front-to-rear automotive service.
The auto center is adjacent to the store, facilitating one-stop shopping. Motorists may leave their cars for service while they shop in the main store. Another feature of the new auto facility is its music center, where a broad selection of the latest stereo tape recordings and automotive tape playing equipment are available. An added service is an acoustically designed listening room where tapes and stereo players can be demonstrated.
An array of other automotive items is available, including car cleaning and polishing equipment, air conditioners, seat covers and other supplies.
Motorbikes also will be sold at the center.
The auto center will feature eight drive-thru service lanes. The new center has an area of 8,348 square' feet. All products and services available at the center may be charged with a Penney charge card.
Penney's has stocked complete lines of each automotive product. For example, the center features four types of batteries and nine models of passenger tires. The center will feature two grades of gas refined to meet the chain's rigid specifications.
The auto center's pump island service, including proper windshield and under-the-hood car maintenance, will be supervised by Penney-trained servicemen and specialists. The new center is set up to make it easy for the ladies to keep the family auto in top shape and the atmosphere of the center is designed to make women feel at home, Miller said.
"Every effort has been made to make any automotive purchase just another shopping errand for women," explained Miller.
The company's entry into the automotive business has been a key part of its expansion of merchandise lines to include so-called hardgoods. Expansion of merchandise lines, in turn, has been a major part of the firm's program to evolve into a full-line department store operation.
Implementation of this program began in 1958, with the establishment of credit which was a prerequisite to the introduction of big ticket hardgoods. The introduction of hardgoods and new services — as well as the expansion of the Company's traditional apparel and home furnishings lines — has resulted in Penney's operating larger stores than ever before.
---
Winona Mall
Winona Mall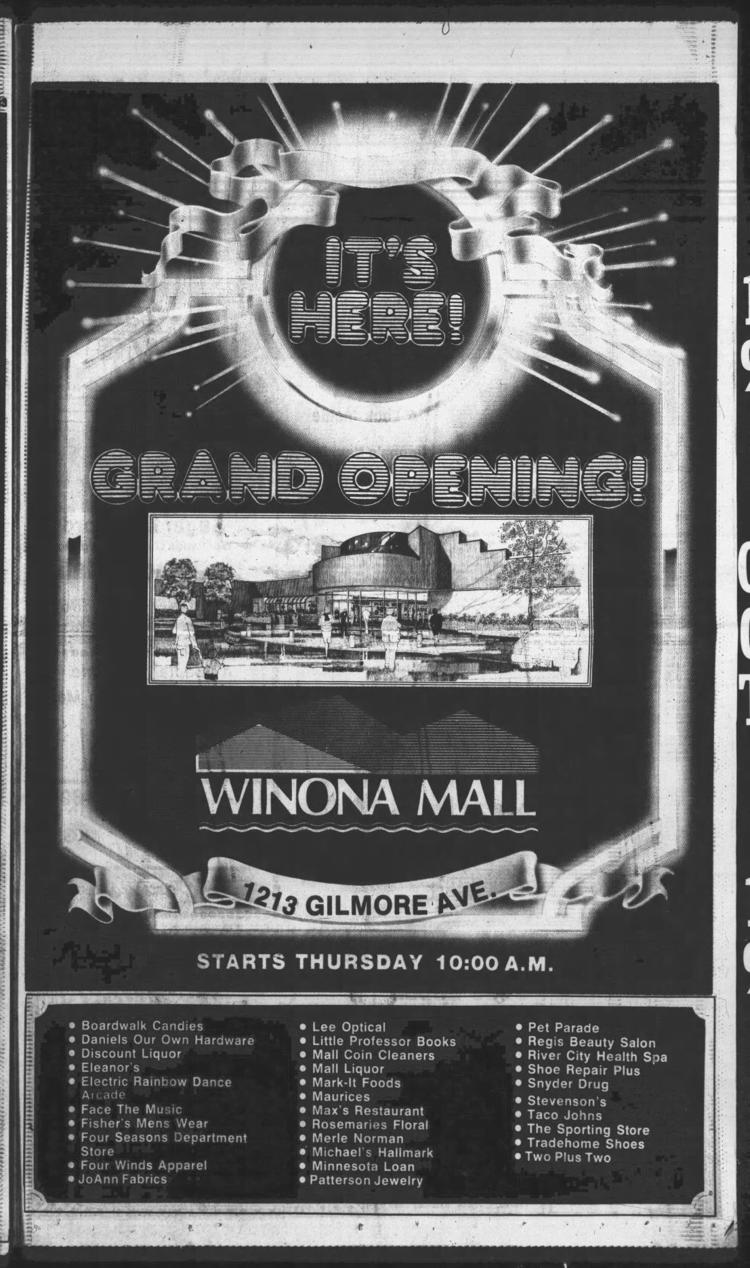 Winona Mall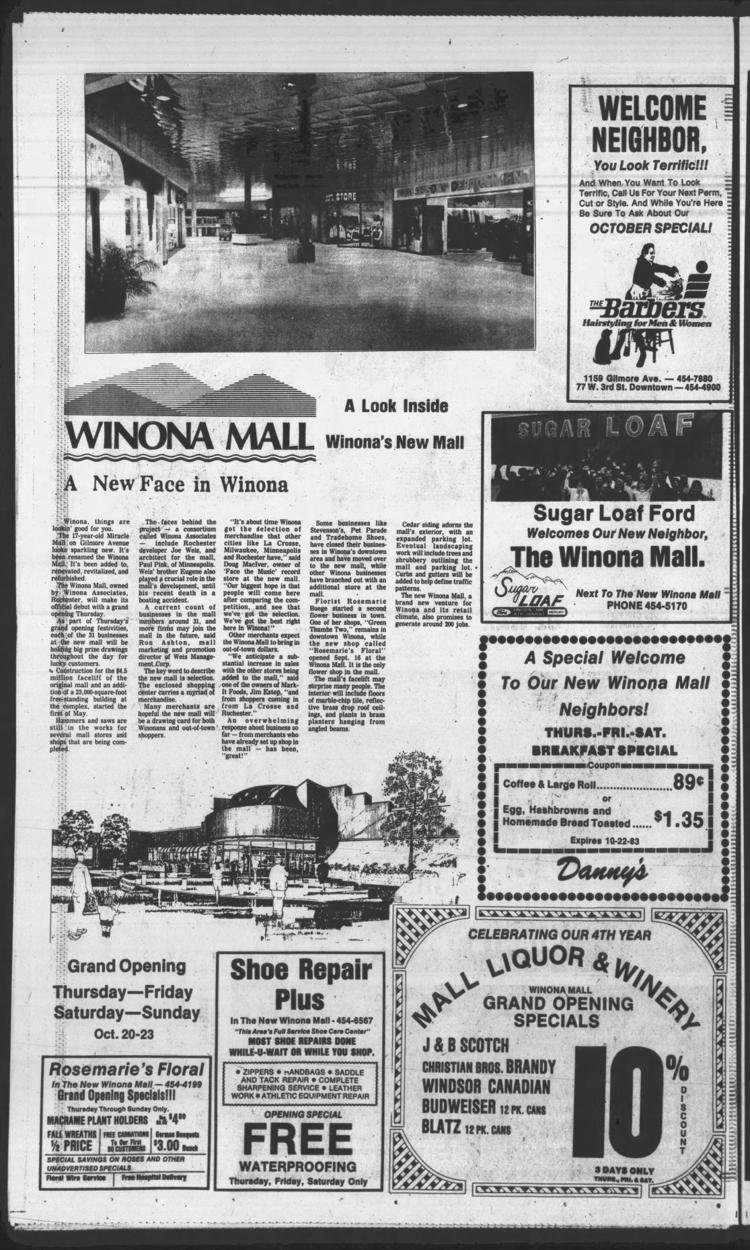 Winona Mall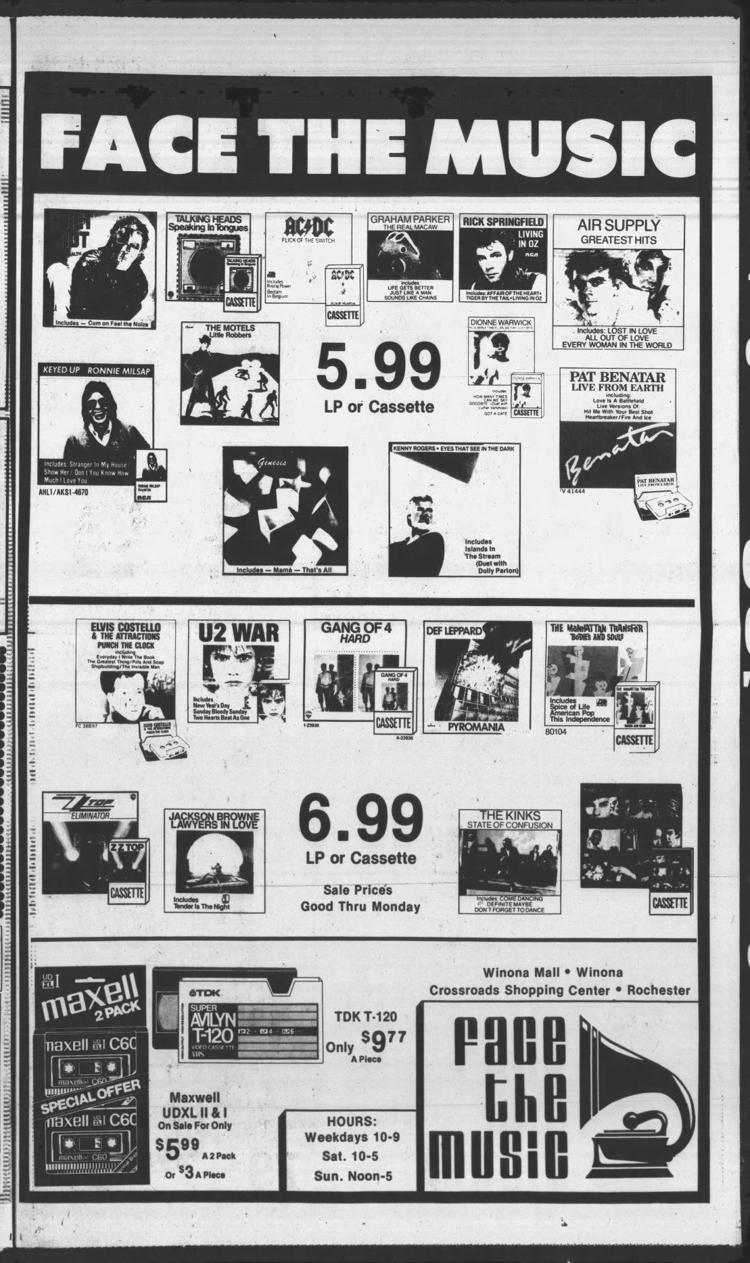 Winona Mall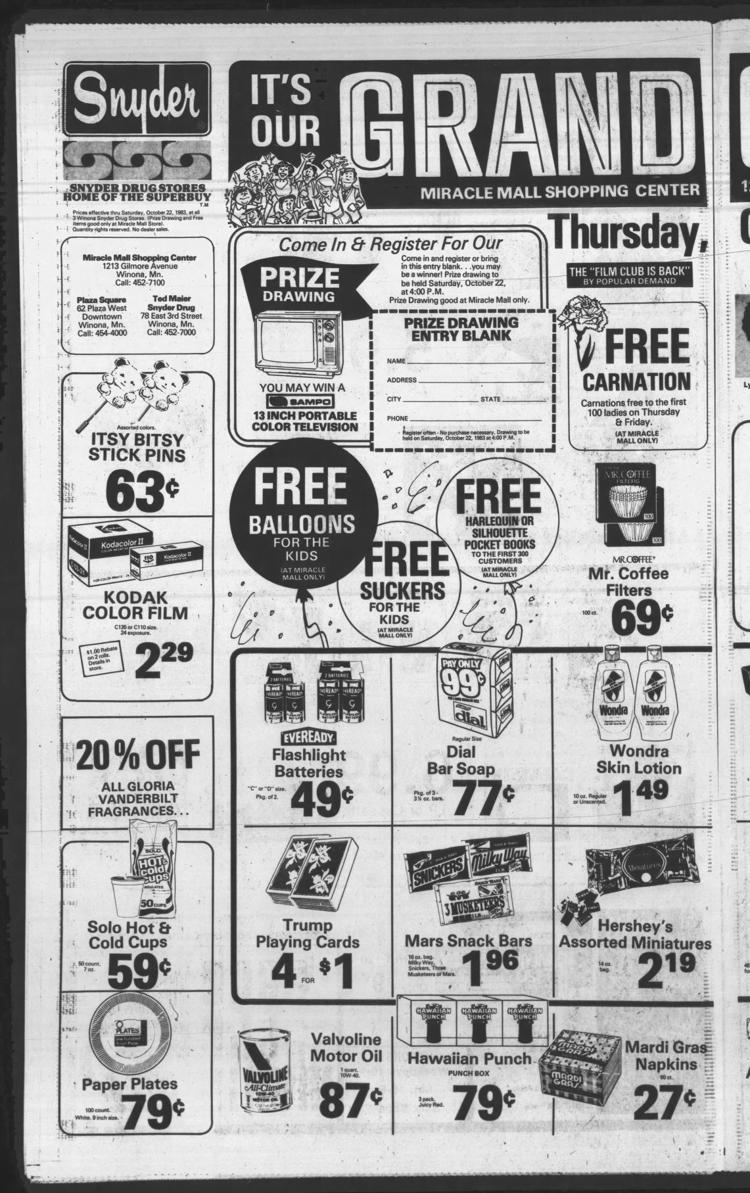 Winona Mall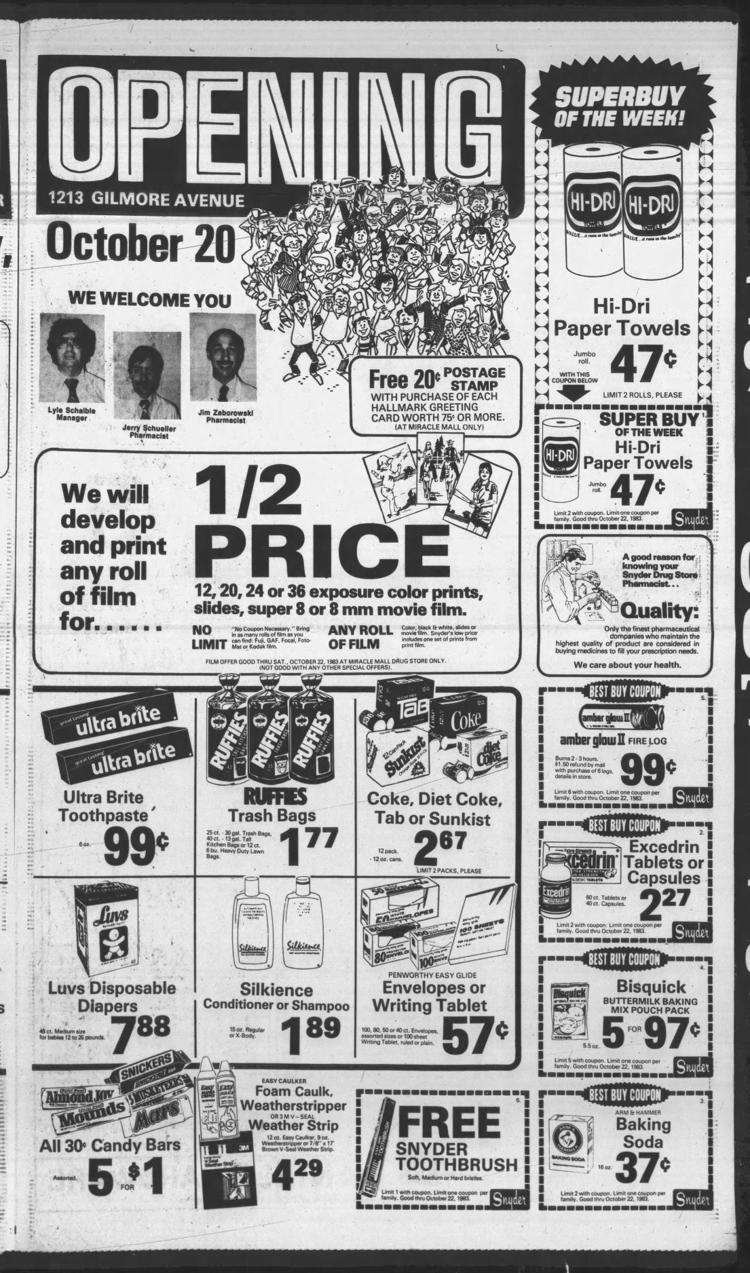 Winona Mall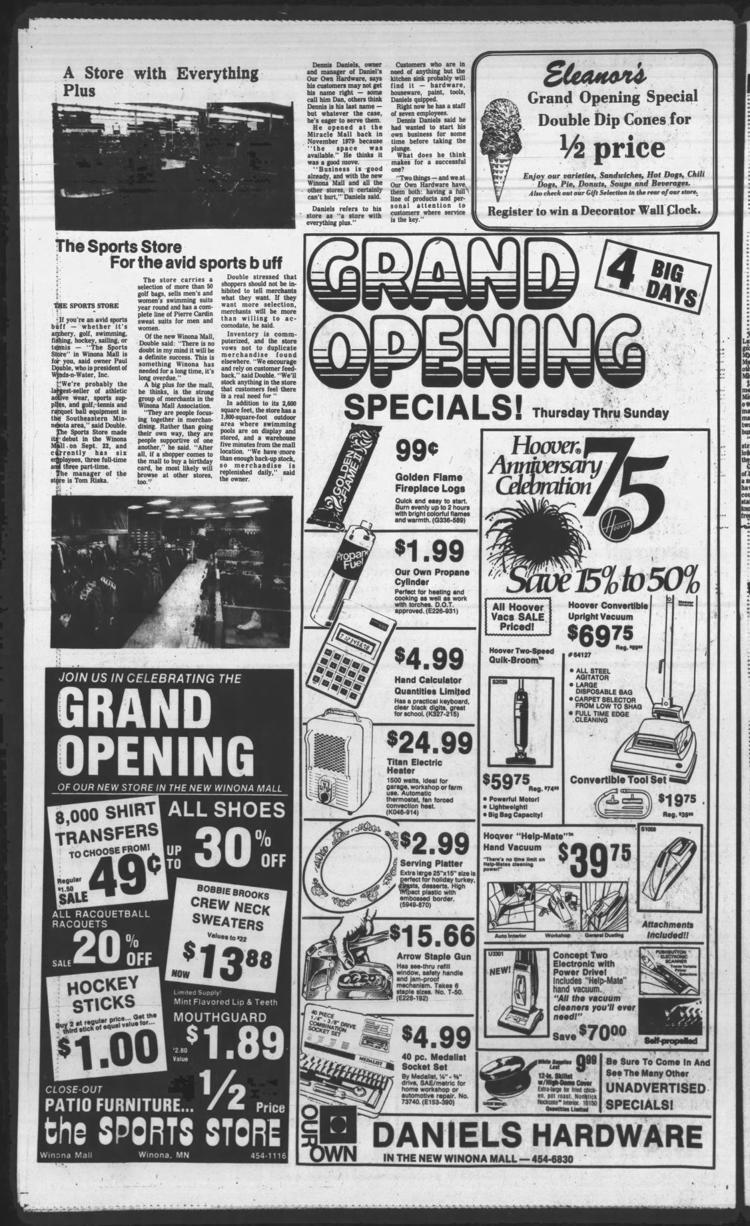 Winona Mall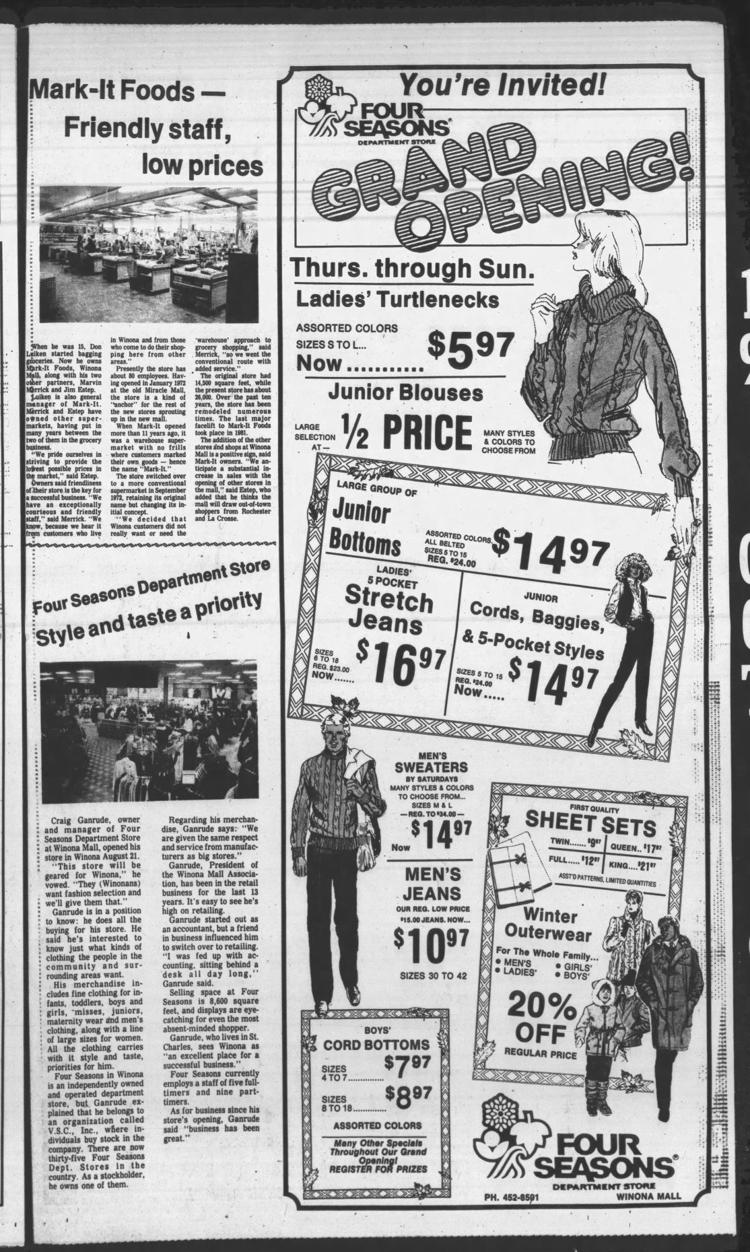 Winona Mall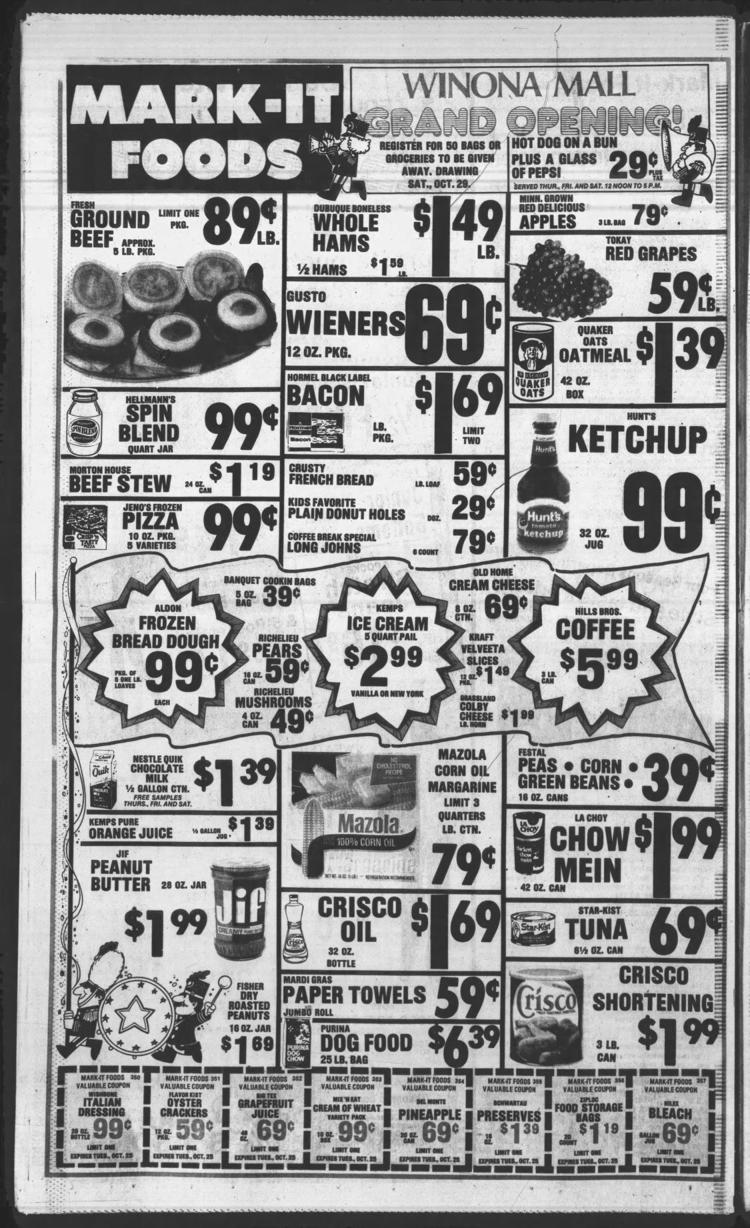 Winona Mall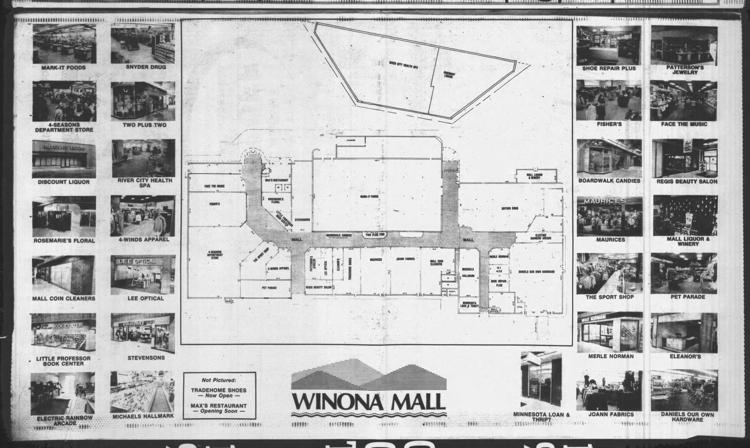 Winona Mall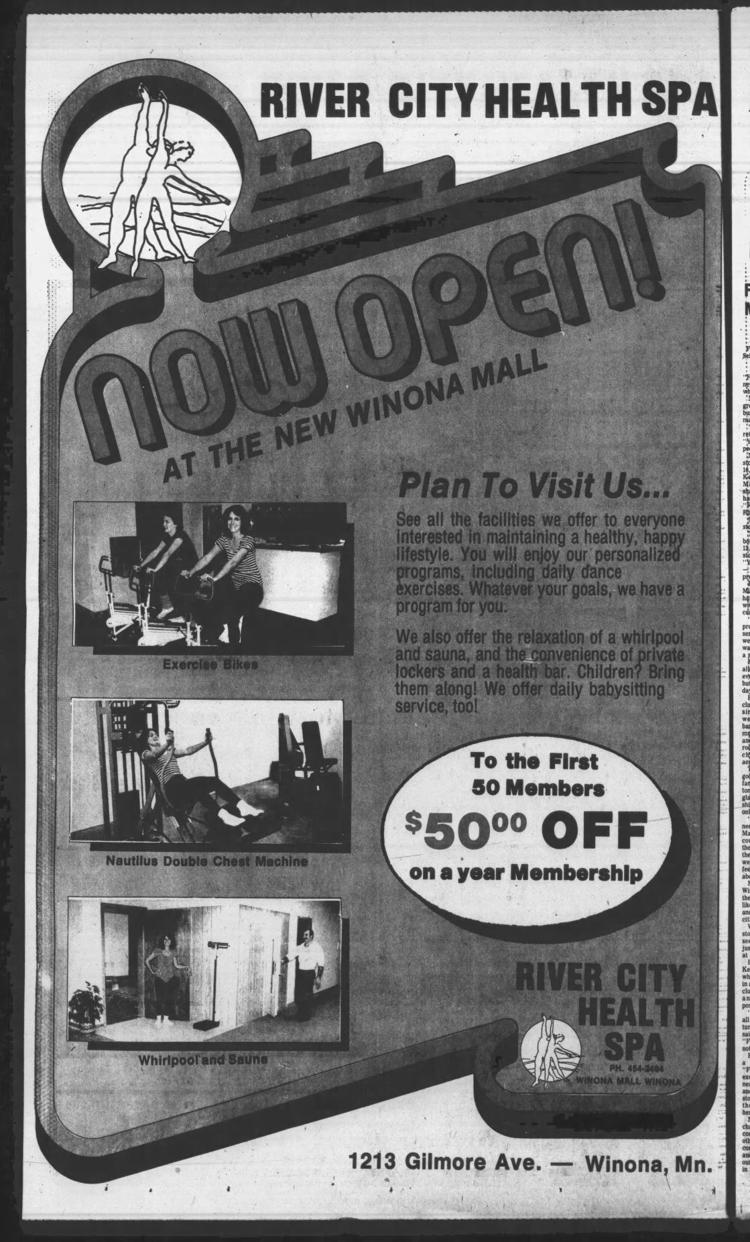 Winona Mall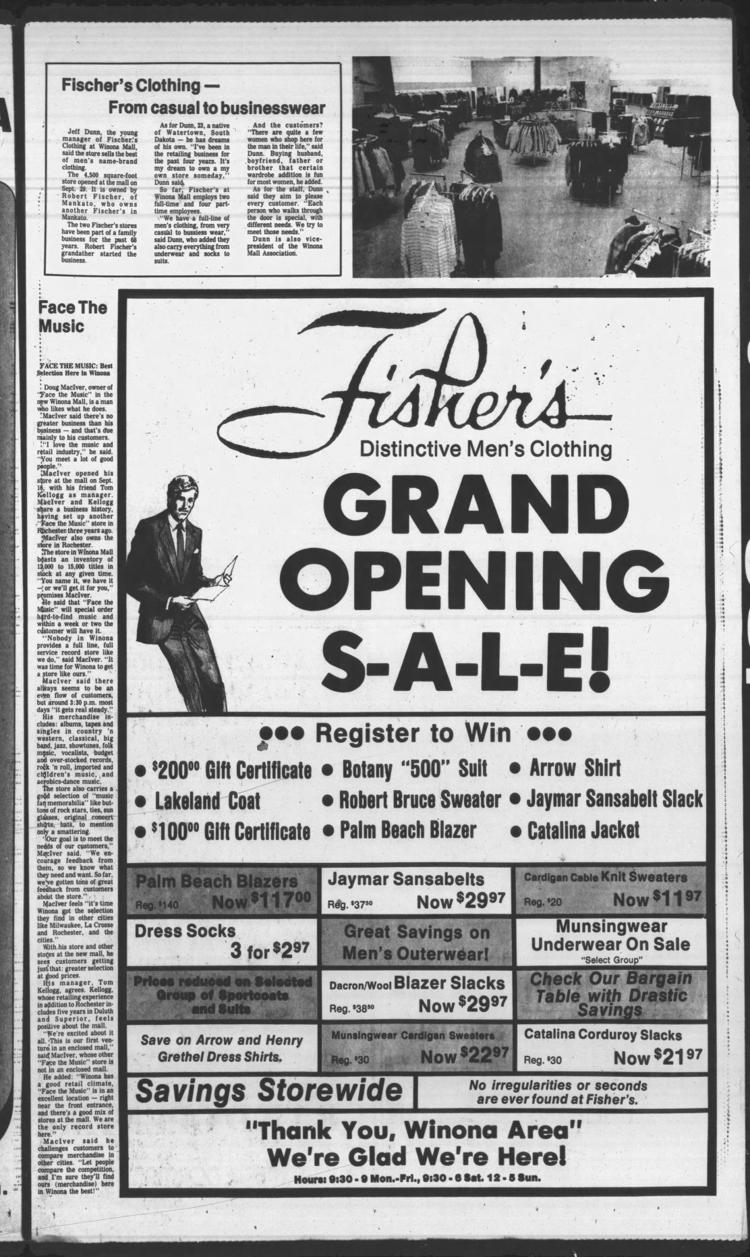 Winona Mall
Winona Mall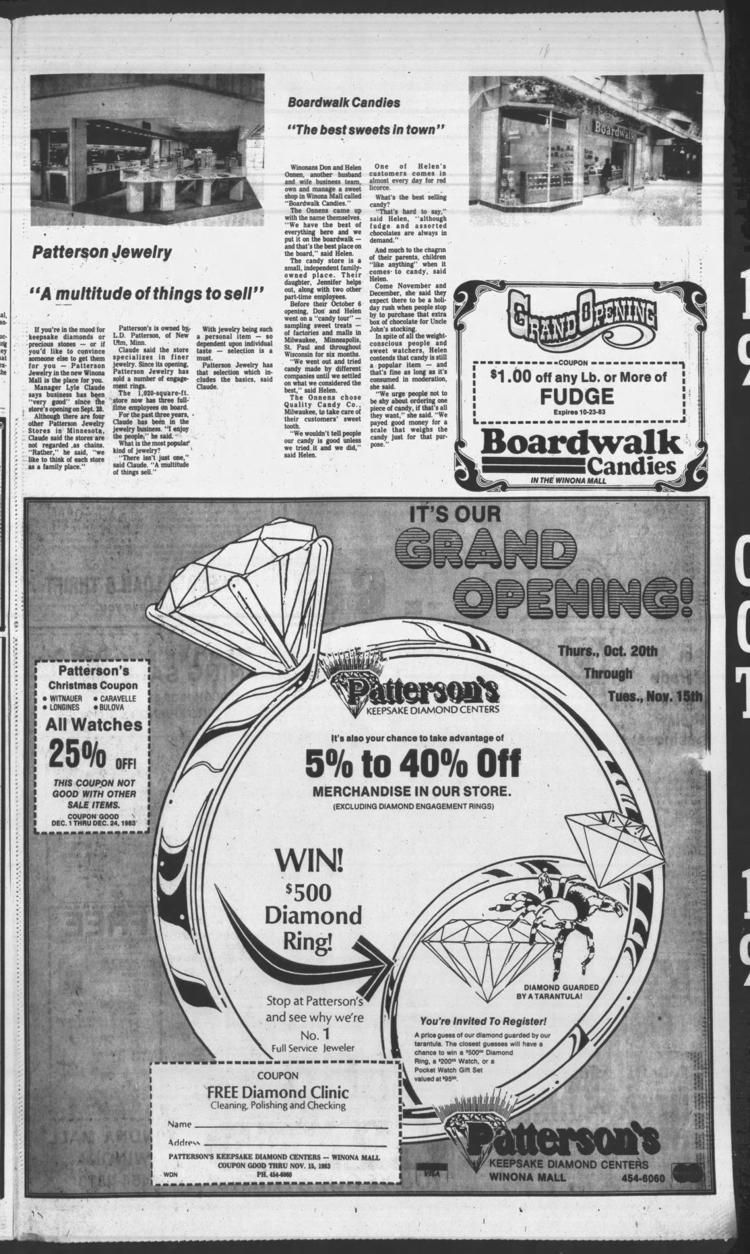 Winona Mall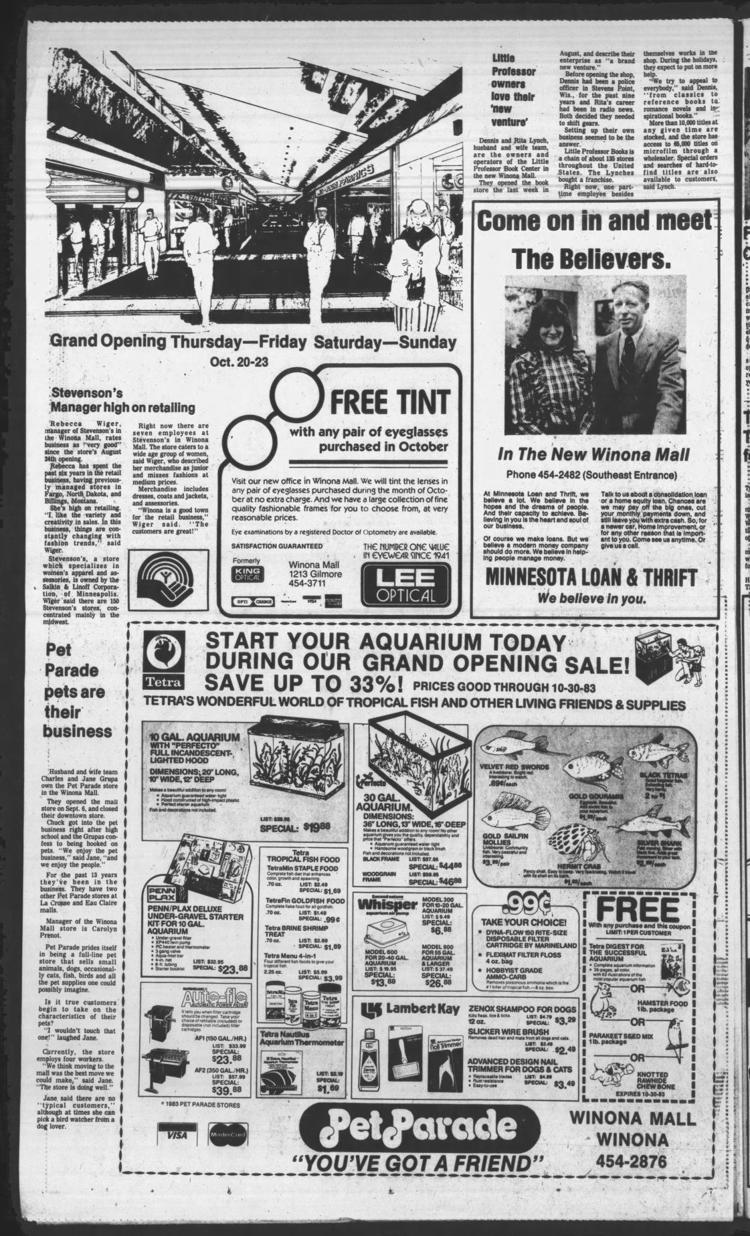 Winona Mall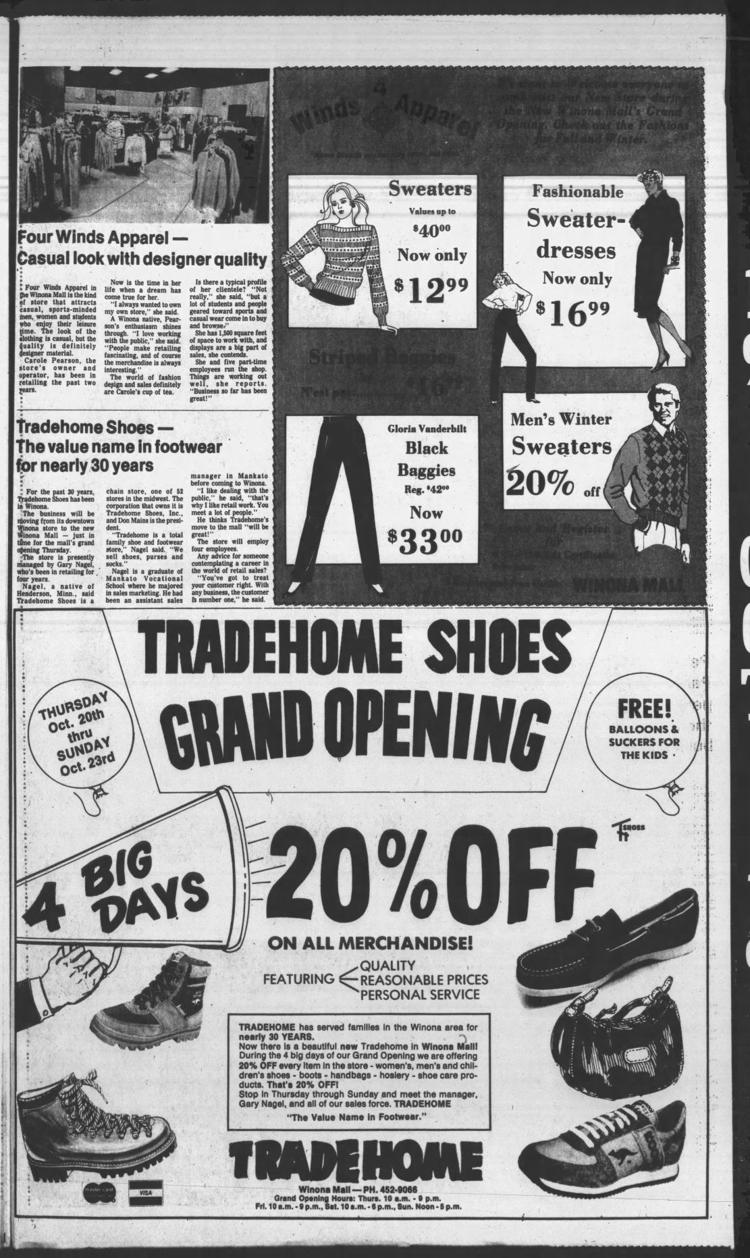 Winona Mall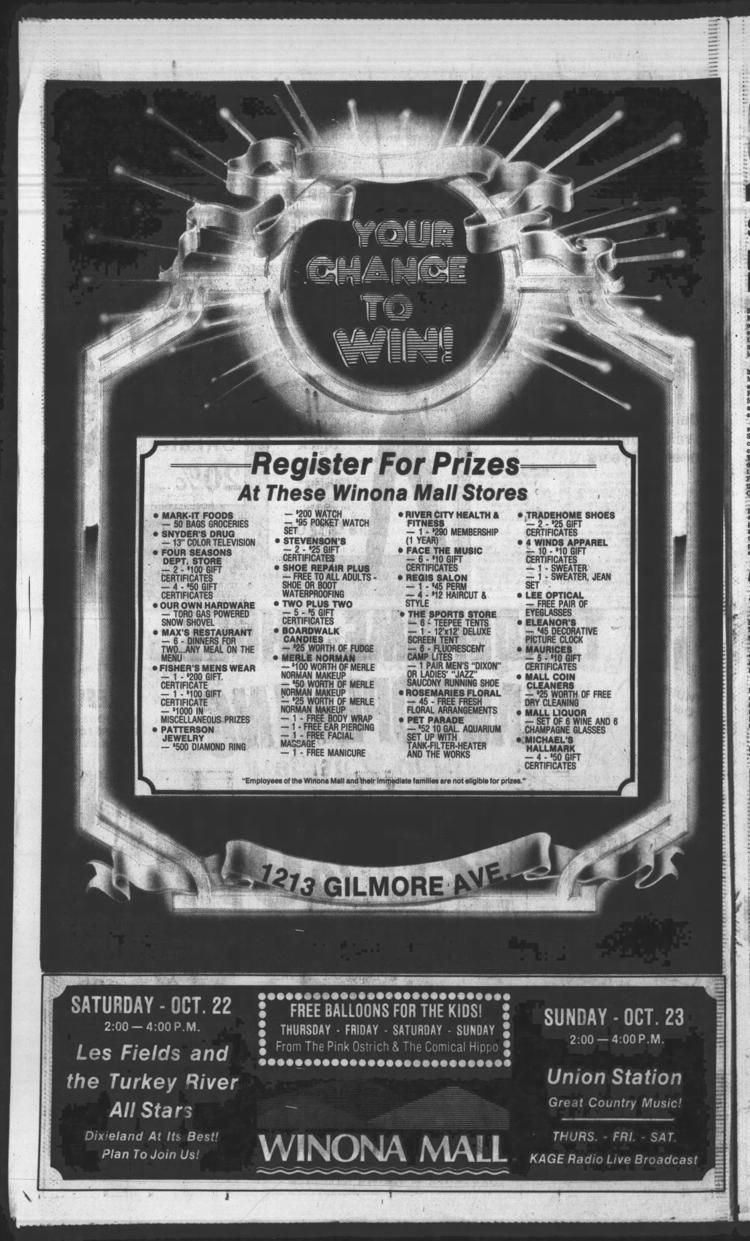 What person, place or thing do you value most in the Winona area? What landmark do you show off to visitors? What local food do you brag about…
Get local news delivered to your inbox!
Subscribe to our Daily Headlines newsletter.