This story initially was published in the Winona Daily News on Nov. 19, 1955.
Winona's industrial life has taken many a strange twist in its long history.
At one time — around the early 1880s — Winona manufacturers were turning out washboards, lightning rods, soda water, harnesses and saddles and horse collars.
These weren't the major industries, of course. The large manufacturers made wagons and carriages, flour and patent medicines.
Around 1911, the city of Winona had hopes of becoming as famous for its green soap as Milwaukee was for its beer.
A news item in The Winona Republican in December 1912 pointed out that Winona was the only city in the country making green soap by a special old-world process, and that this should bring the city fame.
Manufacturer of the soap was Norgaard Soap Co., which was organized in 1911, and was located in the former Latsch & Son Co. building on East Second street.
Women cooked the soap in kettles on the second floor. Cutting and pressing rooms were also on the second floor. Norgaard's laboratory and private offices were on the first floor.
Output of Norgaard's for 1912 was 100,000 bars of green soap and 15.000 bars of ordinary toilet soap. Green soap was a finer quality soap than most made in early days.
At about this time, Winona was boasting that someday she would perhaps be known nationally for her pearl buttons, clams, beer, sugar beets and linen mattresses. Oxford Linen Mattress Co. was at the time a new organization which planned to turn out 60,000 flax-filled mattresses a year in Winona's East End.
Nothing came of Oxford Linen Mattress Co.'s plans, but one company which did successfully utilize flax and help Winona build its reputation as a flax-processing center was Union Fibre Co.
The Winona mill of this company, later sold to Chempco, Inc., and now run by Archer-Daniels-Midland Co., produced seven insulating materials from flax fiber processed at this mill.
Six of these products were fabricated in the local factory, the seventh at a mill in Yorktown, Ind. Insulation made in Winona included Linofelt, Fibrofelt, Lith, and Anti-pipe covering. Rock wool was made in Yorktown.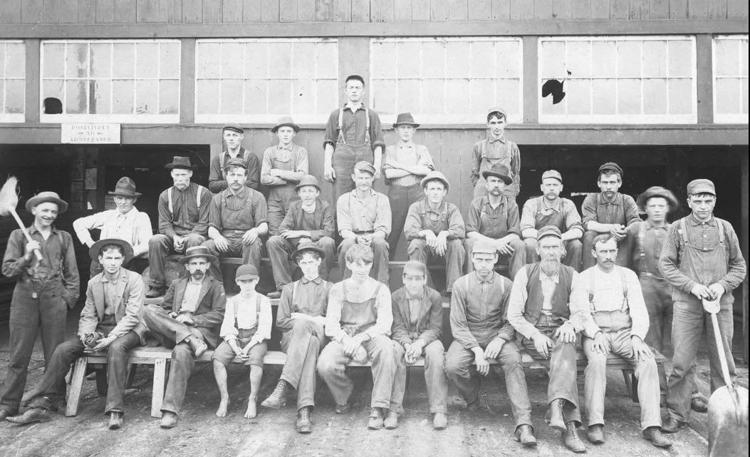 In 1911, Union Fibre Co. had sales offices in seven major U.S. and Canadian cities; 250 persons were employed, and its annual volume exceeded S750.000.
Insulation made by the company would keep heat out of buildings, help provide proper acoustical properties in buildings, control sounds in hospitals, and keep the cold inside a refrigeration plant.
Fire once destroyed the company's plant — in 1906 — but the owners borrowed capital and rebuilt.
You have free articles remaining.
Winona did gain fame from the wagons made by the Winona-Rushford Wagon Co. This company, established in Rushford in 1861, moved to Winona after a great fire wiped out its factory. Its Winona Rushford and Minnesota wagons were shipped all over the Northwest and as far south as Texas.
According to one early historian, these wagons were famous because "every stick of timber used in their construction is seasoned thoroughly and consequently does not shrink away from the iron and allow the wagon to fall to pieces."
Other important names in Winona's industrial past are Winona-Rushford Wagon Co., City Carriage Works, Schroth & Ahrens millwork, Doud, Sons & Co. hardwood flooring and barrel makers, Winona Bottling Co., International Harvester Co., Chas. Nockin, & Co., cigar manufacturers, Minnesota Harness Factory, Inc., Koch Vegetable & Tea. Co. (later Koch Chemical Co. and since 1949 National Chemicals, Inc.) Park Brewery (Sunshine beer), Schellhas Brewery, Ramer Candy Co., and E.W. Williams Shoe Factory.
Cigar making was once an important industry here, too, as it was in many pioneer towns. By 1879, Winona had five cigar manufacturers: Bratka & Dloughy, Fiege & Rudloff, Hass & Schlueter, Nockin & Frost and H. Wolpers.
Cigars' (originally "segar" — a Spanish word) were made by hand; there was no regularity of size or shape, and branding and boxing were unknown. The cigars were just bundled in groups and packed in ordinary barrels or chests. Stems were often sold to the florists in Winona who burned them in their greenhouses to produce an insect-killing nicotine smudge.
Shoemaker Henry Stiegletz, Winona pioneer, made shoes for many years at 255 E. 3rd St. Around the turn of the century, Winona had more than 30 boot and shoe manufacturers. This had dwindled to a handful by 1912. Stiegletz opened his factory around 1880 and remained in the shoe business as a manufacturer, retailer and shoe rebuilder until 1938, when he died at the age of 74.
One of the last blacksmith shops to survive in Winona was the Benz Blacksmith Shop, Mankato and Mark streets.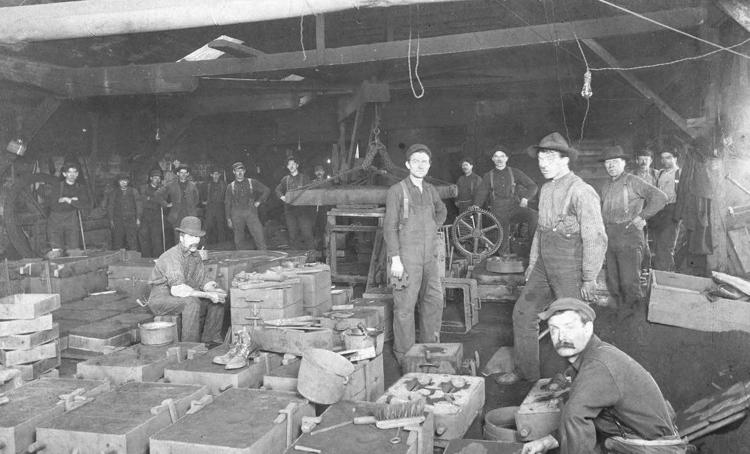 William Benz, a pioneer who died last July at the age of 84, built his smithy in 1897 and shoed many oxen as well as horses. A member of the Benz family operated a blacksmith shop on this corner 84 years. In 1953, the shop was razed, severing one of Winona's last links with the horse-and-buggy era.
The variety of industries in Winona in 1879 will surprise many readers:
There were 4 bakers, 1 furrier, 10 blacksmiths, 3 gunsmiths, 2 blank book: manufacturers, 7 harness and saddle makers, 14 boot and shoe makers, 1 iron works, 1 bridge; builder, 4 lumber manufacturers, 1 broom manufacturer. 4 marble workers, 3 candy factories, 4 milliners, 4 carriage makers, 1 meat packer, 2 carriage trimmers, 5 planing mills, 4 cigar makers, 1 pump manufacturer, 1 collar manufacturer, 5 sash and door makers, 4 coopers, 1 shirt maker, 10 dressmakers, 3 soap makers, 3 flour mills, 16 tailors, 2 foundries, 8 wagon makers, 2 furnace manufacturers.
The striking thing about the above list is the number of products made by hand. (Note the number of dressmakers and tailors especially.)
Today, only a handful of the thousands of products made in Winona have any manual labor connected with them other than handling. The handmade article long ago became an object d'art. Winona-made products today are sold throughout the world.
One of the few fiascos in Winona's industrial history occurred in the early 1920s, and there are many persons still around who recall it only too well.
Around 1922, promoters of a new company called the New Owatonna Manufacturing Co., sold stock around the Winona area on the premise that they were going to build a factory and manufacture farm equipment.
West End citizens especially will remember the event as the company put up a partial foundation on the site where Jefferson School is now located.
The foot-high wall was as far as the project went —- the next thing everyone knew, the project failed and Winonans who had invested in the new enterprise lost their money.