This story originally was published in the Winona Republican-Herald, a predecessor of the Winona Daily News, on June 18, 1937.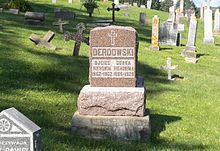 The statue of a former Winonan of heroic size and fame may look out soon over the waters of Europe's newest seaport, and his bones may be disinterred from St. Mary's cemetery here and placed with fitting ceremony in a tomb of honor in his native Poland.
Hieronim Derdowski, a giant of a man recalled by some Winonans, including Alderman D.F. Hardt, as about seven feet tall and weighing close to 400 pounds, has lately been "discovered" by Poland to have been one of its greatest patriots and poets.
Literary Poles liken him to America's Washington Irving.
He came to Winona in 1885 and became editor of the "Wiarus," which under his editorship for a time until the early 1890s was known as the foremost Polish weekly in the United States. He died here Aug. 13, 1902.
A movement is under way in the United States and Poland among persons of Polish extraction, or nationality to exhume his body for reburial in the land of his birth.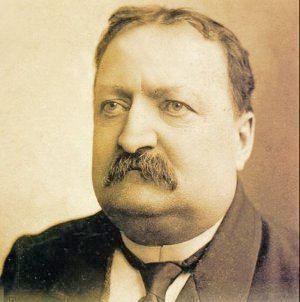 Would erect monument
Lending impetus to the movement, the Republic of Poland plans to erect a large and imposing monument on a plaza commanding the sea at the new Polish port of Gdynia, where this year from June 10 to July 4 will be held a fair marking achievement of metropolitan status with more than 100,000 inhabitants in the port which 16 years ago could not be found on any map of Europe.
The fair will be part of a vast national celebration known as the Festival of the Sea, which culminates at Gdynia when thousands of Poles from even the remotest provinces come there on gaily decked river boats, buses, trains and airplanes.
Poles say the celebration is an outburst of a nation's thanksgiving for access to the sea, for there is an old saying in Poland that "Poland cannot live without the sea." It is the feeling implied in this sentence which has caused the rise of Gydnia; where Hieronim Derdowski's monument will rise, to grow from a fishing village of 500 people of 1924 to a world port of 103,000 population in 1937.
Many facts learned
From a daughter of the poet-editor and patriot, Mrs. Walter Zimmiewicz, 787 Cedar St., St. Paul, many facts in the life history of Hieronim Deraowski, known here also as Jerome Derdowska, were learned by Mrs. J.H. Earle, of Sugar Loaf, a friend of Mrs. Zimmiewicz who engaged in research in Winona County history as WPA historian. Another daughter, Harriet, and Mrs. Derdowski died here following Mr. Derdowski's death, and are buried here.
Highlights of the Polish poet-editor's career have been gathered from conversations with Winonans who knew him well including men who worked for him, among them Joseph A. Grajczyk, 671 West Third St., Nick Sieracki, 507 East Second St., and John Przytarski, 530 West Fourth St., and M.J. Cheslik, 475 Olmstead St., the latter two compositor and Linotype operator now for The Republican-Herald.
Mrs. Earle, authenticating Mr. Detkowski's new status as a national hero, had carried on long correspondence with sources of information in Poland and the United States, with the secretary of state for Poland, Polish consuls, the Rev. Josef Wryczka, vicar of Wiele, Pomerania province, and Andrzej Bukowski, of Torun, in Poland, who is writing a book on the life and work of Derdowski.
Active in perpetuating the name of the former Winona resident is a brother, Teofil, Derdowski of Milwaukee, Wis., and Teofil's daughter Wanda, who lives in Superior, Wis., and Rev. Wryczka, who at his own expense erected a monument to Derdowski at Wiele.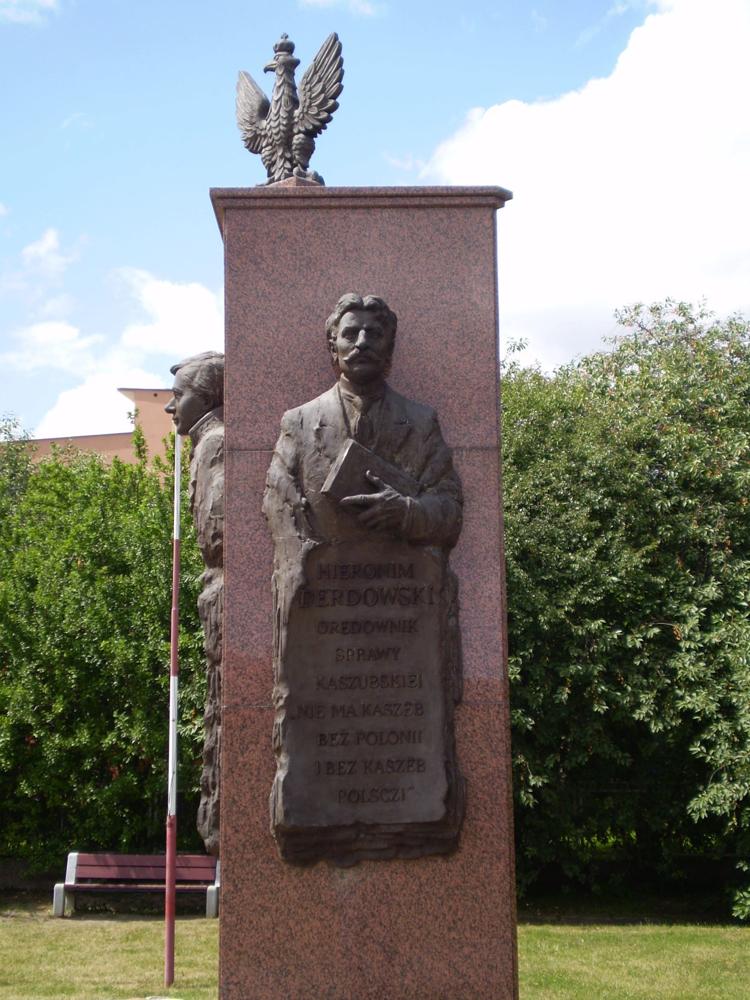 Parks named after him
Many streets and parks In Pomeranian towns, such as Gydnia and Torun, have been named for the former Winonan and commemorate his name.
The Wiele monument was unveiled Feb. 10, 1930, on the tenth anniversary of the return of Pomerze, or Pomerania, to Poland by Germany.
Mr. Derdowski's daughter wrote of him: "He died in comparative obscurity, a discouraged, disheartened man. Poland, now independent, has discovered what a great man and patriot he was. While in Poland he taught the Kashubians, or Pomeranians as the Germans called them, how beautiful their own land was, and of the history and trade of the towns, the hamlets and the countryside about them.
"Now, after several decades have passed since his death, Poland has finally realized the good he accomplished for the country of his birth."
Many poems published
Many of his patriotic and humorous poems were published in the early issues of the "Wiarus."
Mr. Derdowski, born at Wiele, March 10, 1852, the eldest of a family of three boys and three girls, was the son of a fairly wealthy Polish landowner of noble extraction. In his boyhood he was known for his love of nature, quick wit and good humor.
When he was 12, his parents and an uncle, the Rev. John Derdowski, decided he was to be prepared for priesthood, and Hieronim was sent to a preparatory school at Choynice and later to the Seminarium Marianum at Pelplin.
Later he went to Rome to further pursue his theological studies, but here occurred the turning point of his life when he decided the priesthood was not for him, and he chose instead a literary career.
Leaving Rome, he visited the most important cities and all the capitals of Europe and roamed the most interesting places on the continent. He knew Paris, Vienna, Berlin, Constantinople, Athens and St. Petersburg well.
Returning to Poland, he became editor of the Gazeta Torunska at Torun, where he was editor five years.
Became editor
It was at this time he wrote the poems which were to make him famous throughout Poland.
Like Washington Irving, he familiarized his readers with beauties of their country the natives had never noticed.
He wrote of all of Pomerania, including the Polish Corridor and the Polish land along the Baltic, in such a way that those who lived there grew to appreciate a region of rare scenic beauty whose inhabitants had never before realized how beautiful was their country and what history was associated with what to them had seemed commonplace countryside.
He charged Germany with "base German methods of Germanizing the Poles through the church," and was proud of having been imprisoned five times by the German government for his articles in the Gazeta Torunska and elsewhere as he expounded and defended the Polish attitude.
The Polish literati, even then, held him in high esteem, and he was a member of famous literary circles of authors and poets, including such names as Sienkiwicz, author of "The Deluge" and "Quo Vadis," and Prus, Kraszewski and others.
Emigrated in 1883
Persecuted for his patriotic writings, and forced to leave Torun and try his luck elsewhere, he decided that Poles in the United States needed a leader, and emigrated In 1883.
In the same year he became editor of the Detroit weekly "Pielgrzym," (the Pilgrim) and edited it until 1885, went to Chicago as a printer and finally in the same year came to Winona to become editor and later publisher of the "Wiarus," which means "good patriot."
Until about 1892, when his health failed him, the weekly was outstanding and of national reputation, then became more local in scope.
He published the paper at various locations in Winona, once near the present location of the Owl Motor Company, for a longer period at the present location of the Feiten-Sunshine Dairy, where he and his wife and two daughters lived upstairs while he maintained a shop on the lower floor, and later at Fourth and Carimona streets.
His editorials urged on Polish readers the necessity of obtaining naturalization papers and of becoming law-abiding citizens of the land of their adoption, and he treasured his own citizenship papers, said those who knew him, among his dearest possessions.
Editor's note: The Nazi invasion of Poland on Sept. 1, 1939, disrupted plans to return Derdowski to his homeland and his bones still rest in St. Mary's Cemetery in Winona.
Derdowski's work and legacy will be featured as part of Winona's Kashubian Capital Centennial 2020 – a year-long celebration of Winona's Polish heritage that coincides with the centennial year of the founding of modern Poland after World War I.
The celebration will feature 35 events, most free of charge, bringing awareness of all things Kashubian/Polish and highlighting the importance of the Polish immigrant community to Winona.
For additional information go to KCC2020.org or KCC202 on Facebook.
Get local news delivered to your inbox!
Subscribe to our Daily Headlines newsletter.