This story originally appeared in Winona Republican-Herald, predecessor of the Winona Daily News, on Nov. 22, 1950.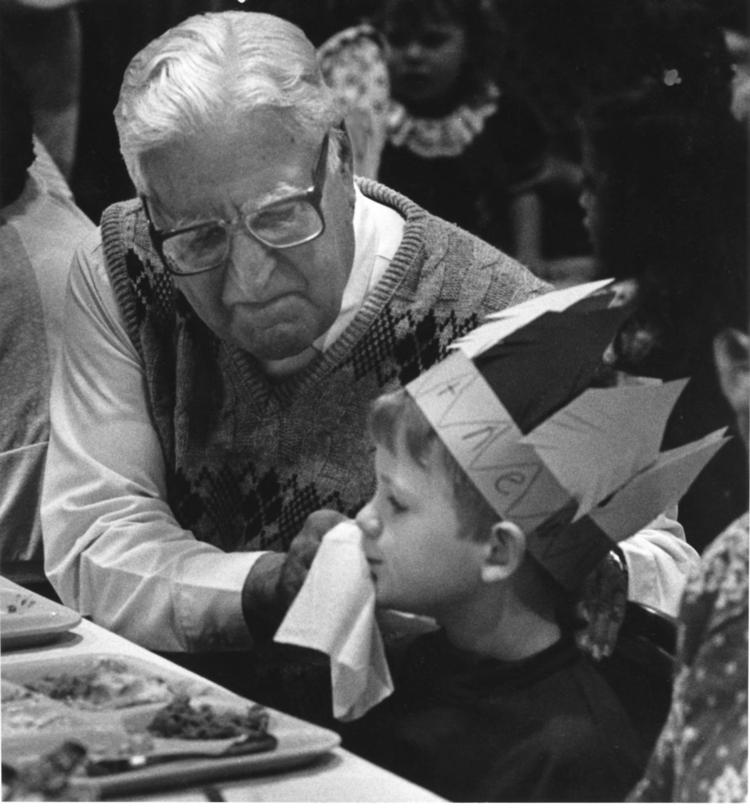 Thanksgiving is even more meaningful this year because of the troubled world conditions.
Members of the Winona clergy were definite in their answer to a question submitted to them today: "In view of so much world turmoil, do you think Thanksgiving is still worth observing?"
Most of those contacted for their opinions agreed that the essence of Thanksgiving is even more real this year. Many noted that in keeping Thanksgiving as a religious day as well as a holiday, we receive needed assurance and inspiration to carry on.
In period of war and crisis, some expressed, we need a day of thanksgiving much more than during peacetime.
Here are some of the statements:
The Rt. Rev. R. E. Jennings, St. Thomas: "Thanksgiving worth observing? Definitely, even more so. It is a challenge to us to turn our thoughts to God as the real source of our blessings."
Eternal things
The Rev. Merle Freiheit, Assemblies of God: "Even the less fortunate in material possessions have much to be thankful for in eternal things. Paul in his imprisonment wrote his most joyful epistle, that to the Philippians, in which he said, 'Rejoice always.' True joy is not based on external circumstances but on inner values."
Dr. L. E. Brynestad, Central Lutheran: "Thanksgiving is the only really religious day declared by the state as a special holiday. It is a day of not only giving thanks but of worship of God ... the reason for world turmoil is the dissatisfaction of people who, the more they get, the more they want. We need to take stock of everyday things and be grateful for what we have.
The Rev. N. F. Grulkowski, St. Stanislaus: "We still have the most to be thankful for in this world. Our country is the greatest and blessed with so many material things. I think we should be especially grateful to Almighty God. In view of the turmoil about us, even in the United States, we realize even more the worth of the Thanksgiving tradition. We are made to realize that we should preserve and cherish and share our blessings. We should be ready to fight for and die for them."
You have free articles remaining.
Wars and stress
The Rev. Anvie Peterson, Calvary Free: "Thanksgiving has to do with greater things than events of the world. The spirit of Thanksgiving is not disturbed by wars and stress. This year I think people are more thankful than ever for the awakening throughout the country toward God."
The Rev. Albert Kinzler, Bethel Presbyterian: "We have so many blessings left and if we are not thankful to God for them we cannot depend on His help. On this day we should especially pray that the president and persons in government receive divine guidance."
The Rev. Allen Flohr, McKinley Methodist: "Americans should not lose faith in their religious holidays because of world upheavals . . . The future is never clear. The Pilgrims had an uncertain future, yet they celebrated Thanksgiving. The day is concerned with what we have already received, not with what we expect to receive."
Opportune time
The Rt. Rev. J. E. Grabowski, St. Casimir's: "This is the most opportune time to thank the Lord for the past blessings and to ask for continued blessings."
The Rev. B. G. Witt, Evangelical Presbyterian: "Thanksgiving is even more important in a time of great difficulties because we need to call attention to the resources we do have."
Dr. J.A. Rinkel, Central Methodist: Since the only hope we have for peace in the world rests in recognition of the reign of God, it is most important that we should observe Thanksgiving to recognize His supremacy."
The Rev. D.D. Tierney, St John's: "The world situation ought to make us so aware of our rich temporal and civil blessing that we should render thanks to God every day."
The Rev. Harold Frost, Church of Christ: "We have so many things to be thankful for that it would be a tragedy to dispense with the only national and religious holiday dedicated to giving thanks."
The Rev. Joseph Carlson, First Baptist: "The value of keeping Thanksgiving depends on how we observe it. If it is kept as a day when we pursue a search for God with penitence and prayer as well as Thanksgiving, it is worthwhile. However, if there is an increase of things that should not represent Thanksgiving — just feasting and revelry — then it might become a menace rather than a blessing,"