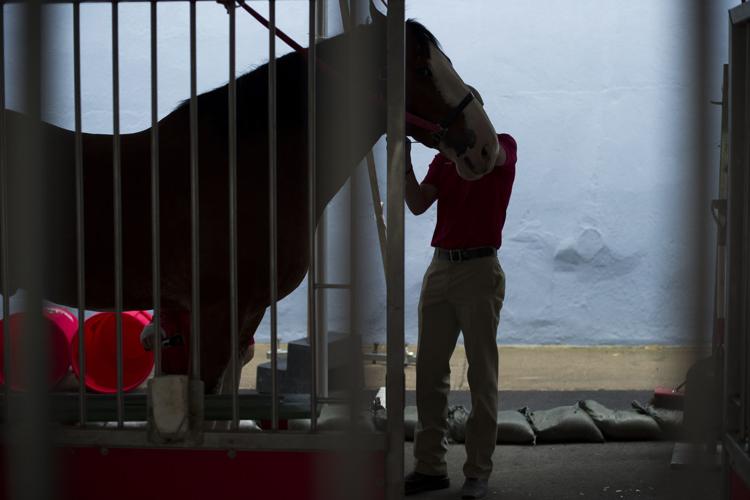 In the dead of night, in the heart of downtown Winona, 10 perfectly groomed horses and one friendly Dalmatian sleep under the watchful eye of Garrett Johnson.
They're not just any horses — they're the Budweiser Clydesdales, the calling card of the beer maker, who have blessed giant parades, athletic celebrations and now Steamboat Days with their huge, stately presence. Johnson, hired by the festival to act as their overnight security guard, will assume his watch through Monday morning to ensure no mischief befalls them, especially after the beverage garden closes.
He waters them at 10 p.m. and 2 a.m., and keeps his phone close to help him stay awake and alert. The horses sometimes help, too.
"They like to stand up and kick every once in awhile, they kick the metal," Johnson said during his shift late Wednesday night. "It jolts you a little bit, like, 'Oh hey, you guys are awake!'"
There's a good chance these celebrities won't be back in Winona anytime soon.
Steamboat Days organizer Fred Benning said he's written to a beer distributor in Rochester every year to put in an application for the team with little luck — when they managed to book them in 2011, the horses were allegedly almost to the state line when Dallas Mavericks owner Mark Cuban called them back to Texas to be there for his team's first NBA championship.
The horses visiting Steamboat Days are one of three teams of Budweiser Clydesdales, based out of St. Louis, Mo. They and their staff travel about 300 days of the year, according to handler Rudy Helmuth.
Helmuth, who grew up in an Amish household farming with and training draft horses, has been with the Budweiser horses seven years. He and the other handlers polish brass, drive the semis that take them from place to place and generally keep the horses happy and healthy.
"We wear a lot of hats," Helmuth said. "It never gets boring."
You have free articles remaining.
The Clydesdales got their beauty treatment for Steamboat Days on Tuesday: a bath, grooming and trimming, and even new horseshoes. Stoughton-area farrier Joe Detweiler flies in roughly every six weeks to clip the horses' nails and put on their new shoes, which measure 20 inches from end to end and weigh about five pounds.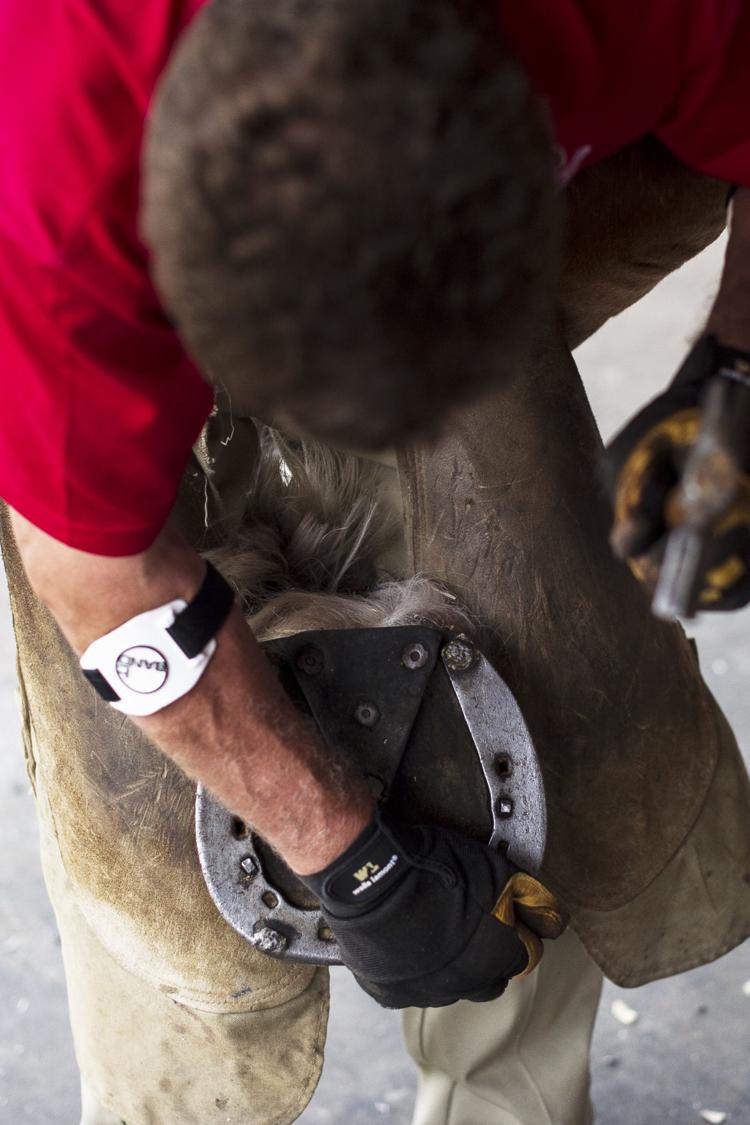 And though they're stalled up on Second Street each night they're in Winona, their staff schedules semi-frequent stops where the horses can stay at a real stable, where there's really room to run.
"Last week we were at a place where they had big fields and we could turn them out in the arena," Helmuth explained. "They could be horses; relax their brains a little bit."
But when they're on the job — including Steamboat Days' Grande Parade on Sunday — they're laser-focused. Each horse gets intense training to prepare for the demands of crowds and celebrations, and the team typically mixes a majority of older horses with a few younger ones so they can transmit confidence and calm, Helmuth said.
At night, the horses sleep either laying down or standing, their stalls ordered smallest to largest from Bud the Dalmatian on one end to Bud the horse on the other, weighing in at a whopping 2,100 pounds.
Johnson said he will probably do some warding-off of enthusiastic festival-goers eager to pet a famous horse between 1 and 2 a.m. on Friday and Saturday nights, as to be expected.
In general, though, it's a once-in-a-lifetime opportunity that Winonans should take advantage of, Helmuth said.
"A lot of times, people are only able to see them on TV and they don't realize how big (they are)," he said. "They truly are gentle giants. For them to be able to see them in person, it's pretty incredible."
Budweiser Clydesdales at Steamboat Days 2019
The Budweiser Clydesdales visited Winona for its 2019 Steamboat Days festival.