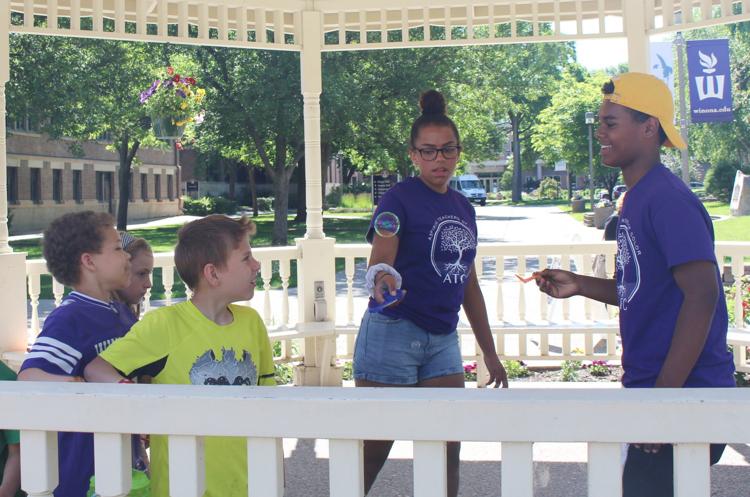 As the temperatures climbed into the 70s Wednesday morning, six high school students ran around with a handful of kids from Winona State University's Children's Center as the little ones shouted their advertisements for a lemonade stand by the campus gazebo.
The students, who make up WSU's second cohort of its Aspiring Teachers of Color program, entertained their charges with chalk drawings and bubble-blowing.
"I have one student who was so quiet (at the beginning)," said Stephanie Bohlman, who led the program this year along with Megan Leisen. "She's out there with the kids right now, and you can see that that's where she shines."
Started in 2018 in collaboration with the college's H.O.P.E. Academy, the Aspiring Teachers of Color program is meant to offer students from minority backgrounds a chance to get a feel for college life and take a peek into what it takes to pick up a degree in education.
But it is also part of Winona State's on-the-ground efforts to tackle a much broader problem: the state's lack of teachers of color, despite an increasingly diverse student body.
A December analysis from the Minneapolis Star Tribune found that teachers of color make up only 5% of Minnesota's full-time and part-time teacher workforce. It found that while that number had grown only incrementally since the 2007-08 school year, the number of students of color in the state's public schools had jumped from 24% to 34%.
"It's important to be that person that a student can relate to and come to and talk to," said Sean Araka Jr., an incoming junior at Rochester John Marshall High School who attended the program this year. "Even if you're not the same ethnicity, it's just nice to have that other minority who maybe shared the same experiences and can have that guidance there for you."
To enroll in the program, students must meet just two qualifications: be a rising junior or senior at their high school and identify as a person of color.
Bohlman, who works in the College of Education's as a program recruiter in the Center for Teacher Success, said they first reached out to high school students in the places where WSU has campuses and partnerships: Winona, Rochester, Riverland Community College in Austin and Fond Du Lac Tribal and Community College in Cloquet, Minn.
Next, they turned to schools in the Twin Cities, including charters. But starting in Greater Minnesota is intentional — even of the four or five percent of the state's teachers of color, most of them are clustered in Minneapolis and St. Paul, Bohlman said.
You have free articles remaining.
"There's a huge gap in educators of color in rural Minnesota," Bohlman said. "For some of these students to come straight from Rochester and want to be pursuing this, to then go back into their communities to serve, I think is crucial."
During this year's June 16-19 run, students took part in admissions workshops, learned about the FAFSA, had dinner with the faculty from the College of Education, worked with the children's center and spoke with teachers of color from nearby districts who shared some of their challenges and how they overcame them.
A chunk of the program also focused on ACT prep. The students will submit their scores after they take the test so WSU can determine whether the prep work was useful, but Bohlman said there's already evidence to prove that. One student told her he jumped up almost 10 points from his pre-test to his post-test.
Aly Viataylor, also a junior at Rochester John Marshall, said the ACT work would be a huge help when she schedules her test during the upcoming school year. She said she enjoyed the general aspects of the week's programming to get a taste of college life.
Of course, teaching is still the goal.
"I want to make a difference. I want to change something," Viataylor said. "Trying to not only teach them, but teach them different ways about going at things or learning things, just connecting with people."
The students don't have to attend Winona State when they head to college — it's more about giving them a leg up to how it all works, Bohlman said, and supporting future educators of color in the process.
"It really is a priority. We're not just saying it is," Bohlman said. "We're actually putting it into action and willing to invest time and money into not only them coming here, but to increasing your population of teachers of color in Minnesota.
WSU isn't alone in that effort. The Coalition to Increase Teachers of Color and American Indian Teachers in Minnesota has a goal of doubling the number of those teachers by 2020, and ensuring that at least 20% of students in teacher preparation pathways are people of color or American Indian.
But it's the students who are at the forefront of the change, including those six who visited Winona last week.
"These students are amazing … they're super engaged in the conversation," Bohlman said of this year's group. "They really want to change the world."