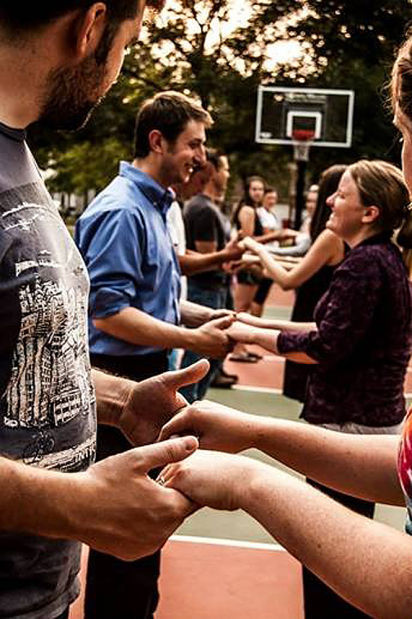 It doesn't matter if you have two left feet.
That's the message Lydia Boysen, a recreation coordinator at the Winona Park and Recreation Department, wants to get across to those who might be dragging their feet about Lindy at the Levee, a free public dance this Thursday.
Lindy at the Levee comes on the heels of two successful park dances this summer: Salsa in the Park and Swing in the Park. Winona ballroom dance instructors Stan and Molly Breitlow led beginners and experts in the basic steps, and together the dancers filled Winona's Sinclair Park on East Broadway with music and laughter.
Molly Breitlow said the park dances brought a variety of dancers young and old, demonstrating to them how easy ballroom dance can be.
"The steps are easy enough that kids can pick it up real quick," Breitlow said. "Having it in the park just brings down the fear factor."
Boysen said she thinks dancing in a park helps cut through the awkwardness between strangers, too. "There's just something about it that I feel connects people," Boysen said.
Looking back less than 100 years, dance was the social activity that brought people together. It's energetic and fun. It breaks the ice. You can't help but swing your partner, do-si-do.
And the neighbors noticed the dancing, too.
Boysen recalled a woman stopping by Sinclair Park, saying she had heard the music and come over to see what it was.
"She was saying that she liked the idea of having music playing in a neighborhood. It kind of brings some vibrancy," Boysen said.
The dances are part of Winona Park and Recreation's program called Play in the Park, an initiative to encourage people to see their neighborhood parks as places to interact and enjoy. Other Play in the Park activities include outdoor yoga, pick-up soccer games, and activities for kids.
Boysen said parks can be a gathering place for neighborhoods, and Play in the Park attempts to be the first few strands in a web of connections among people.
She hopes to make that web even bigger with Lindy at the Levee. That said, it's still a casual lesson, no pressure to perform, no expertise required, Boysen said.
Breitlow agreed. "We really encourage having a good time," she said. It doesn't need to be that serious."
The lindy, also called east coast swing, is a dressed-down swing dance with lots of room for freestyle and fun, Breitlow said. Participants can bring a partner and a treat to share if they would like -- or they can just show up.
"We're just dancing in a park," Boysen said. "Why don't you come join us?"