Navy Quartermaster 2nd Class John Keiper's military service began with the flip of a coin.
He was working at a manufacturing plant in Winona after high school, making just more than a dollar an hour, when he turned to a friend and admitted he wanted something more. The two made a trip to see the Navy recruiter.
"(The recruiter) could only take one of us, so he flipped a nickel," Keiper remembered. "I called heads — and it was heads."
In February 1966, he began a four-year stint in the Navy that would take the then 18-year-old, who had never left Minnesota, all over the world.
Keiper's first trip overseas began aboard the USS Buck, which served on the gun line bombarding the shores of Vietnam.
He later took a second tour on the USS Worden, rescuing pilots who had to ditch their planes during flight operations. And in between, his crew was called to help when the USS Pueblo, a military spy ship, was captured by North Korean forces in 1968.
But during his day-to-day life on the ship, Keiper served as assistant to the navigator. Without the modern tools around today, that meant one thing: reading the stars.
"We actually had to shoot our fixes with the seven stars, these big seven stars, and then vertical lines come," Keiper said. "That's normally where you're at."
It was far from an easy job, sometimes requiring him to be up at midnight, other times at 4 a.m. to catch the sky at "star time," when the stars can be seen the clearest.
And he remembers a two-week period south of the equator when it was so cloudy they couldn't see the sky — meaning it was veritable guesswork to plot their course and avoid hitting coral reefs.
But the navigation skills he picked up weren't just valuable during his service. Upon returning home to Winona, Keiper enrolled in a tool-and-dye program at the technical college and excelled.
"When it came to math, I never took a book home. I knew it all," Keiper said. "And I'm not bragging or anything. It's just that I learned all that in the Navy."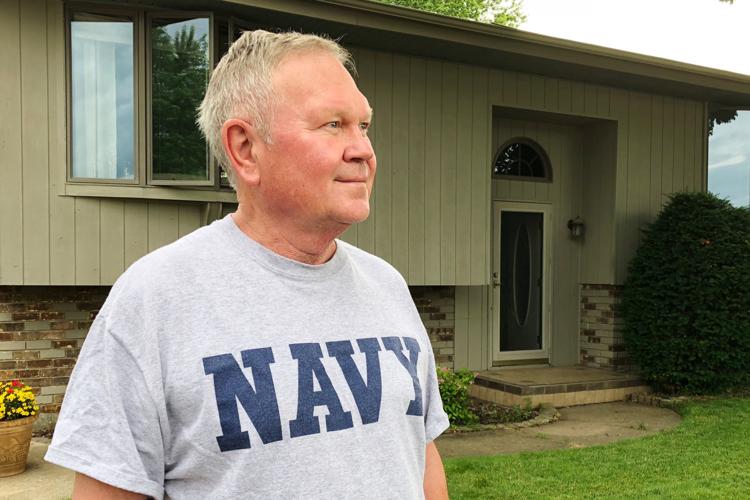 Serving abroad provided him an education money couldn't buy. He met fellow service members who had never before owned a pair of shoes, had an overcoat hand-tailored in Hong Kong, saw saltwater freeze on the deck in the Koreas and was greeted with boatloads of beer when his ship became the first American war vessel to dock in Darwin, Australia, since World War II.
But there were hard times, too.
You have free articles remaining.
Keiper still remembers the worst sight he ever saw: when their ship pulled in to Subic Bay in the Philippines, they docked next to a hospital ship. He looked over and saw a man who'd been badly burned by Napalm, covered in scars. It looked to him like the man no longer had a face.
For many Vietnam veterans, the hard times didn't end when they returned home from their service. Keiper was lucky to assimilate relatively easily back into civilian life — but he does remember a visit to the place where he tried to get his first job after his military career ended.
"The guy looked at my resume and said, 'I see you're a Vietnam vet,'" Keiper recalled. "'Well,' he says, 'I hate to tell you this, but I don't think we can hire you because I don't think you're stable.'"
He remembers slipping on civilian clothes upon departing a plane in San Francisco because people were throwing garbage at men dressed in uniform. Another day, he and his team were quarantined to the base at the Naval Weapons Station in Concord, Calif. as angry protestors lined the gate outside.
Keiper talked to his father, a World War II veteran who fought in the Battle of the Bulge, about how their arrival was received. It felt like the Vietnam veterans were left without much of a welcome home, he said.
But even without much fanfare, Keiper recalls the excitement upon arriving in New York after being discharged in Bath, Maine, in 1969. The Mets had won the World Series the day before.
"Everyone was hung over," he laughed. "The bartenders said, 'Oh, you should have been here yesterday!'"
He returned home in time to celebrate the first Christmas with his family in four years.
Today, Keiper remains active in Winona's military community.
As the longest-participating member of the area's American Legion burial detail, he and his team organize about 50 official military burials a year for former service members who have passed away. It's an emotional task, but one he says is an honor.
"I always was told and I told everybody else, when you present that flag, never look in (the family member's) eyes, look at their forehead, because you're going to break down otherwise," he said.
He was also the chairman of the building committee for Winona's veterans center on Sarnia Street, a place for Legion members, VFW members, Purple Hearts and members of all the military's branches to come together.
And his family's military legacy continues: Keiper's son served in the Navy as well.
Decades later, the biggest lessons Keiper took away from his service weren't just about trigonometry.
Discipline. Responsibility. Understanding that your life is in the hands of your shipmates.
"You learn that you are who you are," he said.