As a child, Sgt. Kimberly Anderson never considered joining the military.
"Back in high school, if you would have told me that I'd end up in the military, I would have never believed you," she said. She's currently in her sixth year as an Army Reservist, in Brooklyn Center, Minn.
Her mind started to change after she took a military social work class during her sophomore year of college, and she enlisted in 2014.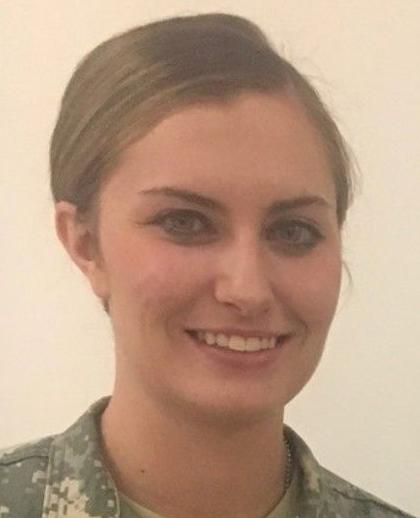 "Instead of resenting the military for taking my dad away, [I thought] why don't I join and understand and maybe learn how to help people in this situation?" Anderson said.
Her father was deployed twice, first to Kuwait and then to Iraq, during a time when there wasn't a lot of support for families back home.
"There were maybe a few other kids in school that were also going through it, but there weren't any support groups for us," she said.
"For me it was difficult having my dad gone. He missed some vital times in my life… I didn't really know how to deal with it."
She remembers communication blackouts, times when her family was unable to reach her father, and they didn't know what was happening or whether he was alive.
Once stateside, Anderson's father was diagnosed with PTSD and didn't talk much about his experience aside from wanting to go back — a desire she didn't fully understand until she became a reservist.
"I just couldn't understand, you know, the thought process behind that and why he would want to deploy again, and leave his family, so I thought I'd join the military to learn more about the culture," she said, to better understand the experience of her father and other veterans.
"I wanted to learn how to help people, like my dad, who are suffering when they get back," she said.
You have free articles remaining.
Her relationship with her father has grown stronger since she's joined the military. She calls him every drill weekend to share her experience with him.
Anderson is in her sixth year as a member of the Reserves and recently became certified to administer the new Army combat fitness test that's scheduled to roll out in October. She also plans to attend classes which will help boost her rank to staff sergeant within the next year.
However, she's unable to do military social work until she's fully licensed on the civilian side — which is another goal she's working on and aims to achieve that certification in the upcoming year.
Once she receives that certification, she plans to focus her effort on trauma recovery among veterans. She's motivated by the fact that over 20 veterans die by suicide per day in the United States.
"Ever since I've heard that statistic, that's what's driven me," she said.
As a civilian, she works in a psychiatric in-patient hospital for children and adolescents which provided the opportunity to learn about trauma and suicide prevention within that age group.
She's maintained a delicate balance between working to obtain her independent clinical social work license on the civilian side and developing a master fitness plan to ready her unit for the new Army combat fitness test on the military side.
"Therapy for soldiers or suicide prevention for soldiers, trauma for soldiers, it's all going to be so much different from how you would treat someone on the civilian side," she said. But she thinks her experience in the military, with its culture and values, will help her to successfully treat veterans.
Once she obtains her license in social work as a civilian, her plan is to switch her career focus back to the military and become an officer in military social work. She also sees a future for herself in the VA, to help boost mental health programs for veterans suffering from PTSD.
"There are so many veterans that need services and there's only so much the VA can do at the time. There's probably big caseloads in the VA and more veterans than they have staff for," she said.
"Back in high school, if you would have told me that I'd end up in the military, I would have never believed you. ... Instead of resenting the military for taking my dad away, [I thought] why don't I join and understand and maybe learn how to help people in this situation?" Kim Anderson, Army Reservist