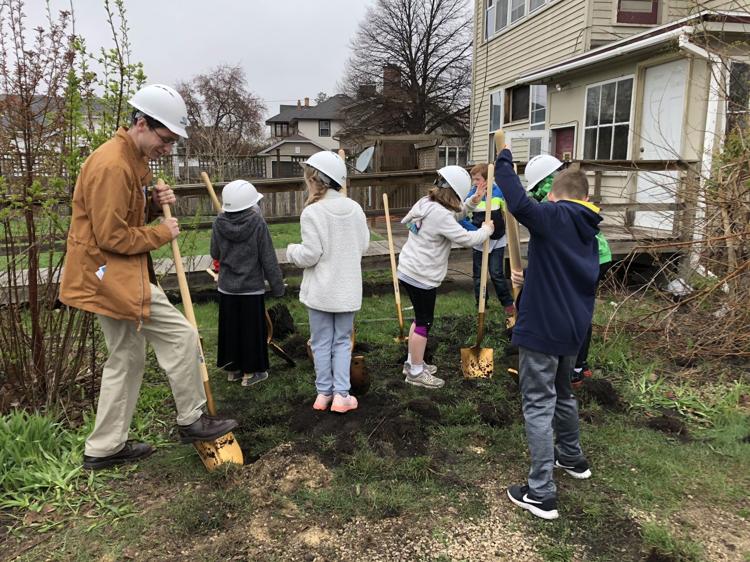 Pastors, staff and students who attend St. Martin's Lutheran School and Hope Lutheran High School broke ground Sunday at the site where their new building will stand next fall, replacing the 87-year-old facility on the corner of Fifth and Liberty streets.
Construction on the project is slated to begin by June 1, said St. Martin's senior pastor Richard Moore.
The $4.8 million new building, which is set to open in fall 2020, is only phase one of the transformation. In phase two, the current school building will be torn down and replaced with a gym, cafeteria and a fellowship hall that connects to the church.
"Church education is where the future of our community is," said Moore, who has been at St. Martin's for just a sliver of the Missouri Synod institution's 153-year history.
Two nearby houses and the church's parsonage will be torn down to make room for the new facility, which at its completion will house students from early childhood to high school seniors.
The current building could not be renovated at a reasonable price to serve the needs of the school community, Moore said.
The school at St. Martin's currently teaches children from preschool through eighth grade, and Hope Lutheran covers the students' high school years. What's new are the 74 early childhood slots the new facility will add, Moore explained, giving area families another choice in a region burdened by child care shortages.
"We want to be the Cadillac of early childhood," he said.
The entire project cost is estimated at $10.5 million, Moore said. The funds for the new building have been secured and congregation members and supporters will now turn to financing phase two of the project, on which construction is set to start in fall 2021.
Students took turns digging shovels into the dirt Monday to kick off the project. It is running slightly behind its initial deadline, which would have placed the groundbreaking ceremony in September 2018, but school and church members have been discussing a new school building for years, Moore said.
"It's awesome. … It's been a long time since we started," said Rocky Sandcork, principal and activities director for Hope Lutheran.
Moore said his institution is guided by morals and a basic understanding of community, and is a good fit for families who may not agree with public school teachings.