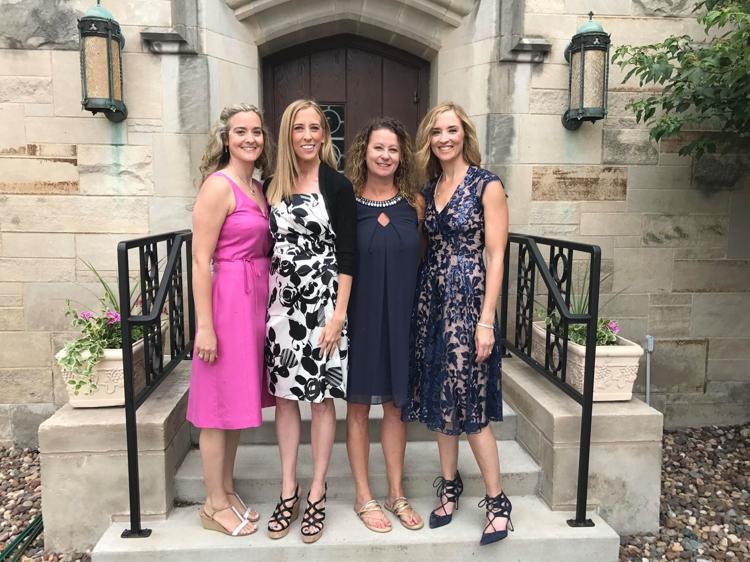 You might think four sisters celebrating the eldest one's 50th birthday would head to Las Vegas, or to wine country, or on a cruise.
But for Dawn Claymore, Denise Meyer and Dana and Danielle Benden, that's not the case. They decided to take a different path — the nearly 15-mile swimming, biking and running path that makes up the sprint course of Trinona.
"All four of us are pretty competitive," Dawn laughed. "With me being the oldest, I'm hoping I beat at least one of them."
Dawn turned 50 on May 26, almost all the way through the training schedule the group had laid out for Winona's triathlon.
In her early 40s, she ran three triathlons and had been thinking about running another when Dana called and asked how she'd like to celebrate her upcoming milestone.
"Next thing I know, I get this text three days later with my other two sisters copied in it and it says, 'We're all in for Trinona,'" Dawn recalled. "I was like, 'What?'"
The Winona race is special for them: Not only did the sisters grow up in La Crosse, though they've spread out across the Midwest now, their parents met in Winona while attending Winona State University and Saint Mary's.
Days of running, swimming and biking turned into weeks and months as they followed the schedule that Dana's husband, an Ironman triathlete, had set up for them. The exercises are broken down into minutes, not miles, Dawn explained, so a day's work couldn't be fudged if they were feeling a little lazy.
Though the older two sisters had experience with marathons and longer races, Denise and Danielle did not.
Danielle focused on swimming first, figuring it would be the hardest part, but admitted that now it might be the easiest because of how much she's practiced. Living near a generous network of country roads, she started biking them three months earlier and runs to a nearby pool, swims and runs back.
In the immediate lead-up to Trinona, though, she said she's planning to rest.
You have free articles remaining.
"Your body has muscle memory," Danielle said. "I feel like it'll know what to do on race day."
For Dana and Dawn, though, swimming will actually be the hardest, and they agreed on exactly why: jumping in a lake with hundreds of other people who are bound to accidentally kick you in the head at some point is an intimidating feat.
"Just get through the swim and you're good to go," Dawn said she'd repeat to herself to get mentally prepared for the race.
Trinona's sprint course, slightly less grueling than the longer international course, starts with a 0.25-mile swim, followed by an 11-mile bike ride, a 3.1-mile run and a finish-line celebration at the bandshell.
The four women's post-race celebration will also likely involve at least one beer, they agreed.
But first, they have to conquer it. They'll make their way from La Crosse to Winona on Saturday to register, attend the athlete information meeting and have dinner together, then it's back home to rest up before Sunday's big event.
They plan on sticking together throughout the race.
"We're totally just doing this for fun," Danielle said. "Nobody's going to try to win this thing."
Unless, of course, their competitiveness — still lingering from their high school sports days — kicks in.
"I told (Dawn) I plan to cross the finish line holding hands," Dana said, "but she'll probably run me over at the end!"