"The Cedar Tree Project" is dear to my heart, evolving from my "Dreaming Under a Cedar Tree" solo dance performance/visual installation last fall at Outpost Winona. This was a collaborative effort, supported by the Southeastern Minnesota Arts Council, Outpost Winona, Springboard for the Arts, and numerous individuals in our community. This intimate site-specific event invited audience members to share a Middle Eastern flavored experience of art, food, and conversation, and was physically and emotionally a moving experience for many.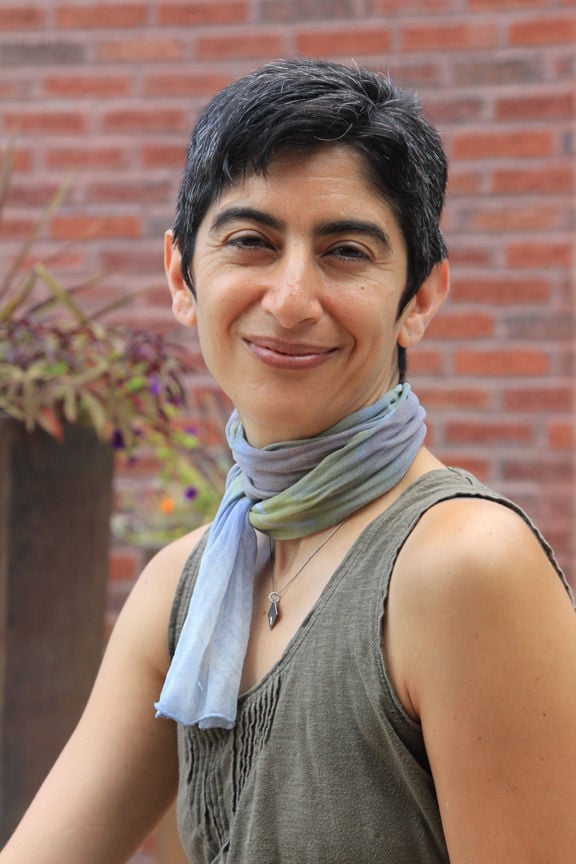 We're living in a time where there are challenging and complicated questions, misconceptions and sociopolitical concerns regarding not only the Middle East, Arab-Americans, Muslims and Muslim Americans, but also immigrants in general. As an Arab-American artist, I'm grateful for the opportunity to add to the conversation by sharing aspects of my Lebanese heritage, my paternal grandparents' immigrant history, and my personal experiences.
Sharon Mansur is in a class nearly all by herself.
When Saint Mary's University's Performance Center Managing Director Theresa Remick approached me about developing my solo further, "The Cedar Tree Project" evolved out of those discussions. The Performance Center received a SEMAC grant and the Page Series became the primary presenter. My desire as a curator to support Arab and Arab-American artists in sharing their perspectives resulted in a series of visual art exhibitions, dance performances, workshops, and artist talks during the 2018-2019 season.
"The Cedar Tree Project" explores culture, heritage, perceptions and identity through the lens of Arab and Arab-American artists. This series offers people the rich opportunity to interact with these complex and potent themes. Audience members and participants are invited to engage and contemplate their own lives as well as the lives of others, both near and far.
The Winona Fine Arts Commission will honor two highly creative movement artists who both oft…
I'm so honored that Lebanese photographer Fadi BouKaram and his "Lebanon, USA project" will be in Winona this fall. The exhibit is at Outpost Winona now through Sept. 23. Gallery hours are from 10 a.m. to 4 p.m. Saturday, Sept. 8; 10 a.m. to 4 p.m. Saturday, Sept. 15; and noon to 8 p.m. Saturday, Sept. 22.
The exhibit will also be at the Page Theatre's Ben Miller Lobby from Sept. 26 through Oct. 26, on view daily from 8 a.m. until 10 p.m.
See pagetheatre.org for more information on engagement activities during Fadi BouKaram's Winona residency Sept. 23 to Oct. 2, including artist talks, workshops and a community meal.
Interdisciplinary dance/performance artists in Palestinian Syrian American Leyya Mona Tawil (California) and Palestinian American Leila Awadallah (Twin Cities) join us in January. And I share an evolved version of "Dreaming Under a Cedar Tree" next April.
The Cedar Tree Project is made possible by the voters of Minnesota through a grant from the Southeastern Minnesota Arts Council, thanks to a legislative appropriation from the arts and cultural heritage fund.