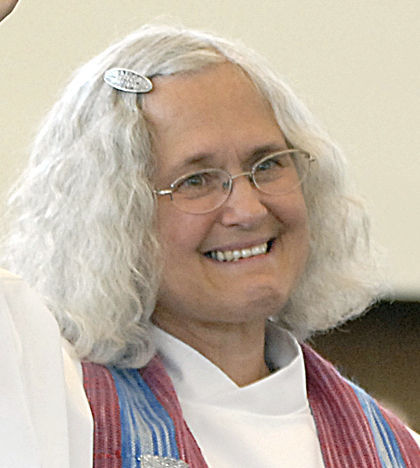 Eight years ago, Kathy Redig was ordained a Roman Catholic priest, in defiance of church law, which denies women ordination to the priesthood. For eight years she has led the All Are One Roman Catholic Church, celebrating Mass in the Lutheran Student Center on Huff Street.
The Daily News sat down with Redig to talk about the role of the church and religion in contemporary life and politics. The interview has been edited for clarity and length.
How do you see your relationship with the Catholic Church?
Most of us have grown up with religion, for good or bad, and I think many of us within the Catholic Church really love the upbringing that we had in the Catholic Church ... unless you were abused by a priest. Thankfully that was not something I ever saw or was aware of until my adult years. I loved the sisters. I even went to the convent for two-and-a-half years, because I thought I was being called to that ... when I was growing up in the '50s and '60s that's all women could do was become nuns.
The one thing I want people to know about me is that I have always loved the Catholic Church. It's been a big part of my life. The only reason I do what I've done is that I want the Catholic Church to be the best church that it can. When I see it not serving people and if I can do something about that, then I want to do that.
As for getting ordained ... why would you do that, unless that were truly who you were because of the flak you're going to take? I knew in this small town, in the bishop's seat, this was not going to be received well by everyone. I received some anonymous letters, hate mail, and I had somebody chase me down at the post office saying, "Kathy, you have to not do this. I'll pray for you." I knew who the man was, and I said to him, "Well, thank you. I'll pray for you,too."
What is your prayer then, for the Church?
I think our Church Fathers need to sit down with women and just have an honest conversation.... and really listen … we've listened to the men for years and years … just listen to us. The hierarchy needs to sit down with youth and find out, What do you need? If the most important thing is to get women or to get youth into our churches, then why don't we turn ourselves inside out trying to figure out how to do that, to work at that.
That's why any of us want to be a part of anything ... because what we have to say matters. We're willing to do whatever if we know we're needed. It's not enough to just tell people we need you without really caring what they think or what's important to them.
I see that as important — being able to listen to each other's stories.
How do politics fit into this discussion?
I think the mix of (politics and religion) is bad when you, as a political candidate for instance, you want to impose your religion on everyone else and you will not see anybody else's side or listen to anybody else's story.
We all need to be better listeners. That's what is wrong with our Congress right now, they just can't sit and talk and listen. Even if each side doesn't get everything that they want, where's the place of everybody getting something? Can we find some middle ground here?
Then does faith have a role in public life?
We use our faith to guide us in life. Hopefully to be the best people we can be. That shows itself, hopefully, in politics. It shows itself in education. It shows itself right down the line in everything.
It should educate us, it should convict us, really, it should convict us to be a certain kind of person. Then I think you would see people, whether it's on the Supreme Court or in Congress or the President of the United States doing certain things because they just believe so strongly this is what God is calling them to do.
I don't think religion should be something that you just do on Sunday. It has to instruct all of your life.
They don't have to talk about it all the time. Show by your actions what you say you believe. I can't tell you the number of times I've heard from people that they don't go to church anymore because everyone there is a hypocrite. They see how they live during the week.
The only thing that faith really should have to do with anything that any of us do out in the world is help us to be better people. Now, everybody is going to look at that a little differently … you know that's what people do and that's why there's a bazillion churches, because everyone sees it differently. But whatever you do, just be true to yourself.
It's just being consistent. Your faith should help you to live a true life ... that's the place of faith in politics and in life — to make you the best person you can be and show it by your actions.
I think this is what Pope Francis was doing in regard to Mr. Trump. As I heard it, he didn't even mention Trump by name but he said that if you're keeping people from moving to freedom, if you're fighting against migrants getting a better place to be, that's not a very Christian action. Mr. Trump took that personally. He's objecting. He said, "I'm a Christian." Well, if you're going to say you are, then you have to act a certain way. There are certain things we don't do if we say we're following our brother Jesus.
It's not like he — Francis — is just anyone. He is the head of the Catholic Church and we do expect leaders to make some statements on faith from time to time. He's not saying that anybody has to do a certain thing, he's just saying that to be a Christian it means that you reach out to those who are less fortunate, you don't stop them from going to freedom ... So I think the two can work well together, but it's like anything in life, what's so very important is balance.
The very conservative folks who see no place for women, women's rights to her body, for abortion or even birth control, that's looking very narrowly at a particular issue and expecting the whole country to react in the same way.
Having said that, realize there are going to be people who will fight you to the death against abortion, or whatever issue they very strongly believe in. I will very much more believe with Cardinal Bernardin, who looked at life as a seamless garment. So many times the people who don't want life to end in the womb might be the same people who vote against food stamps and who vote for capital punishment. If you're for life, then be for life from birth to death.
Do you foresee a time when the "official" Church welcomes you and your parish back into the fold?
If it never happens in my lifetime, it's all right. If our All are One Catholic Church does no more than serve the people that we serve then we will have considered it a success. Because there are many people who come to us and say if it weren't for this church we wouldn't be going to church. So it fills a need, and as long as it does, we'll be there.
And as long as I have strength in my body and I'm not senile, I'll be there ... much to the consternation of the bishop, I'm sure … but that's all right.