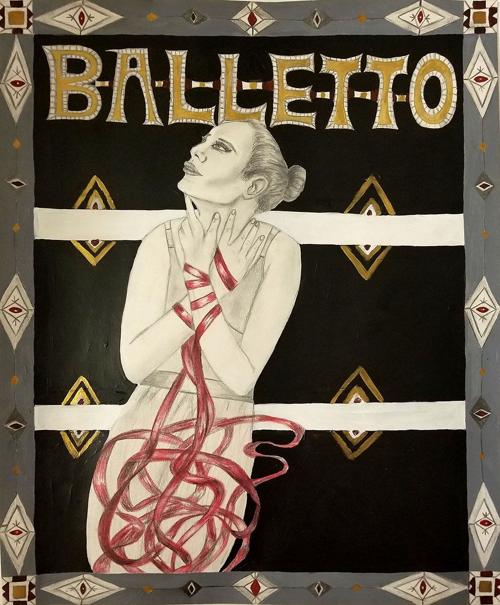 The community is invited to view an art exhibit by Saint Mary's University student Sadie Doering, on display throughout October and part of November at the Valéncia Arts Center, 1164 W. Howard St.
Doering is a senior at Saint Mary's, and her exhibit explores the beauty of dance with charcoal, photography, ceramics and paint.
The exhibit will be viewable during regularly scheduled Minnesota Conservatory for the Arts classes and office hours (from 9 a.m. to 7 p.m. Monday through Wednesday and Friday; from 11:30 a.m. to 5:30 p.m. Thursday; and from 9 a.m. to noon Saturday).
Artist statement
"The beauty of dance performances, for me, is that they are like moving paintings. In this work, I hoped to capture the vibrancy and sheer talent that dancers express through their movement.
"Earlier this spring, the Minnesota Conservatory of the Arts graciously offered me the privilege of observing and photographing two days of rehearsals for the Dance Repertory Company performance of 'Classically Speaking.'
"Through those pictures, I was able to make a selection as photographs and reworked others in charcoal, paint, and ceramics."
About the artist
Sadie Doering is a senior at SMU. She is a graphic design and art studio major whose favorite mediums are ceramics and drawing. After graduating, she plans to teach in South Korea.About MCA
The Minnesota Conservatory for the Arts, an affiliate program of Saint Mary's University of Minnesota, is a nonprofit community arts school offering programming in dance, music, visual art and theater. Classes, lessons, workshops and camps are offered for students of all ages from birth through older adults at the Valéncia Arts Center. For more information about MCA or Galleria Valéncia, visit mca.smumn.edu, email mca@smumn.edu, or call 507-453-5500.
Get local news delivered to your inbox!
Subscribe to our Daily Headlines newsletter.