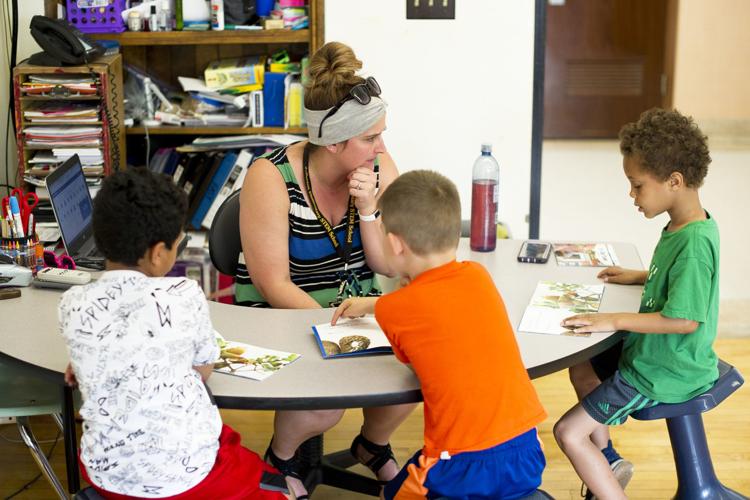 Kindergarten teacher Amber Scott and one of her students sat in the hallway of Jefferson Elementary one morning as the girl flipped through words that appeared on the screen of an iPad, quietly but with confidence.
They were words like "said," "play," "what" and "the" — known as high-frequency words, ones that will appear often as she and her classmates learn to read during the next few years.
When the assessment was over, Scott pulled up a graph and pointed to where her student's progress had been in January: 16 correct high-frequency words. Now, in May, she'd hit 30.
The two high-fived, and the kindergartner broke into a gap-toothed smile.
"I had kids come in who didn't even know their letters, and now they can read," Scott said. "Seeing the light in their eyes is great."
Scott and her fellow kindergarten teachers across the district are using a data-tracking tool called Educational Software for Guiding Instruction, or ESGI, to assess their students on the building blocks of math and reading that five-year-olds need to know: rhyming, blending, sounds and sight words, identifying numbers through 31 and counting backward, to name a few.
The software creates the skill-specific assessments, which aren't timed, tracks the results and can present them in graph form for teachers to examine and evaluate the data.
"It's the basis of everything we do here," said Jessica Schmidt, who teaches kindergarten at Goodview Elementary. "I don't want a kid coming into kindergarten and they already know all their sight words, and I'm making them sit and learn their sight words. They know it. So let's keep it moving."
Teaching with differentiation in mind
At Goodview, Schmidt and her colleague Andrew Norman test kids using ESGI every other week, once a week if they're monitoring the progress of a student who's struggling and quarterly running the entire gamut of the skills assessment.
Armed with the data, they mix their classes together three times a week and run guided stations that pinpoint the needs of specific students.
It's a quick and easy way to differentiate instruction, Norman said, and provides more detail to parents than a regular report card.
"Instead of, 'Hey, your child is P, progressing in CDC words (words you can decode),' this you can print out and say, 'These are the specific CDC words they missed,' or maybe, 'They have them all, you're good to go," Norman said.
Data showing that a child isn't meeting benchmarks they should be can also alert teachers and parents to the possibility of a learning disability, which when identified early-on can be addressed so the child can succeed, Scott said.
Since students enter kindergarten with such a wide range of lived experiences from birth to age five, it's natural that they'll start with skill levels all over the board, said Washington-Kosciusko kindergarten teacher Lisa Kulzer.
In Scott's classroom this year, for example, she estimated that about 50% of the children attended preschool.
But half of the achievement gap observed in third-graders is already showing itself on the first day of kindergarten, according to University of California-Berkeley professor Rucker Johnson, making early intervention crucial.
Especially critical is phonemic awareness, or the ability to hear and identify language sounds. The window when children learn it best ends at age seven.
After examining the ESGI data and concluding that two of her students at Jefferson were struggling with the high-frequency word "the," Scott laid out three exercises for them in their targeted small-group time one morning, all involving a book about a pet store in which each page had a new animal: the rabbit, the bird, the fish. They read it together, then on their own, then clapped out the syllables of each word.
Practicing and testing the high-frequency and CVC words helps determine a student's guided reading level, Scott explained. The district's goal is that all children will be at level "C" or above by the end of kindergarten, and at Jefferson, most of her students are there. At Goodview, Schmidt and Norman estimated that over 85% of their students meet that goal.
Another plus of the ESGI tests is that they're low stakes, the teachers at W-K agreed, being un-timed and easy for children to become familiar with.
"The focus isn't really the testing," said kindergarten teacher Kelly Allington. "It's more what we do with the testing."
But testing five-year-olds, particularly with assessments more stringent than ESGI, is part of a national conversation on what kindergarten should look like.
Data and 'the whole child'
Kindergarten standards have become increasingly rigorous, leaving advocates calling for less testing and more play.
"We're expecting kindergartners to be smaller versions of their third-grade selves," said Katy Smith, a former parent educator in the Winona public schools and 2011 Minnesota Teacher of the Year who advocates at the state level for early childhood programming.
When Minnesota invested in early childhood and all-day kindergarten, Smith said, stakeholders wanted to be sure that what they were doing was paying off. Data and assessments were an easy way to prove it.
High-stakes testing can create a dichotomy between "high-flyers" and the students who struggle, planting an idea in those students' and families' heads that they'll have a tough time in school going forward, Smith explained.
It can also skew the focus toward reading and math skills, when the majority of parents she speaks to want their child to learn about life skills instead, she said, like playing well with others and being kind. Smith said she longs for the day when a social-emotional assessment is developed for kindergartners.
"A test says something. It doesn't say everything," she said. "It's up to teachers to carry the story."
For Winona's kindergarten teachers, that task is clear.
They know that as helpful as the ESGI data is, or any other quantitative measure they collect, it's a snippet, a snapshot of where the student is that day — that there's much more that makes up a whole child.
At Goodview, Schmidt and Norman have built a behavioral goal in along with their reading and math standards they measure with ESGI. Of course, students playing appropriately on the playground can't be measured with a test on an iPad. It's still data, just qualitative this time.
"A lot of people think, let them outside and go play. What they don't understand is we are literally watching them play," Norman said. "You can tell, maybe not exactly, but you can see what goes on at home."
And it's not just play, either. They evaluate participation, focus, work completion, getting along well with others, even whether a student can handle losing a game they're playing in class.
The ESGI tests help figure out the "next step" in the classroom, Allington said. And data is an easy way to illustrate growth — something that's especially observable in kindergarten, the teachers agreed, when so many students come in barely knowing their letters and end the year knowing how to read.
But the first step, data and assessments aside, is always to connect, to make school feel like a good place to be.
"Looking at the child as a whole child, and as a five-year-old child who's a lot of times just entering into this situation. It's different, it's new," Kulzer said. "They need to feel loved, they need to feel cared for, they need to feel like they're a part of a community, we're glad they're here."
"All those things need to be in place to have the best results."