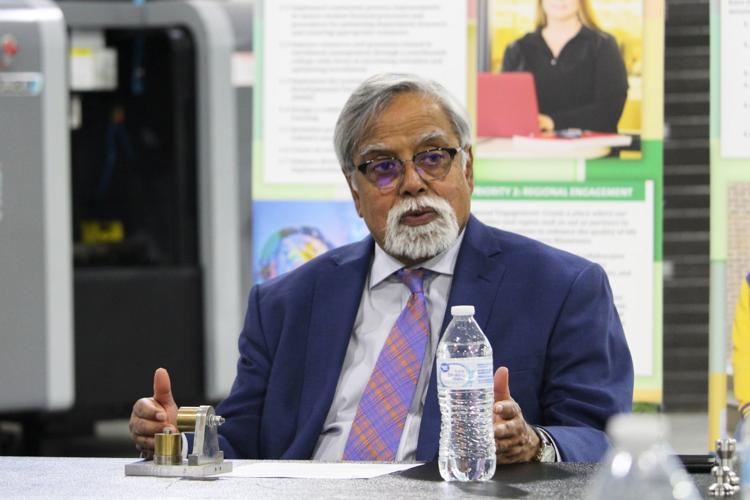 Students pursuing a degree in a high-demand field at Minnesota State College Southeast will be eligible for more than a dozen new scholarships for the 2019-20 school year, aimed at bolstering the state's workforce.
System Chancellor Devinder Malhotra visited Winona Monday to promote the scholarships, an extension of a pilot program rolled out last year that funded several MSC Southeast students with the $2,500 scholarship. This year, that number will grow by 18.
"Minnesota's workforce is getting older and grayer," he told a group gathered at the college.
The scholarships are meant not only to encourage students to head into those high-demand fields, he said, but also to remove barriers for students who may not think they can afford a college degree.
About 30% of Minnesota State students drop out between their first and second year of school, largely due to financial barriers, Malhotra said. But initial data collected from scholarship recipients showed a 90% retention rate.
Gov. Tim Walz and the Legislature approved $2 million in new dollars for the scholarships in the 2019-20 year, translating to 668 scholarships handed out across the state, and an additional $6 million for the 2020-21 school year.
"(MSC Southeast) may be up to 70 or 80 scholarships in 2021," Malhotra said.
This year, students in two new fields of study qualify for the funds: transportation and early childhood education, in addition to health care, information technology, manufacturing and agriculture. Those fields are fixed by the Legislature, but more may be added in the future as further data is gathered on the state's workforce needs, Malhotra said.
At MSC Southeast, the six broad categories boil down to 19 programs in which enrolled students can qualify for the scholarship.
"We want as many people out there as possible to apply," said Jennifer Eccles, the college's interim vice president.
New this year is a chance for Minnesota State's four-year universities to take part in the initiative, including Winona State. During the 2020-21 school year, students who have earned the scholarship at a two-year system school and are moving on to a four-year can apply for an additional $2,500.
Other communities across the state have had success finding business partners to bump up the scholarship money even more, something MSC Southeast interim president Larry Lundblad said the school's foundation is working on achieving.
"I am viewing these scholarships as a catalyst," Malhotra said. "I'm hoping this investment by the state is treated as a downpayment."
The scholarships won't be an all-encompassing fix to the state's workforce issues, Malhotra acknowledged, but he said he's hoping it will provide not just an economic but a social stimulus for communities across Minnesota and for the students who will eventually work in them.
That includes Josh Hansen, a 2019 graduate of MSC Southeast's CNC Machine Tool program. Hansen received the scholarship during its pilot year and said it covered almost an entire semester's tuition.
"It was absolutely huge," he said.
The deadline to apply for this year's scholarships is Aug. 5.