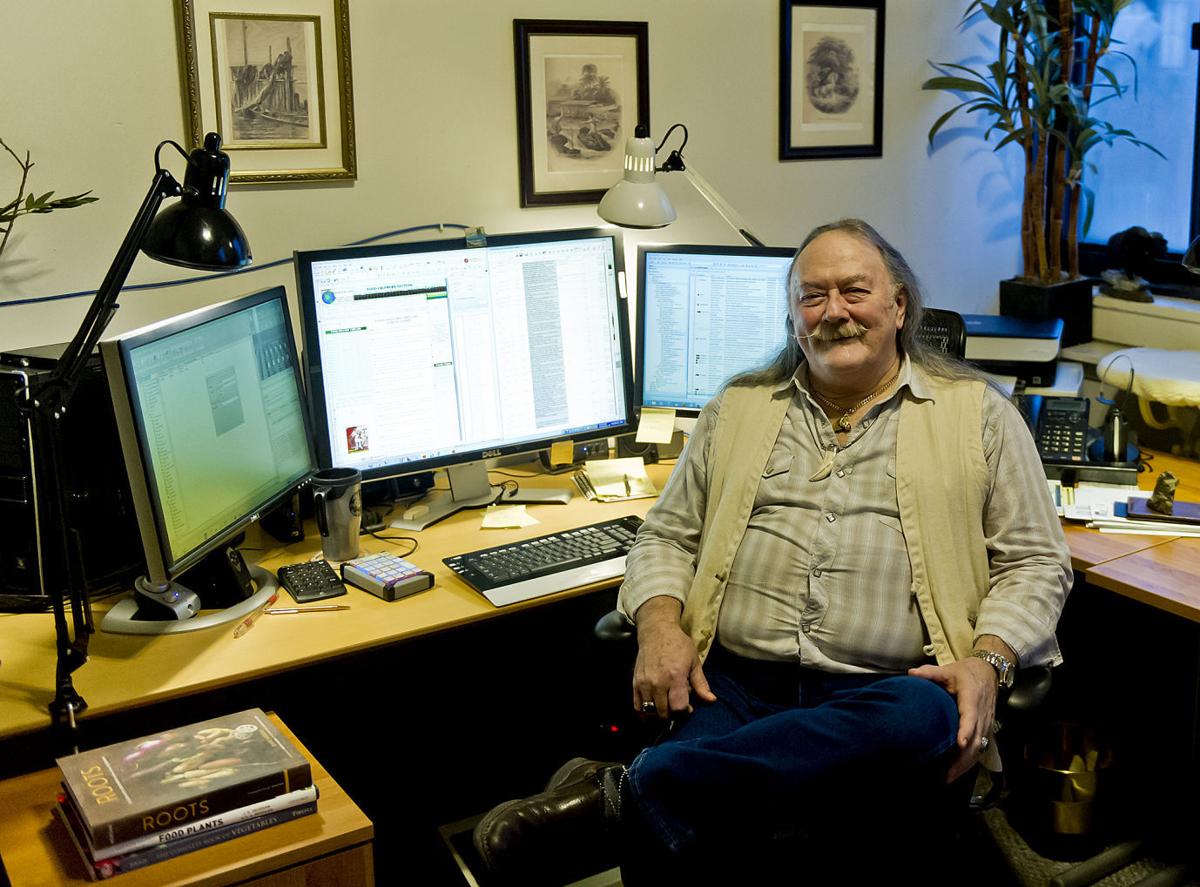 Most big websites have a team of several dozen web developers, writers and editors.
The 20,000-page website — you read that number right — is written, updated, and managed by one man: James Ehler, who conducts his business from a small office in his apartment in Winona.
The 69-year-old retired chef undertook the project in 1999 after a successful career as a hotel and restaurant chef. At the time, he was thinking of writing a food encyclopedia, so he began collecting food facts and trivia — such as the story behind Caesar dressing.
"As I began to get more information, some stories got longer and longer," he said. "The other sections just kind of organically grew out of that."
In 2002, Ehler retired from cooking professionally and started managing the website full-time.
"As soon as I did that, the website took off," he said.
After 15 years of weathering a changing internet landscape, Ehler's website has cooking tips, recipes, who's who in the food world, a listing of more than 9,000 food festivals, and lots of other pages. It attracts more than 300,000 visitors each month and brings in enough money to put food on the table and pay the rent for Ehler.
He spends about 12 hours per day working on the site, everything from fussy technical edits to researching food reference books to answering visitors' questions.
If that seems like a lot of work for retirement, Ehler doesn't think so.
"This is a hobby," Ehler said of the website. "It's a relaxation. It's also my job."
"I love doing it," he added.
A chef's career
Ehler maintains that he was tricked into becoming a chef.
A native of Brooklyn, New York, Ehler worked on Wall Street in his early 20s as a computer systems analyst before moving to Minnesota and opening a leather shop.
At the time, cooking was something he did on the side, just for fun.
"I had always cooked for friends, because I like to cook," he said. His favorite dish to this day is sauerbraten, a pot roast marinated in vinegar and beer that his mother made when he was young.
After a few years in Minnesota, Ehler moved his leather business to Colorado with his friend, a jeweler, intending on a partnership. But he made some friends who were opening a new restaurant at a country club, and they asked Ehler to help out.
When it came time for the restaurant to open, the friends confessed they had intended all along to have Ehler work there as a chef.
Albeit surprised, he gave up leather work to give cooking a try.
"I started doing that, and I realized I liked cooking as a living," Ehler said.
He went on to apprentice for five years with acclaimed chefs in Colorado, eventually becoming a member of the American Culinary Federation and serving in federation chapters in several states. He was an executive chef for 20 years before retiring to run the website — his fourth career, if you're counting.
After retiring from cooking professionally, Ehler moved back to Minnesota from Florida in 2005, because he found himself missing the four seasons of his youth. He plans to stay here for the rest of his life.
"Everybody thought I was crazy," he said. "I came back here and I love it."
Passing the torch
Although you might expect an executive chef to be a little reluctant to share his cooking secrets, Ehler has no trouble publishing his knowledge and research to the world.
"That's the way I learned to cook," he said.
Besides, his mantra is a quote by French chef Fernand Point, who said, "The duty of a good Cuisinier is to transmit to the next generation everything he has learned and experienced."
"If everything I've learned dies with me, what's the point?" Ehler said.
Besides, a chef's secret recipes aren't easily stolen. "You can give the same recipe to 15 different people, and one of them may turn out good," he said.
Another reason Ehler undertook the website project was because at the time, there were no good American-oriented food reference works — most of them were written from a European point of view. Ehler wanted to capture America's unique food history and culture in a way that could be shared with others.
"It's fun. It's a big responsibility too — that's why I verify everything that I put up there," he said.
He references everything he posts with at least three sources, one of which has to be in print or from a university or government online reference page. The research is the fun part of it — Ehler confessed he often gets sidetracked while researching one topic and ends up finding a host of other interesting material.
He has four bookcases full of cookbooks and food reference materials.
"The website isn't just the website," he said. "It's the research, the reading …" he trailed off.
An avid reader, Ehler keeps a running list of food-related quotes from the books he reads, since most any book mentions food.
In addition, his fiction reading often fuels his curiosity for research. Reading Patrick O'Brian's "Master and Commander" series led Ehler to explore the history of food in the British Navy, as well as prison food and American military food throughout the years.
Ehler has chosen to keep his website largely text-focused, like a book. Over the years, he's found that video links change and are hard to maintain, and text is more useful in the kitchen.
Ehler pays attention to his loyal website guests, who often send him questions about food. His email address and phone number are posted on the site, and folks who call get a friendly "James here" when Ehler picks up. He's proud of this; not many 20,000-page websites can boast that kind of personal support.
Without formal training in web production, Ehler has taught himself over the years, adapting to the growing internet. As a tech team of one, he's painstakingly updating each page of his site for better Google search viability. He maintains databases and spreadsheets of his past research, so he can keep track of what he knows.
In his spare time, Ehler cooks for himself and family and friends. He cares for his little gray cat, Cleo. His next project is a listing of bluff country restaurants, complete with personal reviews from Chef James.
"If everything I've learned dies with me, what's the point?" James Ehler, on sharing his culinary secrets

"If everything I've learned dies with me, what's the point?" James Ehler, on sharing his culinary secrets
"If everything I've learned dies with me, what's the point?"

James Ehler, on sharing his culinary secrets