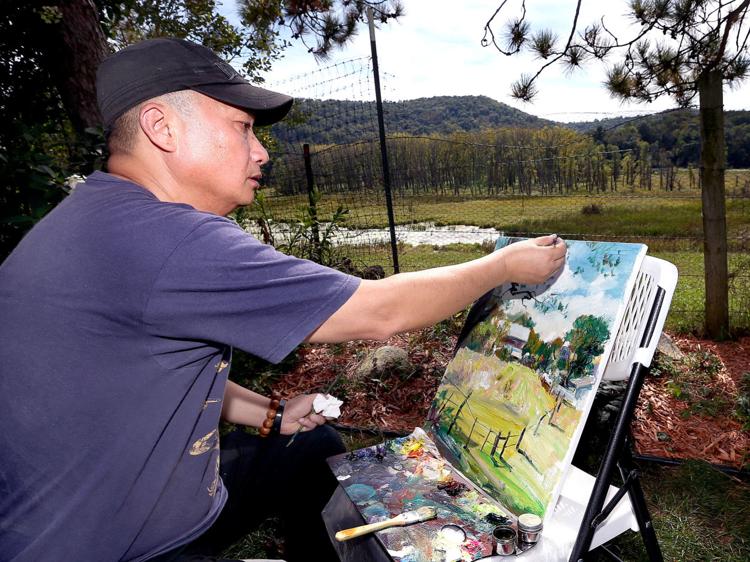 LA CRESCENT, Minn. — Visiting La Crosse for the first time, Rong Zhibin was struck by one thing.
"Here, humans and nature are in harmony, side by side," he said. "Back home, there are a lot of big buildings and big mansions, and you don't see much nature there."
The blended landscape has made the Coulee Region the ideal place for Zhibing and other Chinese painters to work on their art this week, part of the Plein Air Between the Bluffs Painting Festival.
The delegation, comprised of nearly 20 artists and art professors from China, spent Monday afternoon in a backyard in La Crescent, painting the wetlands and forest that unfurled around them.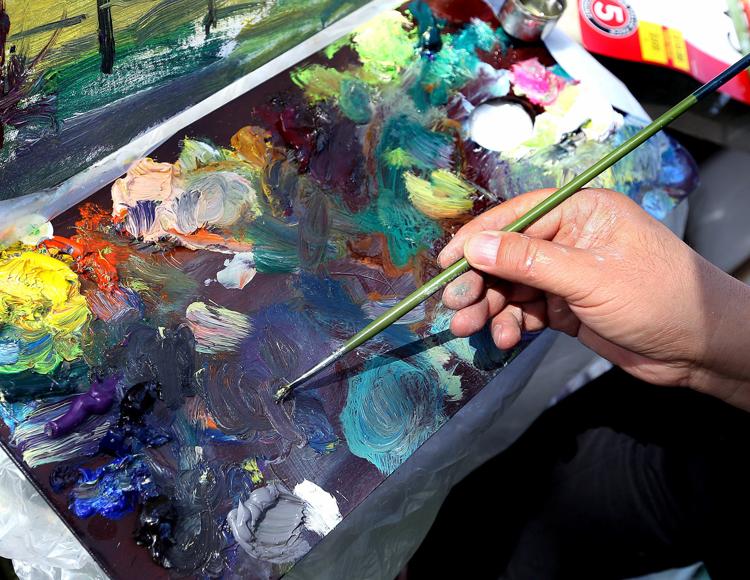 Wang Jianjun, who has been a painter for 30 years, said he embraces opportunities to see and paint different parts of the world.
"Usually, professional artists stay at home and paint there," he said through an interpreter. "But exploring the world gives us the opportunity to learn from other artists, and to explore the scenery and be inspired."
The group has spent the past few days soaking up the local culture. They've seen the sights and tried the food: steaks at Texas Roadhouse and Miller beer at the home of Jeremy Chipps, who hosted the group for Monday's painting session.
You have free articles remaining.
Register for more free articles
Stay logged in to skip the surveys
"We're mixing these cultures and giving them a taste of Minnesota," said Chipps, adding that the wetlands are a particularly powerful subject for the paintings. "We want to show off the natural beauty and resources we have, things that people might drive by each day without really noticing. This is a chance to honor it with paintings."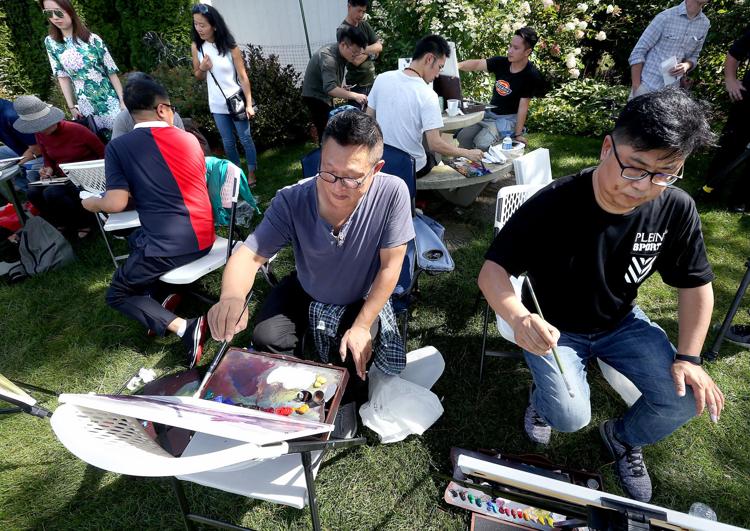 On a hot, humid afternoon, the painters arranged their easels in the shade of a pine tree. The tips of their brushes danced across the clean white canvases, which were soon filled with the same bucolic scene: an old red barn perched above a marsh, surrounded by trees.
Artists can paint the same subject, "but everyone has their own style and their own steps," said Zhibin, who started by painting a rough outline of the scene, completely in purple. "I like to do that just to get the framing down. Then, I go back and add the color."
Throughout the week, the artists will visit several local classrooms to share and discuss their craft. They'll also put on a public painting demonstration Tuesday at 10 a.m. at the Pump House.
The art the group produces this week will be displayed Friday from 5 to 7 p.m. at the Pump House. The reception is free and open to the public, and the art will be for sale.
"We'd like to use the art to promote a culture exchange between the U.S. and China," said Rosie Liang, who works with the Sichuan Fine Arts Institute in China. "We hope to bring more artists and tourists here. Everyone there has heard about the Mississippi River, and I think that will be a big drawing point."