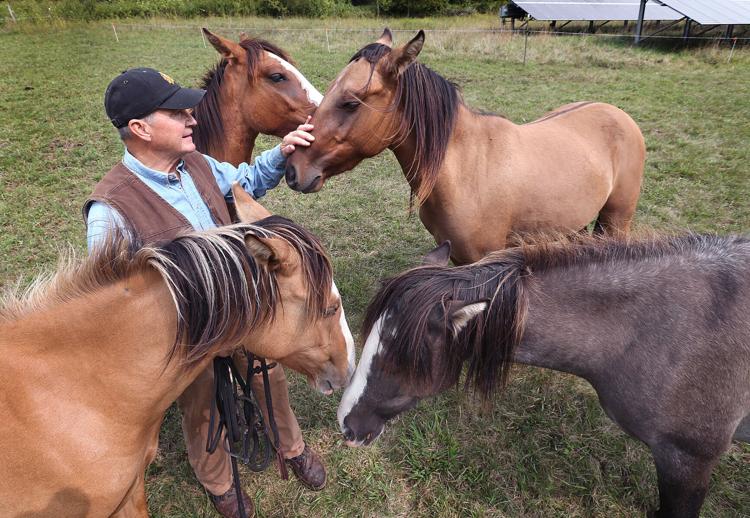 The life of a trial lawyer is intense -- high stress, long hours and the bitterness of defeat when the sporadic case is, inevitably, lost. 
Four four decades, Ed Walsh practiced law in Chicago, arguing on behalf of injured clients and battling infringements to the health of the environment.
However, after cutting down his case intake in recent years, Walsh was ready to shift some of his determination and focus to a new challenge: the rearing of wild Spanish mustangs. 
The majestic horses, relatively small in stature and known for their intelligence and agility, come with a rich history dating back to the 1500s, when Spanish explorers introduced them to the New World.
By the late 1800s, the breed had largely been extinguished as Native American lands were infiltrated and their herds killed in U.S. government attacks, according to the Spanish Mustang Foundation. Though European breeds were later imported, today there are only about 3,000 Spanish mustangs, also known as Colonial Spanish horses, in existence.
Walsh, 72, grew up in Chicago and thrived in the city, but in 1996 decided to purchase a farm in La Crescent for him and wife Bobbi to retreat from the hustle and bustle.
A conservationist, respected for his dedication to the banning of frac sand mining in Winona and other environmental/legal issues, Walsh's farm house is eco-friendly, with solar paneling, and the couple are practicing reforestation.
"It's one of the prettiest geological locations in the world, really," says Walsh. "We were attracted to the Driftless area, and knew we would retire here."
Being in La Crescent only part time, the Walshes invited a neighbor to keep her horses in their stable and watch over the farm in their absence. Walsh enjoyed getting acquainted with the horses on weekends, and notes, "Once my practice started settling down, I started looking at Mustangs." Bobbi, who herself has an affinity for equines, was on board. 
Walsh was drawn to the Spanish Mustang breed, he says, due to their genetic makeup, self sufficiency and beauty.
"Each one is absolutely stunning in physical appearance in their own way ... long manes, large eyes. They are extremely friendly, very alert," Walsh says.
In late summer 2019, two years after moving to his farm full time, Walsh traveled to the Wyoming ranch of the late Bob Brislawn, who founded the Spanish Mustang Registry and bred horses "to be sure that what he had were pure old blood from the Spanish arrival in America," according to Houston History Magazine.
The horses Walsh met, which are distinctly different from the feral mustangs managed by the Bureau of Land Management, were wild as of the previous January and in need of intensive, consistent training and handling to become sociable and rideable. Walsh was up for the task.
Walsh selected five of the horses, and brought three to his winter home in Colorado to work on training with a professional. In May, he brought them back to La Crescent, and transported the remaining two to his farm in August.   
Ranging in age from 18 months to 3 years, the horses, four females and one male, were bestowed with meaningful monikers by the Walshes. Survivor was the runt of the herd, but "kept coming back and fighting for water or hay," Walsh says. Blue Feather has a blue-gray colored coat, and there is a "long history of horses with the name 'feather' in them," Walsh notes.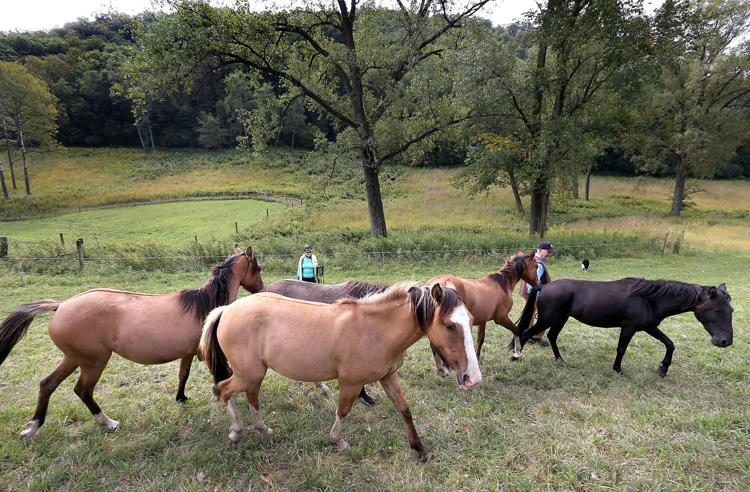 Auburn was named for her reddish coloring, while Chief, the male horse, has three cowlicks that look like feathers below a horizontal scar, reminiscent of the Cheyenne symbol for chief. Dulce's name means sweet in Spanish, fitting given the horse's disposition. 
"In their own way, I just love all five of them. They're all special," Walsh says.
Walsh spends a few hours each day working with the horses, who needed time to become comfortable with donning halters and being led around.
Inherently vulnerable to coyotes, the Spanish mustangs are cautious by nature and Walsh has acclimated them to being startled with a technique called "spook busting" and covering them in nylon sheets to familiarize them with distractions and unexpected activity.
He has begun preparing them for riding by placing a pair of sand-and-hay-filled jeans on their backs to mimic a rider, and hopes to have them fully rideable by next summer.
"I actually enjoy the ground training with them more than the actual riding experience," Walsh says. "(The process) adds to the meaning and purpose in my life. I take great satisfaction in seeing them develop."
Attentive and known to check on the horses several times a day, Walsh says Bobbi likens him to "a mother with a new baby, always worried about how they are doing, are they safe?'"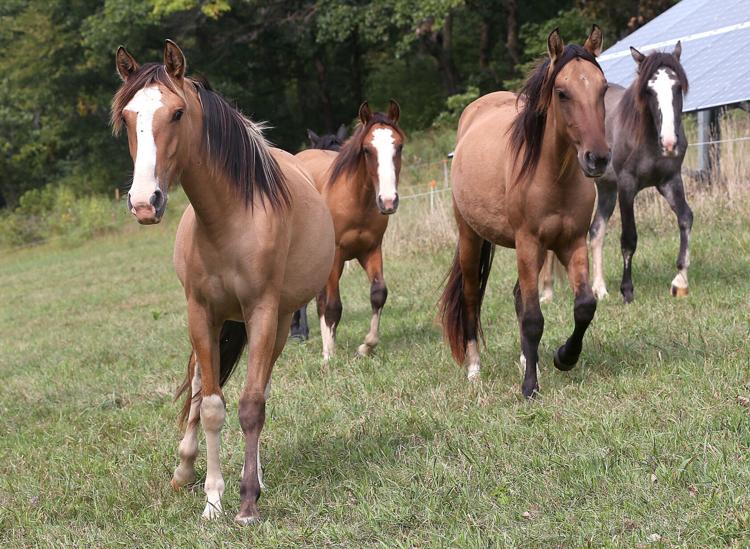 His devotion has left one of his other four legged children, a Border Collie, prone to jealousy, walking off to sulk. The younger Border Collie, however, is fascinated by the long-legged creatures, while the family pug is filled with bravado despite being miniscule by comparison.
"The little pug is fearless," Walsh says. "He keeps his distance, but he loves to watch me working with them."
While the settings couldn't be more different -- a solemn courtroom packed with people versus a serene sprawl of land -- Walsh says there are similarities between practicing law and taking on a team of wild horses.
"I found working with the horses very consistent, with tedious attention to detail similar to my trial practice," says Walsh, who has tackled cases lasting up to five years. "(Both) require an extreme amount of patience."
Between his part-time legal work, land conservation efforts and horse rearing, Walsh has nary a free moment. But when he fully retires, he hopes to raise a foal. 
Says Walsh, "I really enjoy giving (my animals) a wonderful place to live."
"Each one is absolutely stunning in physical appearance in their own way ... long manes, large eyes. They are extremely friendly, very alert."

Ed Walsh, La Crescent
Get local news delivered to your inbox!
Subscribe to our Daily Headlines newsletter.