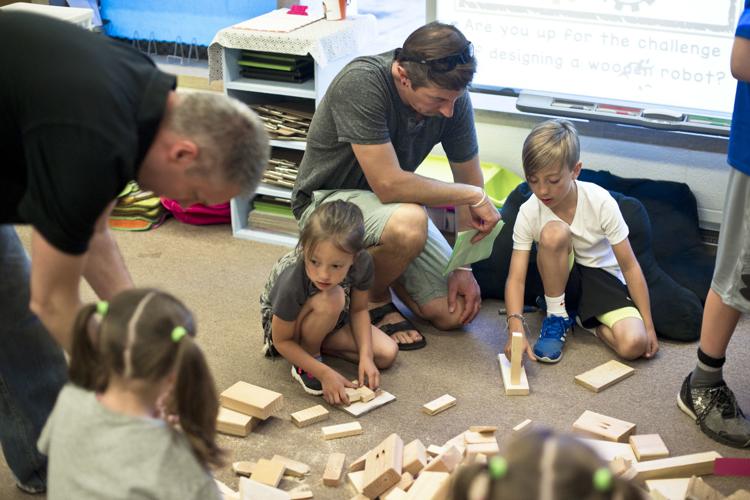 Keira Bratland, a fourth-grader at Goodview Elementary, bent over a microscope Wednesday night and examined a drop of muddy water extracted from a puddle outside.
She thought she saw something wiggle.
"I see something!" she said, as second-grade teacher Judith Yess instructed her on how to move the knobs so she could zoom in and out.
Yess teaches her class a plant unit each year, this year made special by the two microscopes her nephew gave her from a garage sale. Her students love them, but Wednesday they were on display for the students and families attending Goodview's family STEM night.
"It's amazing the hum in the classroom. They're working, they're busy, they're experimenting, they're trying it out," Yess said. "It's just a really different way of thinking. Kids really embrace it."
Once an event specific to Jefferson school, which was the district's STEM pilot program, each public elementary in Winona celebrated STEM in some form Wednesday — Goodview and Jefferson with the science, technology, engineering and math focus alone and Washington-Kosciusko in combination with their Family Engagement Night and Spring Sing concert.
"Any time we can get families in our building to experience something as a family, and show off the awesome things that we're doing, is huge to me," said Jefferson principal Andrea Eisner. "Really showing them all the great things with the STEM connection that we have going on."
Students at Jefferson raced down the hallways to show family members their individual classroom projects, which for one class included original games each child had designed, with names like "Finger Soccer" and "Snake Eyes." Downstairs, people crowded around first-grade teacher Tammy Eastep as she demolished walls made of mortar that her students had built and tested for maximum strength.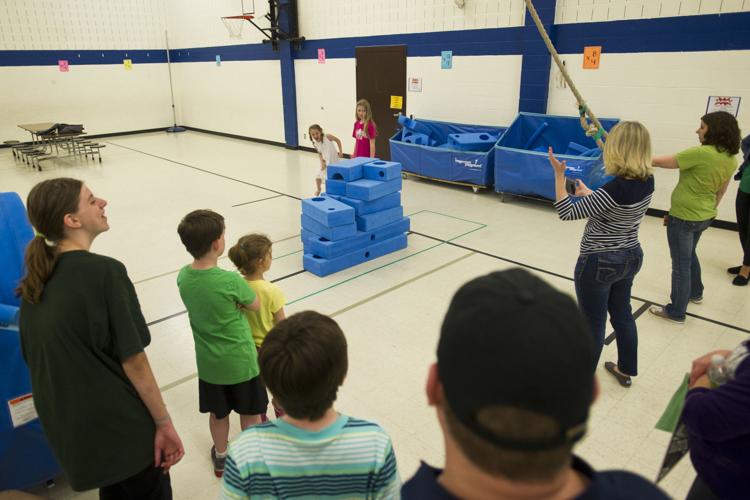 "(STEM) just helps kids learn how to think on their own," Eastep said, "figure out that it's OK if things don't work out, if you don't get it right the first time, and how to make them better in the future."
In the gym, students from Winona Senior High's Robotics Club maneuvered a giant robot to play catch with the kids. Both Goodview and Jefferson also had visits from local STEM-related businesses, like RTP, Benchmark Electronics and the U.S. Fish and Wildlife Services.
Though W-K's event expanded beyond STEM, each grade level still boasted a unique activity. In kindergarten, for example, each child had grown a bee-friendly sugar snap pea plant that they could bring home with them that night.
Goodview third-grade teacher Britta Browne focused her efforts Wednesday on a scenario: You've been invited to your best friend's birthday party, but don't have money to buy the robot that they want, and your grandpa's garage is chock-full of junk that you can use to build it.
It's meant to engage students with the engineering design model, which asks students to ask, imagine, plan, create, test, improve and share.
"A lot of kiddos, when they get started without making a plan, it gets frustrating because they aren't able to put into action what they actually were imagining," Browne said. "Once they imagine it and plan it, really put it out on paper … then they can get a more concrete product in the end."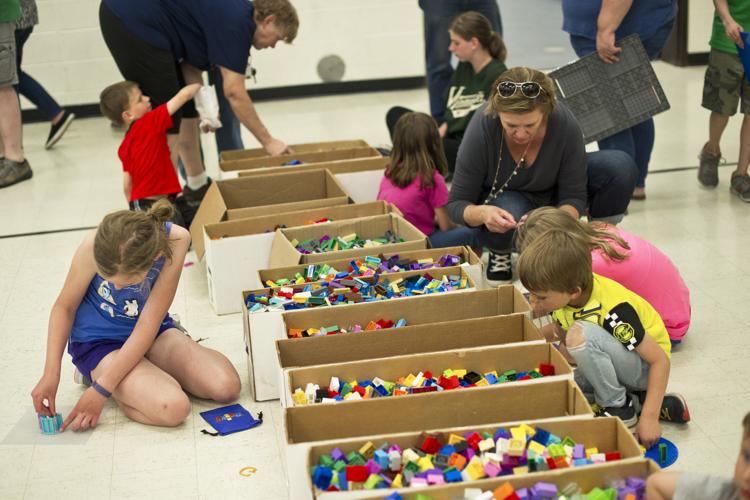 And in the classroom next door, fourth-grader Zoe Johannes and her father, Dave, celebrated when she finally got her homopolar motor, which uses electromagnetic force, to balance and spin a small copper wire.
"It took me a while," she laughed. "If it's not balanced, it won't spin."
That was the hardest part, Zoe said — but she had mastered it.
Get local news delivered to your inbox!
Subscribe to our Daily Headlines newsletter.