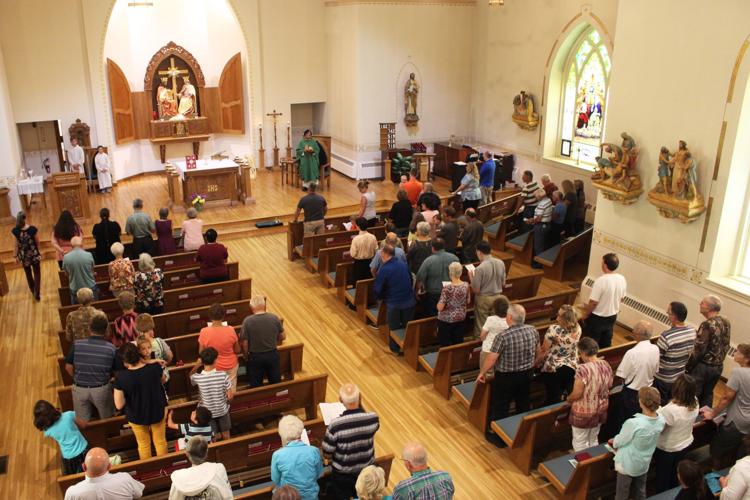 After a few days of sweltering heat broke with an afternoon storm, the bells rang at Holy Trinity Catholic Church in Rollingstone as parishioners passed through its doors for Saturday mass.
Formed by immigrants of Luxembourg who settled in the area, the church recently celebrated its 150th birthday. The roughly 400-member congregation — of which about 100 show up for the weekend service and a quarter of that for daily mass — is proud of the community that fills the pews, from the littlest squirming child to the gray-haired old guard.
The congregation cracked their hymnals inside the sanctuary and fixed their attention on Tammy Schmit, who opened her mouth and began to lead them in song.
"I don't sing karaoke, I don't go to the bar and sing," said Schmit, who has been a cantor at Holy Trinity since she was 17. "But when I look out to the people and they're all singing with me … it makes me feel good."
Like many who attend Holy Trinity, Schmit has a long history with the church. It's where her parents were married, where she received her First Communion, where she and her husband, Mark, held their wedding and where her two sons, now 19 and 25, were baptized.
"I can't imagine going anywhere else," she said.
A changing landscape
The sentiment is true at so many of the rural churches that dot the bluffs, valleys and rolling farmland around this stretch of the Mississippi River, much of whom have congregations even smaller than Holy Trinity. People like to worship with friends, to show up to a place that misses them when they're gone.
As much as the churches serve as a cornerstone of their community, however, the world around them is changing. Family farms are less viable, people leave the rural town they grew up in for an urban center and attitudes toward religion have shifted, presenting churches with new challenges as they define themselves and their futures.
In Rollingstone, the population has dropped from close to 800 in 2000 to 664 in 2017, according to U.S. census data. Their community school closed last year, they lost a local bar and they'll soon be losing a bank. Though fewer are Catholic today than when she was growing up, Schmit said, the church still acts as a gathering place for a little town that doesn't have a lot.
Still, always lurking is the spectre of "oratory status," a classification meaning the church is locked up during the week and has no regular priest.
"The fear of that is always on my mind," said 89-year-old Steve Rader, who was born and raised in Rollingstone. "If we ever lose this church, we'll never see another one."
The Diocese of Winona-Rochester conducts a sweep of its parishes every five to 10 years to assess whether oratory status is needed, according to Father Chinnappa Pothireddy, who has presided over the Rollingstone congregation for the past two years after moving to the U.S. from India.
Holy Trinity will stay open, he said, but the two other parishes for which he preaches — St. Mary Church in Minnieska and St. Paul Church in Minnesota City — will enter into oratory status in a few years.
"We have less baptisms and more funerals," Pothireddy said. "It's not a decrease in faith. People have faith."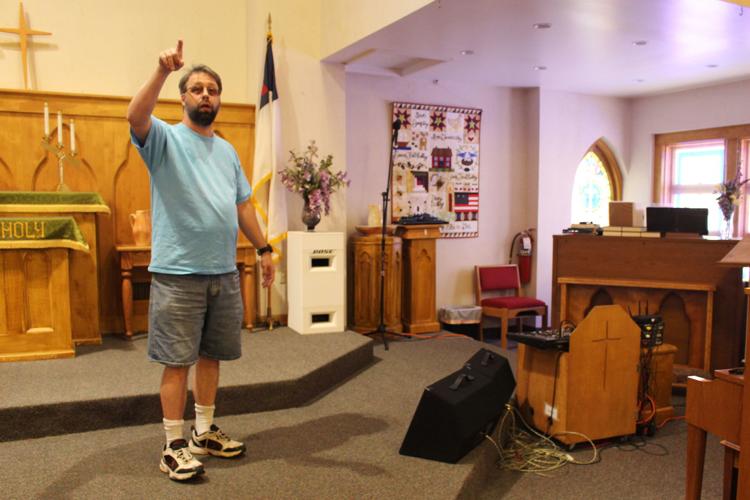 'Real faith questions'
If not a decrease in faith, then perhaps the role faith plays in society that is changing, says Pastor Greg Ferriss, who leads St. John's United Church of Christ in Fountain City, Wis.
Ferriss's congregation is about 200 members that he has led for the past decade, though the church itself was founded in the late 1800s. It's a mix of older folks and younger families, and many have returned to church as a different season in their life begins: a retirement, a child being born or one going off to college, for example.
"A lot of people used to go to church because everyone did," Ferriss said. "Most people sitting in my pews now, generally speaking, have some real faith questions that they want to play with, as opposed to, 'I can get on the PTA if I'm here.'"
Perched on a hilly road overlooking the river, the old ethos of St. John's is that if a Catholic girl and a Lutheran boy — both members of their respective churches on the other end of that same road — fell in love and neither of their churches would marry them, they'd come to the UCC for their wedding.
But the church's message of welcome is more than a story for Ferriss. He's beefed up youth programming, brought his guitar into the worship service and found out that old country music, which many of his members love, translates nicely into hymns.
Established as a denomination in 1957, the UCC has taken a progressive stance on many social issues that other denominations have struggled with.
For years, Schmit has taught Faith Formation to teenagers at Holy Trinity, where she's tackled difficult questions on some of those issues. In some cases, she said, Faith Formation teachers simply bring in the priest to explain the official teachings.
Gay marriage, for example, a subject that has become the touchstone of a cultural divide between younger and older parishioners.
"I don't care whether you are gay or who you love … I'm not one that goes around preaching the doctrine around that," Schmit said. "But try to explain to a teenager why the church doesn't think that gays should use the word 'marriage,' and it should be a civil union."
The United Methodist Church has also made news nationally for its February vote to keep its stance against same-sex marriage and gay and lesbian clergy. At Homer United Methodist, a small church off of Hwy. 61 established in 1858, Pastor Kathy Schuler said her congregation of about 50 members has "really dialogued" on the issue.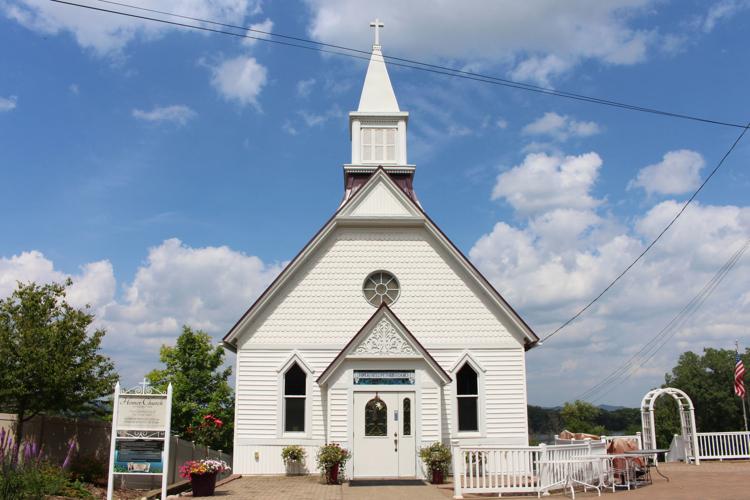 Though there are folks on both sides of the debate, Schuler said if it would come down to a decision to stay or go with the UMC, her church would likely follow the Minnesota delegation and break off into a new denomination, though she said that decision would not be made lightly.
"We have six families that have children or grandchildren who are gay. We've had gay couples worship with us quite often," Schuler said. "Even the people who think it's against the Bible would say our church would never turn anybody away."
The Homer church hosts a popular "Gospel Hour" version of its services, broadcast on the radio once a month. It also runs a small Sunday School program, and raise funds to buy supplies for teachers at Washington-Kosciusko Elementary, Schuler said.
It's not the only small church to look for other multi-generational connections outside of the youth who attend services.
The greater church
Cedar Valley Lutheran Church, an Evangelical Lutheran Church of America congregation nestled in an idyllic valley between Witoka and Pickwick, has a steady Sunday attendance rate of about 35. There are a few younger families but no Sunday School, Pastor Jeff Franko said.
But because of Franko's prior position as pastor of Central Lutheran Church in downtown Winona, Cedar Valley is connected with the Lutheran Campus Center at Winona State, preparing meals for their worship services and bringing students out to preach at the small white church with a trout stream running in its backyard.
You have free articles remaining.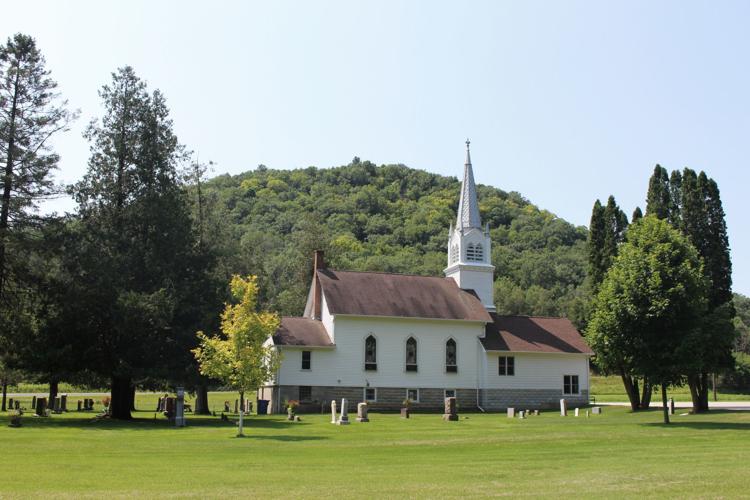 "You tend to think of these kinds of congregations as being just so inward-focused. 'We gotta make it, we gotta survive,'" Franko said. "It's really been exciting for me to see that … they've still got an outward vision of the greater church."
His church also leans progressive, he said, recalling the ELCA's 2010 vote to welcome LGBTQ+ clergy and later urging individual churches to celebrate same-sex marriages. When he asked the church council members what their decision might be, he was told they'd decided in favor of that "a long time ago."
Cedar Valley also severed a partnership with a church in Houston County that disagreed with the vote and left the denomination.
Still, Franko has seen things change since he first became a pastor in 1977. And it's not just in rural churches. When he started preaching at Central Lutheran in 2003, the church was worshipping a crowd of more than 500 each Sunday, and when he left in 2012, it was down to 300.
"Most congregations are still trying to figure out that new role and how to deal with it," he said. "And I don't know if anybody's really come up with a good response to that."
For the Catholic Church, it's hard to overlook the exits caused by the sex abuse scandal and organizational cover-up that has rippled through the nation's parishes since the early 2000s. A 2010 Pew research study showed that of former Catholics who have left, 27% said it was directly related to the scandal.
One hundred and twenty-one claims of sexual abuse have been filed against the Diocese of Winona-Rochester since the story broke, naming 17 priests. The diocese announced last November it would file for bankruptcy to cooperate with legal counsel representing survivors.
Though Fr. Pothireddy said it was "a mistake of the few" he discussed with his congregation at Holy Trinity, it was painful to them. What had at first seemed like a faraway problem had come right home to their diocese.
Whether a scandal or other negative experience caused someone to leave, whether it was a priest they didn't care for or otherwise, it can hurt a small church, Mark Schmit said.
Finance and family
Especially when the majority of revenue is pumped in through congregational donations.
"If you lose one parishioner, it's a big loss," Mark said.
St. John's United Church of Christ runs on a budget of about $80,000 to $90,000 a year, Ferriss said. At Cedar Valley, it's about $50,000, and at Homer United Methodist, Schuler estimate it's not more than $35,000.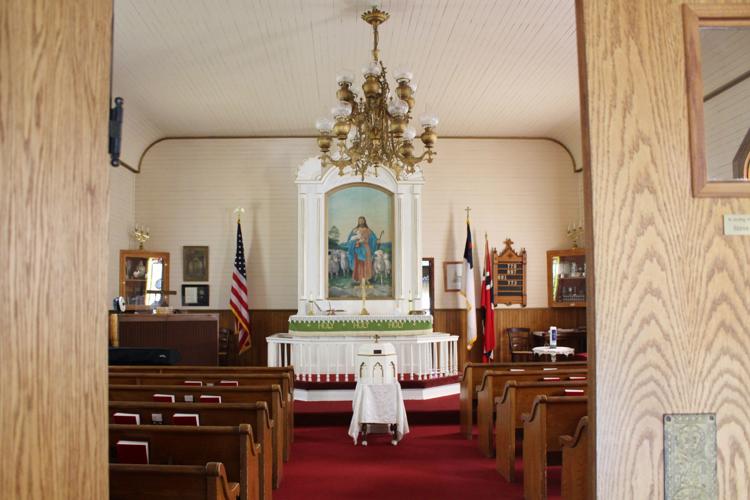 The smaller two churches have largely avoided any financial difficulties, their leaders said, and at St. John's, Ferriss described making the budget as a challenge, but doable.
At Holy Trinity, Pothireddy said expenses outweigh income this year because of a broken boiler that had to be replaced. The church has held off on any renovations to the physical building and only appeals to the congregation when a need is critical, he said.
They turn to a patchwork of dedicated volunteers to make things run smoothly. The intricate statues lining the walls of the church were repainted by Steve Rader's wife, Connie. Mark served on a pastoral council, still serves on the finance council and is also a trustee of the parish cemetery.
And so it goes at other rural churches with limited budgets.
"It's a place where you really feel needed," Schuler said.
That sense of belonging, of not just being a number, is why Ferriss feels small rural churches shouldn't undersell themselves, or look over their shoulder at mega-congregations that send folks home after a rousing sermon and a dose of Christian rock. It's a different thing they bring to the table, he said.
He preached at a small church in a Kansas City suburb for two years, he said, and the congregation's fearful attitude toward the future is what eventually made him leave.
"I could not, as a pastor, get them to appreciate what they had," he said. "Sometimes rural churches don't appreciate what they are, and therefore don't portray themselves as anything particularly special."
The reason he chose St. John's, Ferriss said, is it was the only congregation he interviewed at that didn't express doubt about what the church could and should be.
At Holy Trinity, parishioners are thinking about the uncertainties the future could hold but are also acting to define it for themselves. Its various committees are brainstorming how to re-establish the church as that central gathering place, especially for younger people who are drifting away.
"What can we do to make it better (for young people)?" said Chris Klein, a five-year member of Holy Trinity who volunteers as a eucharistic minister. "What can we do to bring them in?"
They are thinking — like churches across the area, across the state and across the country -- about how to navigate new waters. Perhaps a teen dance, Schmit thought, or bolstering their fall festival and winter spaghetti supper.
It's about accentuating the joy of the small, rural church, Ferriss said, not trying to change it. Assess where there's room to grow, and celebrate what they do well.
They know that what is left is a family, bound by shared faith. A faith that the church will grow strong, even in the face of odds that can sometimes seem insurmountable.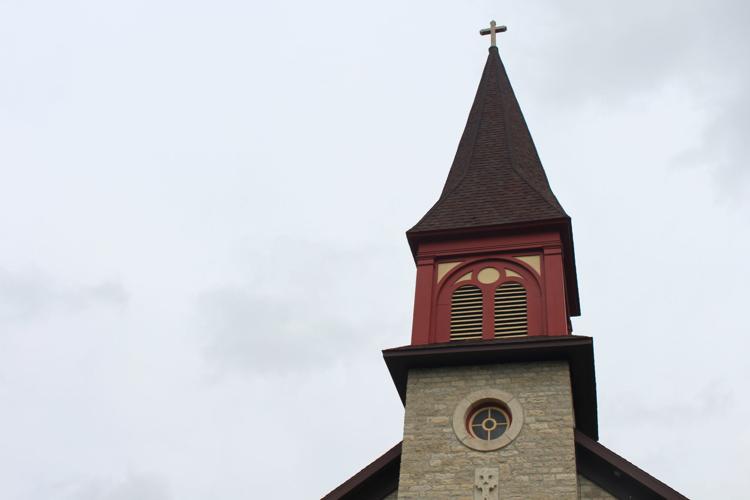 Even when there are more funerals than baptisms, something remains in these small churches, as enduring as the steeples that pierce the skies as they have for decades, even centuries.
Before the Saturday service at Holy Trinity concluded, the organist drummed up a jovial rendition of "Happy Birthday" for two members, in which the congregation joined loudly.
Then, led by Schmit, they sang their final hymn before exiting the parish, going home to dinner and knowing they'd do it all over again — hoping they'll do it all over again, right there in Rollingstone, for decades to come.
"We are called to act with justice,
We are called to love tenderly,
We are called to serve one another,
To walk humbly with God."